Piñón Receives LAS Lifetime Achievement Award
December 2, 2019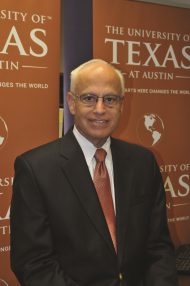 Jorge Piñón, an expert at the Jackson School on energy policy in Mexico and Latin America, was awarded the 2019 Lifetime Achievement Award from the Center for Latin American Studies (LAS) at the University of Florida, his alma mater.
The award is given by the alumni board of the LAS center and recognizes alumni whose achievements over the course of a number of years positively reflect the goals, principles and philosophy of the center.
Piñón is the director of institutional relations between UT and Mexico and the director of the Latin America and Caribbean Energy Program. During his time at UT, Piñón has been instrumental in strengthening the relationship between the Jackson School, and UT as a whole, and Mexican government and research institutions, in particular the National Autonomous University of Mexico.