Geosciences Across Texas
November 20, 2017
From exploring energy frontiers to monitoring earthquakes, the Jackson School of Geosciences benefits Texans statewide.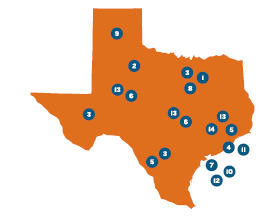 1. TEXNET/CISR STATEWIDE SEISMIC MONITORING SYSTEM AND RESEARCH
(See page 21).
2. TXSON
A network of ground-based monitors throughout Texas that measures soil moisture to better understand and predict intense droughts and floods.
3. SHALE RESOURCE AND RESERVE STUDIES
The most comprehensive public study of six major shale plays in the nation — with half in Texas. (See page 16).
4. MG&G FIELD COURSE ON THE TEXAS COAST
A one-of-a-kind class that is training the next generation of geophysicists for the energy industry. (See page 50).
5. GEOFORCE TEXAS
A program that teaches high school students from underserved areas in Texas about the geosciences and helps prepare them for college and careers. GeoFORCE recently received the Presidential Award for Excellence in Science, Mathematics and Engineering Mentoring, the highest such honor from the United States government.
6. THE STATE OF TEXAS ADVANCED OIL AND GAS RECOVERY PROGRAM
A state-funded program that assists oil and gas operators using the latest technology, geoscience and engineering understanding to increase production in existing fields and regional exploration projects.
7. HURRICANES AND COASTAL EROSION
From using state-of-the art LIDAR techniques to map the Texas coast to the Rapid Response program, which places scientists at the scene of natural disasters soon after they occur, UT is helping the state understand and prepare for the effects of natural hazards. (See page 18).
8. FORT WORTH METHANE IN WATER STUDY
(See page 12).
9. WATER SCARCITY RESEARCH
Leading research on the impact that energy production and agriculture have on water use and on how to manage the state's limited water resources. (See page 28).
10. STUDYING METHANE HYDRATE AS A FUTURE ENERGY SOURCE
(See page 58).
11. GULF BASIN DEPOSITIONAL SYNTHESIS PROGRAM
GBDS builds an ever-evolving picture of Gulf of Mexico geology using data from academic and industry partners. The data recently gave companies a first look into previously off-limits waters around Mexico, an area of
critical interest and importance to the Texas oil and gas industry.
12. HR3D GULF SURVEYS
High resolution 3-D marine
imaging technology is giving researchers a better look at Gulf of Mexico subsurface for the potential to store large volumes
of carbon dioxide emissions and create a new industry in Texas.
13. CORE REPOSITORIES
More than 1.5 million boxes of rock core and cuttings are
available for study at each of the Bureau of Economic Geology's three core repositories in Austin, Houston and Midland.
14. PETRA NOVA CARBON MONITORING (See page 84).