Mosher Honored as Distinguished Alum
October 13, 2016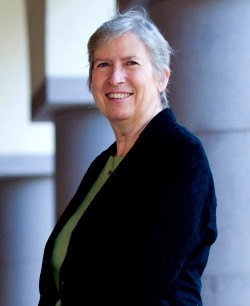 Sharon Mosher, dean of the Jackson School of Geosciences, has been honored with the 2016 Alumni Achievement Award from the University of Illinois at Urbana- Champaign College of Liberal Arts and Sciences.
"Being recognized by my alma mater is a tremendous honor," said Mosher, who has been dean since 2009. "I am forever grateful for the excellent education I received at the University of Illinois. I often reflect on how important those years were to me both professionally and personally as I seek to create the best possible academic, research and learning environment at the Jackson School."
Mosher, a leading scholar in the field of structural geology, grew up in Illinois. She attended the University of Illinois, where she received her B.S.
in Geology in 1973 and her Ph.D. in Geological Sciences in 1978. She came to The University of Texas at Austin in 1978, was promoted to full professor in 1990 and became chair of the Department of Geological Sciences in 2007.
Mosher has supervised 55 graduate students and authored dozens of peer-reviewed journal publications. But it was her leadership on a national scale
that earned her the recognition, said Tom Johnson, head of the University of Illinois Department of Geology.
"The really big ticket item that inspired us to nominate her is her incredible service to the geosciences community," Johnson said. "It's over the top." He specifically noted Mosher's terms as president of the Geological Society of America, chair of the Council of Scientific Society Presidents and president of the American Geosciences Institute. Mosher is also a founder of GeoScienceWorld, an international journal aggregation for geoscientists and is currently leading an NSF-sponsored effort to reshape undergraduate geosciences education around the nation.
"She really seems to have a magic touch with leadership and, obviously, abundant energy," Johnson said. "And of course, her work as dean of the Jackson School is impressive. It goes without saying that it's a big job and very high profile, because it's the biggest program in the nation."