Big Holes Found in Gulf
October 10, 2016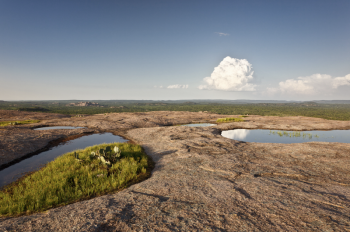 Researchers have discovered large pothole-like rock features called "solution pans" in the Gulf of Mexico. Their existence means this region was once exposed to an arid climate above ground.
The research was led by scientists at the University of Texas Institute for Geophysics (UTIG) and published in the journal Continental Shelf Research on April 1, 2016.
Solution pans are rock features formed by pooling rainwater, primarily
in limestone. The rainwater slowly dissolves limestone in an outward motion, creating shallow "craters" or "potholes" in the rock.
On land, the pans reach a maximum of six meters wide. The Gulf
of Mexico pans, which were discovered by the researchers on Campeche Bank, reach up to 15 meters wide.
"What is startling about our discovery is the size of these features is much larger than anything we've seen before," said lead author John Goff, a senior research scientist at UTIG.
Goff and colleagues from UTIG and the National Autonomous University of Mexico discovered the pans while conducting a hazards assessment survey in advance of the International Ocean Discovery Program drilling project into the Chicxulub impact crater.
"What we do know is solution pans only form in arid environments, so the conclusion can be drawn that this area was once above water must have been very arid for a long period of time. It has great climactic implications," Goff said.