BEG Promoting Roadside Geology in Texas
October 12, 2016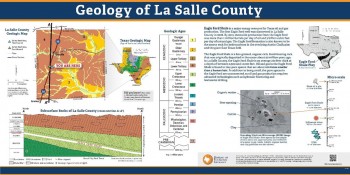 In 2016 the Bureau of Economic Geology partnered with the Texas Department of Transportation (TxDOT) to post geologic information signs at TxDot Safety Rest Areas. The work is part of the Texas GeoSign Project, a new initiative to engage the public and promote the understanding of geologic information.
Linda Ruiz McCall, an information geologist with the bureau, is leading the project with BEG team members Charles Woodruff, a geologist; Caroline Breton, a research scientist associate; Cathy Brown, a media manager; and Jamie Coggin, a senior graphics designer. Jackson School of Geosciences graduate student Heather Christensen also contributed to the project.
The long-term plan is to develop and post two signs per year with TxDOT and other partners across the state. In addition, the information and images on the signs will be uploaded on a website, allowing anyone to learn about Texas geology. Currently, signs are posted in Eastland and La Salle County safety rest area facilities.