Memorial: David "Scotty" Holland
January 8, 2013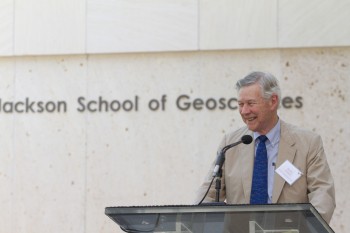 The Jackson School community mourns the loss of David "Scotty" Holland and extend their condolences to his family.
Scotty Holland passed away this Saturday, after suffering a brain injury from which he was unable to recover.  An interment will be held in Abilene this Friday at 11 a.m. at Elmwood Memorial Park, 5750 Hwy 277 South, in Abilene, Texas.
Scotty Holland graduated from UT Austin with a B.S. in Geology in 1957. A longtime supporter and friend to the school, he was a member of the Geology Foundation Advisory Council since 1986 and chaired the council from 1991-1993. He and his wife Jaque, of course, were the lead donors for the Holland Family Student Center.
In lieu of customary remembrances, and for those desiring, the family requests that memorial contributions in Mr. Holland's name be directed to the Houston Museum of Natural Science, 5555 Hermann Park Drive, Houston, TX, 77030, or the charity of one's choice .
Below is the obituary from the Houston Chronicle (we will also be posting a memorial on the JSG website at a later date):
http://www.legacy.com/obituaries/houstonchronicle/obituary.aspx?page=lifestory&pid=162149355#fbLoggedOut
Watch a tribute video to Scotty Holland:
[youtube 23uroooKLPo]