A Tradition of Training Astronauts
April 8, 2010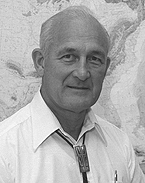 For more than half his life, Bill Muehlberger has trained astronauts. He started in 1964 when he took a group of Apollo astronauts to the Marathon Basin in West Texas for a geological field trip. Later, he was asked to be principal investigator for Apollo 16 and 17, the final two manned missions to the moon and the ones in which most of the intense geological work was to be done.
"I didn't even know the size of the moon," he laughed.
To his surprise, almost none of the Apollo astronauts had had even an introductory course in geology. He and his team presented the crews with geologic lectures and took them on field trips to various sites in northern New Mexico, Hawaii and elsewhere, prepared geologic maps of the lunar landing sites, and designed lunar traverses to collect samples and data. While the astronauts were on the moon, the team worked at mission control offering assistance as needed. Taking a two-year leave of absence from the University of Texas where he was a professor, Muehlberger immersed himself in the Apollo missions. In just one year, he estimated that he flew 250,000 miles on commercial flights to attend meetings and other events, or about as far as a one way trip to the moon.
"That's as close as I ever got," he said.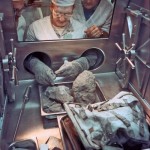 The work was intense, but he said he enjoyed working with extremely bright and enthusiastic people.
After Apollo, Muehlberger trained Skylab and Shuttle astronauts in basic geology so they could take scientifically useful photos from low Earth orbit. While the astronauts are in orbit, scientists on the ground request photos of everything from active volcanoes to forest fires in the Amazon to cities such as Los Angeles to study growth patterns.
Pat Dickerson (Ph.D. '95) began briefing Shuttle crews as a contractor for NASA in 1996. She and Muehlberger collaborated for many years on various projects together and had co-led many field seminars. He invited her to participate in his astronaut field training trips starting in 1997. Soon, NASA began more actively planning for an eventual manned mission to Mars. Dickerson suggested they add geophysical data acquisition to the field trainings to build experience in the kinds of scientific investigations that could be conducted on the surface of Mars.
The geophysical component of the trips, which began in 1999 and has continued with each trip since, has been hugely successful. Each group of astronaut candidates (AsCans) now collects gravity and magnetic data from new sites, and they have revealed subsurface faults that either obstruct the flow of water or act as conduits. This information is helping residents of the Taos valley, including Native Americans of Taos Pueblo, find and manage their water resources.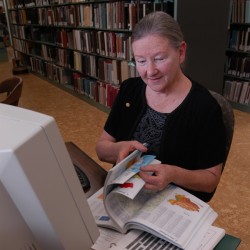 "One of the most gratifying things for the astronauts, as for us, has been to help real people address real-world problems," said Dickerson.
Dickerson, who is now based at UT Austin's Walter Geology Library, works for GeoRef, the world's largest geoscience database, and continues to co-lead the geological field trips.
In 2006, Muehlberger and Dickerson invited Mark Helper to join them in future astronaut field trainings and to be part of a new organization called FEAT, Field Exploration and Analysis Team, a group of scientists and engineers promoting the role of field geology in the exploration of the moon and Mars. Through his work with FEAT, Helper was invited to be the guinea pig geologist in this past summer's moon mission simulations at Haughton Crater.
And astronaut field training continues. NASA recently selected its latest class of AsCans. Dickerson and Helper are planning field trips for the 13 AsCans for June and August 2010. Those will be similar to past trips, with the addition of a geological mapping exercise in the Jemez Mountains north of Albuquerque, which will be led by Kirt Kempter (Ph.D. '97). Muehlberger is still active in the training, but is glad to see a new generation take the lead. He
noted that Helper has done geological field work in northern New Mexico, has taught an undergraduate field course for years, and is adept at geologic mapping.
"He's a great field geologist and teacher," said Muehlberger. "So he was the obvious choice. And besides, I wanted to be selfish and keep it at UT and when I retire not have it banished off to some other place."
by Marc Airhart
>>> Return to "Fly Me to the Moon"
For more information about the Jackson School contact J.B. Bird at jbird@jsg.utexas.edu, 512-232-9623.