Texas Science Teacher Sails the Open Seas to Learn About Sea Level Change
November 6, 2009
Julie Ann Pollard has spent years teaching science to 7th and 8th graders in Texas, but for two months in late 2009, she'll get a chance to really live it – as the Onboard Education Officer for Expedition 317 of the JOIDES Resolution, the scientific ocean drilling and research vessel supported by the Integrated Ocean Drilling Program (IODP).
Expedition 317, known as the Canterbury Basin Sea Level project, sets sail on November 8, 2009 from Townsville, Australia and returns to shore on January 4, 2009 in Wellington, New Zealand. More than 30 scientists from around the world will embark on this two-month expedition, collecting and analyzing geological data to investigate the history of global sea level change over the last 30 million years. The expedition's science party will travel to the Canterbury Basin, which lies off the eastern coast of the South Island of New Zealand, to recover sediment samples from as deep as 1,700 meters beneath the seafloor.
Craig Fulthorpe, a senior research scientist at the Jackson School's Institute for Geophysics, is a co-chief investigator for the expedition, along with Koichi Hoyanagi, a professor at Shinshu University, Japan.
As the Onboard Education Officer for Expedition 317, Pollard will have the opportunity to learn shipboard science alongside the expedition's science party and translate her learning experiences for students, families and the general public through the creation of blogs, live video conferencing from the ship and classroom activities.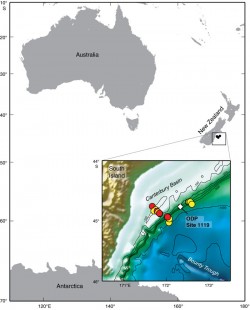 Pollard teaches 7th and 8th grade science at Watauga Middle School in Watauga, Texas. She earned her Bachelor of Science in Geology, cum laude, from the University of Texas at Arlington, and has taught in Texas middle schools since 2002. She was selected as Onboard Education Officer for Expedition 317 through a competitive, nationwide application and interview process.
"Julie impressed us with her enthusiasm and dedication to her students, many of whom have never had the opportunity to travel far from home – even virtually – or to participate in projects like this before," said Sharon Cooper, assistant director of Deep Earth Academy. "We are excited to have her on board and look forward to all that she will accomplish during the Canterbury Basin Expedition." Deep Earth Academy, including the Onboard Education Officer program, is funded by the U.S. National Science Foundation.
To follow along with Pollard's shipboard reports during the expedition, visit http://joidesresolution.org/blog/9.
About the Integrated Ocean Drilling Program
The JOIDES Resolution is a research vessel with unique capabilities for exploring and monitoring the subseafloor; it operates as part of the international Integrated Ocean Drilling Program (IODP). IODP is supported by two lead agencies, the U.S. National Science Foundation and Japan's Ministry of Education, Culture, Sports, Science, and Technology. Additional program support comes from the European Consortium for Ocean Research Drilling (ECORD), India (Ministry of Earth Sciences), the People's Republic of China (Ministry of Science and Technology), the Korea Institute of Geoscience and Mineral Resources, and the Australian-New Zealand IODP Consortium. The U.S. Implementing Organization (USIO) for IODP is comprised of Texas A&M University, Lamont-Doherty Earth Observatory of Columbia University, and the Consortium for Ocean Leadership. The JOIDES Resolution is now poised to help IODP continue to push the envelope of science by collecting unique subseafloor samples and data that would otherwise remain out of reach to researchers. For more information, click here.
This was adapted from a news release by the Consortium for Ocean Leadership on Nov. 2, 2009.
For more information about research at the Jackson School, contact J.B. Bird at jbird@jsg.utexas.edu, 512-232-9623.