GeoFORCE Grads Go To College
August 28, 2009
This fall, thousands of students are beginning their college careers at The University of Texas at Austin, among them 23 talented young people who have already completed an extraordinary journey. They are some of the first graduates of the GeoFORCE Texas program, one of the nation's largest geosciences pipeline programs. It's a significant moment in their lives and in the life of GeoFORCE.
GeoFORCE takes high school honor students from predominantly minority regions of southwest Texas and the Houston area on geological field trips across the country to educate and excite them about science. Each summer, they travel to sites as close as Austin, Uvalde and Port Aransas and as far away as Florida, Washington, DC, and Oregon. The first cohort of students, 80 in all, came from southwest Texas. The program is designed to increase the number and diversity of students pursuing degrees in math and science, especially the earth sciences. The program has two tracks: the GeoFORCE Academy and the Young Geoscientist Field Courses. Students in the Academy travel mostly outside of Texas and the Young Geoscientists travel mostly inside Texas.
Supersize Me
GeoFORCE has passed
yet another milestone
adding a whole new pool
of students from Houston
nearly doubling student
enrollment over the past
two summers and
becoming more ethnically
diverse.
The first cohort of Academy students began their odyssey in the summer of 2005 with a visit to the UT Austin campus. For most, it was their first extended time on a university campus. They stayed for several days in Jester dorm and participated in a series of introductory geology seminars with professor Leon Long. Staying on campus, sharing meals and stories with current students, interacting with student teaching assistants, and meeting professors gave them a unique perspective on college life.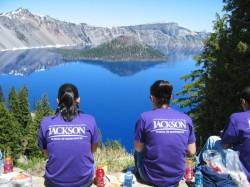 "That was the first time I'd been to UT and Austin," said Elyana Barrera, a GeoFORCE Academy graduate from Del Rio, Texas (population 37,000) and incoming freshman in geosystems engineering and hydrogeology, a joint degree program between the Jackson School of Geosciences and the Cockrell School of Engineering. "I was overwhelmed, it's a big campus, but I liked it a lot. That had a big influence on me being here right now."
For four summers, the first cohort of students visited sites as diverse as the Grand Canyon, the Florida Everglades, Zion National Park, and Mount St. Helens. In Arizona and Utah, they studied extensional environments and fluvial systems. In Oregon and Washington state, they saw the effects of compression along a plate margin and learned some aspects of coastal geology. In Florida, they explored more aspects of coastal geology including coral reefs and the processes that shape and reshape beaches. At the USGS headquarters in Washington, DC, they learned about careers in the geosciences.
Many students pointed to the Oregon and Washington trip as the most memorable. For some, it was their first time to experience snow. The field sites, including Crater Lake, Mount St. Helens, and Mount Hood, are as significant scientifically as they are breathtaking.
"Up until that point, I didn't know what I wanted to do," said Katie Bales, a GeoFORCE Academy graduate from Sabinal, Texas (population 1,600) and incoming freshman in geosystems engineering and hydrogeology. "And that summer I knew that I was going to be in geology for the rest of my life."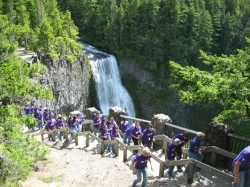 While not every student found their calling in the geosciences, it did influence their views on higher education and career paths. An impressive 90 percent of GeoFORCE graduates were accepted into junior colleges, colleges and universities, with 63 percent majoring in science, engineering or math.
In the last decade, no student from the southwest Texas high schools making up the GeoFORCE network went on to graduate with a geosciences degree from the University of Texas at Austin. This year, 23 GeoFORCE graduates are attending UT Austin, 5 of which are pursuing majors in the Jackson School.
Not Just a Number
Mike Loudin, manager of ExxonMobil's Global Geoscience Recruiting & Early Career Program and long time supporter of GeoFORCE, said one of the great strengths of the program is how it helps students navigate the process of getting into college. Many of the students don't have family members who have gone to college. So they have a harder time getting crucial advice.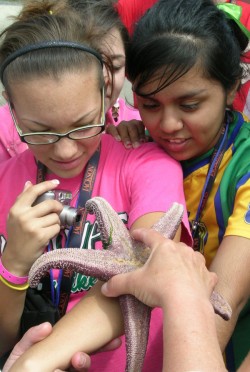 "You have to work with the families and students to demystify the whole process," he said. "The way the system works, if you don't have any role models and nobody in the family has ever done it before, there's no one to tell you how to do it or what not to do. There's nobody to help you get through the applications."
In fall 2008, GeoFORCE staff and volunteers offered a college admissions and financial aid presentation for the inaugural cohort of students from southwest Texas and their parents. They introduced them to Apply Texas, an online tool for applying to public universities and some community and private colleges in the state, gave an overview of the many costs associated with attending college, discussed financial aid options, and described internship opportunities. They also introduced them to the FAFSA (Free Application for Federal Student Aid) form and gave them contact information for people who could help fill it out. General information was provided (in English and Spanish) for students considering attending universities across the country, as well as information specific to UT Austin and the Jackson School. Presenters came from a range of institutions including the Hispanic Scholarship Fund, UT Outreach, and the U.S. Geological Survey.
At a separate event, students were taught strategies for taking the SAT test used by many colleges and universities in selecting applicants. The GeoFORCE staff have continued to stay in touch with the program's graduates over the past year, emailing them updates on scholarships and reminding them of important deadlines. All of this attention and encouragement has not gone unappreciated.
"We go to these little high schools," said Bales. "It's like everyone is there to just pass a class and get out. And on these trips, we were with teachers and sponsors who cared, who wanted us to succeed in life. That's what pushed us the most, there was finally someone in our lives besides our parents who wanted us to get a good education and have the opportunities that were out there."
With the strong bonds forged between the students and the Jackson School's scientists, faculty and staff, it should come as little surprise that 23 students decided to come to UT Austin this fall and that 5 are geoscience majors.
"I love the people at the Jackson School," said Bales. "I've known Dr. [Leon] Long for 4 years, he was my dad's professor when he was at UT 40 years ago. The people who have cared about me and my future for 5 years are there and the resources are endless. Plus I'm comfortable in this environment. I feel like I fit in."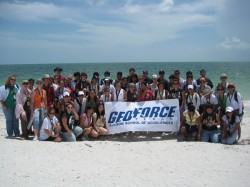 Barrera is majoring in geosystems engineering and hydrogeology. She said she considered a couple of other colleges.
"I looked at their geology schools and what they offered and it just didn't compare at all," she said. "The Jackson School is really outstanding with so many people that are extremely experienced in their field of work. Other colleges didn't offer geosystems engineering as a major and that influenced my decision."
Barrera, who has an internship on the UT campus this summer in a genetics lab, said what she is most looking forward to as she begins her college life are the classes.
"I want to learn everything the professors can throw at me," she said. "That's what I'm here for. I'm ready to soak it up like a sponge."
"I'm very excited to be a part of the Jackson School family," said Bales. "That's what I'm looking forward to the most. I'm not a number, I'm me, and I'm part of the family."
by Marc Airhart
For more information about the Jackson School contact J.B. Bird at jbird@jsg.utexas.edu, 512-232-9623.