Burning Up
June 12, 2009
NASA has set a goal of returning humans to the moon—for the first time since Apollo 17 in 1972—by the year 2020. Early plans call for a new reentry capsule similar in shape to the original Apollo capsules, but larger. With supercomputers far more powerful than those available in the late 1960s, scientists now have the opportunity to test virtual spacecraft designs in ways that are either too expensive or dangerous to do with real spacecraft. In this case, computational uncertainty becomes a life or death issue.
One of the most dangerous parts of a roundtrip mission to space is the reentry of the vehicle in Earth's atmosphere. The speed of reentry can be a blistering 20, 30 or even 40 times the speed of sound. The air surrounding the vehicle can become hotter than the surface of the sun. To protect the craft, it is coated with a special material designed to partially burn away. A similar coating of Teflon was used to protect the Apollo capsules.
"What NASA wants to know is not that the protective coating will recede by this much," says Omar Ghattas. "They want to know what is the probability that the vehicle will survive reentry."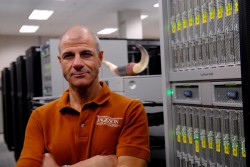 Modeling the surface of the vehicle and the air around it is difficult because the system is so complex, involving physical processes such as high speed aerodynamics, thermal radiation, turbulence, chemical dissociation of the air and burning of the surface. Each of these processes involve some uncertainty. Ghattas and his colleagues at the Institute for Computational Engineering and Sciences (ICES) at the University of Texas at Austin received a five-year, $17 million grant from the Department of Energy (DOE) to build a stochastic model of the system and a method for estimating confidence in the model's results.
The team will work with partners in UT Austin's Cockrell School of Engineering, DOE's National Nuclear Security Administration, NASA, Texas A&M University and Florida State University.
"We're trying to come up with a computer prediction that says not only what the best estimate of the answer is, but what is the level of uncertainty in the answer," says Robert Moser, professor of mechanical engineering and ICES. "We want to be able to say to the decision makers, 'According to this calculation, there's a 5 percent chance of failure if we re-enter in these conditions.'"
by Marc Airhart
<< Return to 'Confidence Building'…
For more information about the Jackson School contact J.B. Bird at jbird@jsg.utexas.edu, 512-232-9623.