Climate Change Skeptic to Speak At The University of Texas at Austin
February 19, 2009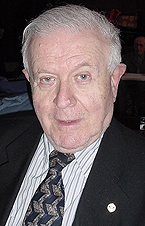 EVENT: "Nature—Not Human Activity—Rules the Climate," a talk by environmental scientist S. Fred Singer, president of The Science & Environmental Policy Project.
WHEN: Thursday, Feb. 19, at 3:45 p.m.
WHERE: Boyd Auditorium, Jackson Geology Building (JGB 2.324). Map is available online.
BACKGROUND: S. Fred Singer, professor emeritus of environmental sciences at the University of Virginia and president of The Science & Environmental Policy Project, disagrees with the contention that anthropogenic greenhouse gases are the main driver of global climate change. According to the Intergovernmental Panel on Climate Change (IPCC), most of the observed increase in global average temperatures since the mid-20th century is very likely due to the increase in anthropogenic greenhouse gas concentrations. Singer, in contrast, contends that "natural causes are very likely to be the dominant cause" of global climate change.
"We do not say anthropogenic greenhouse gases cannot produce some warming," writes Singer. "Our conclusion is that the evidence shows they are not playing a significant role."
After making his case, Singer will take questions from the audience, likely to include several of the country's leading climate researchers and past contributors to the IPCC assessment, from among the faculty at The University of Texas at Austin.
Singer was the first director of the National Weather Satellite Service (1962-64) and he devised the basic instrument for measuring stratospheric ozone. In the 1980s, he was vice chairman of the National Advisory Committee for Oceans and Atmosphere. He has received numerous awards for his research. After retiring from the University of Virginia, he founded the nonprofit Science and Environmental Policy Project on the premise that credible science must form the basis for major societal health and environmental decisions.
His most recent book, "Unstoppable Global Warming—Every 1500 Years," presents evidence for natural climate cycles of warming and cooling and became a New York Times best-seller. He is the organizer of the Non-governmental International Panel on Climate Change (NIPCC) and editor of the NIPCC report, "Nature—Not Human Activity—Rules the Climate," available at
http://www.sepp.org/publications/NIPCC_final.pdf
For more information about research at the Jackson School, contact J.B. Bird at jbird@jsg.utexas.edu, 512-232-9623.