Jackson School Hosts Prospective Fort Valley Transfer Students
July 24, 2008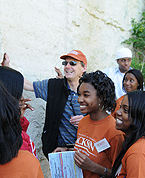 Eight undergraduate students from Fort Valley State University (FVSU) visited Austin last April to meet students and faculty of the University of Texas at Austin's Jackson School of Geosciences and consider transferring into the school to complete their degrees.
The students from FVSU, one of Georgia's designated Historically Black Colleges and Universities, are members of the Cooperative Developmental Energy Program (CDEP). In the CDEP program, students complete three years of study in math or chemistry at FVSU and then go on to a second university (either UT Austin or Pennsylvania State University) to study geosciences for two more years or petroleum engineering for three more years. At the end of the program, students receive two degrees—one from FVSU and one from the second university.
This was a chance for the Jackson School to display the educational and research opportunities available at UT Austin, as well as lay out the requirements for admission and degree completion.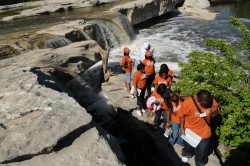 Charles Kerans and Peter Flemings, professors in the Jackson School, took the prospective students on a field trip to southwest Austin to study the geological remnants of an ancient volcano. They were asked to develop an explanation for the kinds of rocks they saw—their depositional history and why they changed—and even to predict where a good place might be to drill for oil. The students got a taste of academic life in the school by attending lectures on sedimentary rocks and geostatistics and touring the Jackson Geological Sciences Building.
"It's a two way street," said Flemings. "It exposes the students to potential opportunities. On the other side, it's teaching the Jackson School and the university about what these kids are like, the hard work they've put in and their potential."
There was also plenty of time in their two day visit for socializing and enjoying Austin in springtime. Peter and Ann Flemings hosted a barbecue dinner in their backyard. Current CDEP students at UT Austin—Stanley Stackhouse, Justan Bell, Prince Kwatreng, Joe Butts and Alex Tripp, Jr.—took the students out to sample Austin's renowned nightlife.
"The key is to get them in early," said Flemings. "They get comfortable with the place, they go back and talk to their peers and get more enthused about it."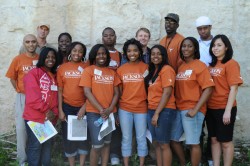 All geoscience students at Fort Valley study under professor Aditya Kar. In fact, Kar, a petrologist by training who has taught at Fort Valley for 13 years, is the geology department. In addition to teaching students in their first three years of the CDEP program, he also takes high schoolers out on geological field trips each summer as part of the Mathematics, Science and Engineering Academy (MSEA) program, a pipeline program designed to encourage minorities to go to college and to study geosciences.
After many years working with hundreds of students, he's starting to see the fruits of his labor. For the first time ever, he now has two students who entered the MSEA program as 8th graders, went through the CDEP program, went on to work in industry, and are now returning to help him lead rafting trips in the Grand Canyon for 8th graders.
"For many years, I didn't get much feedback on the program," said Kar. "But now it's coming full circle. And that's a good feeling."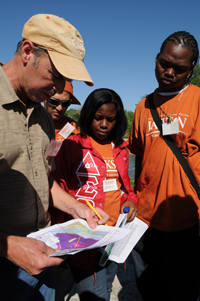 The Austin visit was organized by Cristina Rodriguez, conference coordinator, with help from numerous faculty and staff of the Jackson School.
The Jackson School provides tuition and housing assistance for transferring FVSU students. The school's first CDEP students, April Duerson and Stanley Stackhouse, began coursework in the fall of 2005. Both graduated in spring 2007 and Stackhouse accepted admission to the master's degree program at the Jackson School to continue his studies. A third student, Justan Bell, began his coursework at the Jackson School in fall 2007 and expects to graduate in 2009.
CDEP is a cooperative effort between the Jackson School and the Department of Petroleum Engineering at UT Austin. Three CDEP students have enrolled in petroleum engineering—Alex Tripp, Jr. and Prince Kwarteng, who completed their degrees in spring 2008, and Joe Butts who is on track to complete his degree in 2010.
by Marc Airhart
For more information about research at the Jackson School, contact J.B. Bird at jbird@jsg.utexas.edu, 512-232-9623.