Industrial Associates Program Turns 20
March 28, 2008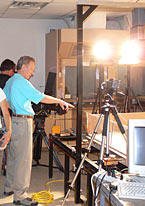 Some of the Jackson School of Geosciences' strongest corporate sponsors contribute to research through the Industrial Associates Program (IA). The program supports researchers and graduate student research assistants, as well as laboratory and computational infrastructure. As part of their membership, donors receive research results, training and networking opportunities.
The two longest-running IA programs at the Jackson School's Bureau of Economic Geology celebrate their 20th anniversaries this year: the Applied Geodynamics Laboratory (AGL) and the Reservoir Characterization Research Laboratory for Carbonate Reservoirs (RCRL). These were the first IA programs created at the Bureau.
Applied Geodynamics
The AGL, considered the world's premier institute for salt tectonic research, is funded by a consortium of oil companies and supported by numerous software and seismic vendors. Concepts and terminology pioneered by AGL, such as "salt canopy," "salt weld," and "reactive diapir," have had a profound influence and are widely disseminated throughout the oil industry.
The AGL is now at an all time high in terms of numbers of associates (28) and annual contributions (over $1 million in 2007). Martin Jackson, a senior research scientist at the Bureau of Economic Geology, founded the AGL with help from Marcus Milling, former associate director of the Bureau, and Bill Fisher, its former director. The AGL has brought in a total of $10 million for salt tectonics research at the Bureau in the last 20 years.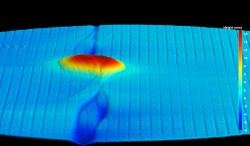 "Without corporate sponsorship, the program could not exist on this scale, which allows full-time research by professional scientists," said Jackson. "It also allows a full bag of tools to be applied to salt tectonics: physical modeling, numerical modeling, seismic analysis, field mapping, and remote sensing." The seismic data supplied to AGL by oil companies and seismic companies is difficult and expensive to obtain.
"One reason we've been so successful in attracting the seismic data is because of our track record," said Jackson. "We've published a lot of research results in 20 years, including about 70 peer-reviewed external papers. The program wouldn't have the same influence if it were run on a shoestring." Research has explored salt basins ranging in age from 900 to 6 million years in salt basins around the world, and lately has branched out to Mars.
Last October, the AGL commemorated its 20th year at an annual review meeting for sponsors in Moab (Utah), surrounded by the striking scenery of Arches National Park and underlain by a diapiric salt wall.
Reservoir Characterization Research
The RCRL has been equally successful. The program was developed by the current co-principal investigators, Charles Kerans and Jerry Lucia.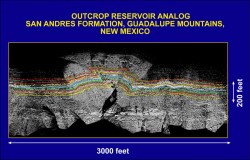 RCRL research has focused on developing improved methods for constructing carbonate reservoir models for the purpose of maximizing oil recovery. The approach has been to study the stratigraphy and petrophysics of outcrop reservoir analogs and apply the results to building realistic carbonate reservoir models.
This program has revolutionized carbonate stratigraphy and carbonate petrophysics resulting in a rock-based method for building three dimensional reservoir models in layered carbonate reservoirs. Lucia, senior research scientist at the Bureau, said their models are based on three fundamental advances also made at the RCRL:
"First, we have been among the pioneers in applying sequence stratigraphy to the characterization of carbonate reservoirs," he said. "This provides the basic framework for constructing all non-karst-related carbonate reservoir models. Second, we developed a way of quantifying the sequence stratigraphic framework in terms of petrophysical properties, which include porosity, permeability and water saturation. Third, we developed geostatistical methods for distributing petrophysical properties within the geologic framework in three-dimensional space."
Kerans, who worked with Milling and Lucia to initiate the program, stressed that it has always been rooted in a fundamental appreciation for realistic reservoir architectures as observed in detailed studies of reservoir-analog outcrop systems. In fact, the newest of the RCRL's innovations has been the integration of ground-based LIDAR mapping with new approaches to forward modeling of geophysical and structural attributes of carbonate reservoirs. Integrating outcrop LIDAR data, velocity measurements, and stratigraphy provides a robust database to construct realistic three-dimensional stratigraphic and geophysical models of outcrop reservoir analogs. Outcrop studies of fracture and vuggy pore space as related to stratigraphy and using LIDAR will improve our ability to predict reservoir performance in complex carbonate reservoirs.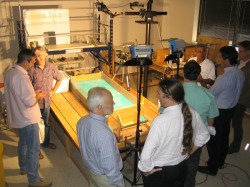 The RCRL program has produced more than 50 external publications including two books on carbonate reservoir characterization, sequence stratigraphy, petrophysics, geostatistics, and petroleum engineering.
The RCRL is enjoying all time high numbers of corporate associates (22), and has leveraged more than $9 million in industrial support with student grants from the U.S. Department of Energy, the State of Texas, the National Science Foundation, and the American Association of Petroleum Geologists. The program currently includes full time researchers in the areas of carbonate sequence stratigraphy, structural/fracture analysis of carbonates, geophysics, and diagenesis.
by Marc Airhart
For more information about the Jackson School, contact J.B. Bird at jbird@jsg.utexas.edu, 512-232-9623.