Petroleum Petrophysics: Raymond Eastwood applies modern computer models to old well log data to help small, independent oil and gas companies determine reservoir potentials
September 24, 2007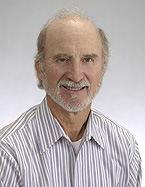 Raymond Eastwood joined the Bureau of Economic Geology as a research fellow in October 2006, where he works in the State of Texas Advance Resource Recovery (STARR) program.
As a petrophysicist in the STARR program, Eastwood uses Geolog analysis software to create log interpretation models designed to improve oil and gas recovery in Texas. Eastwood's work helps determine the potential of subsurface reservoirs and provides guidance to small, independent oil and gas companies.
"In the study we are doing now, the well logs range from the 1960s to the present day," Eastwood said. "One of our challenges is to come to grips with those older logs, which may not be as reliable as logs today. The second challenge is getting reliable, usable data from the bottom of the hole to the top of the hole. Today, we might have six or eight logs to work with, whereas 40 years ago there were maybe three logs. That is sometimes a tough issue."
His research also aims at a better understanding of reservoir characteristics.
"We want to know where porous rocks are and how porosity might vary with depth," he said. "One of the ideas we have is that reservoir rocks closer to the surface are more porous than deeper rocks, so we are looking at a variety of wells and testing."
Before joining the Bureau, Eastwood worked for BP, developing log interpretation models for Prudhoe Bay and the Aurora Borealis fields on the North Slope of Alaska.
For more information about the Jackson School contact J.B. Bird at jbird@jsg.utexas.edu, 512-232-9623.