Looking Back at a Great 2017
December 21, 2017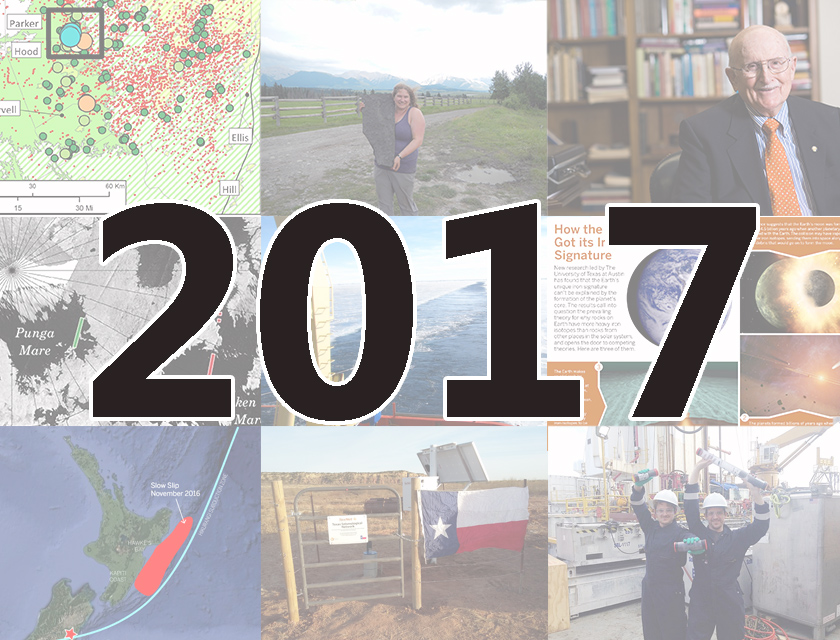 The Jackson School of Geosciences had an eventful and exciting 2017. We've led innovative research on this planet and others, took top spots in global and national rankings, received notable awards, and served as a hub for international meetings and research exchanges. Check out some of the highlights below to see just how much we accomplished.
RESEARCH ROUND-UP  
Bureau Studies Energy Issues
Our Bureau of Economic Geology explored issues vital to the country's energy supply and production. This included a study projecting the price of oil in the Bakken Shale under different scenarios; Senior Researcher Bridget Scanlon crunching the numbers on the feasibility of reusing produced water; and J.P. Nicot investigating the origin of  methane gas in Fort Worth-area water wells near hydraulic fracturing operations.
Department Goes into Deep Time and Then Some
The Department of Geological Sciences took a look at the ancient history of our planet and others. Assistant Professor Rowan Martindale found prehistoric squid relatives and more in an exceptionally preserved seabed from the Jurassic. Other department researchers looked into processes that formed our planet and others before geologic time even started. Experiments led by Associate Professor Afu Lin examined the origin of Earth's iron, while Associate Professor Marc Hesse found that "trickle down" could explain how the Earth and other rocky planets got their cores.
UTIG Tracks Climate Impacts in Past and Future
The University of Texas Institute for Geophysics continued to cover the globe with its cutting edge research. Research Professor Sean Gulick co-led a scientific cruise to East Antarctica and found that a seemingly stable ice sheet has a lively past. The research (and pollen grains that helped the scientists know the age of ancient strata) made the cover of Nature. In the other direction, Research associates Pedro DiNezio and Yuko Okumura looked to the future, collecting climate data that could help scientists predict how a  La Niña event could affect the weather years in advance.
The Jackson School in Space
Research Associate Cyril Grima found that Titan's methane oceans have tiny waves, a feature that could mean a smooth landing for future space probes sent to explore the moon of Saturn. And Timothy Goudge made a convincing case for sending NASA's 2020 Mars rover to Jezero Crater. An expert in primitive meteorites, Research Associate Romy Hanna was selected by NASA to help guide a future mission to bring a rock sample plucked from an asteroid back to Earth.
Earthquake Insights
Researchers studied earthquakes near and far and fast and slow in 2017. The bureau's TexNET is tracking quakes across Texas, Postdoctoral Fellow Shuoshuo Han found that seafloor sediments in Cascadia could influence where the next "big one" strikes in the Pacific Northwest, and Research Scientist Laura Wallace documented the first known instance of an earthquake triggering a slow-motion seismic response.
Special Missions
Professor Peter Flemings' mission to drill methane hydrate under pressure was one of the biggest science missions ever mounted by UT. The project took years to plan, included dozens of collaborators and is part of an $80-million project that the U.S. Department of Energy has tapped the Jackson School to lead. The Jackson School sent its communications director to tell the mission's story on the school's blog and in a Newsletter feature, and a film crew to document the document the mission.
In contrast, the Jackson School Rapid Response missions led by UTIG and the BEG in the wake of Hurricane Harvey came together quickly—but the data on how the record-breaking storm impacted the Texas Gulf Coast could have a big effect on recovery efforts.
RANKINGS
It was also a good year for rankings as the school continued to be recognized as one of the best academic and research institutions in the world. The Center for World University Rankings ranked UT Austin No. 3 globally for geology the Nature Index ranked UT Austin #3 nationally and #4 globally for Earth and Environmental Sciences among academic institutions.
AWARDS
Faculty and staff across disciplines were honored for their research contributions in 2017. Some of the most notable being:
Professor Julia Clarke named a Howard Hughes Medical Institute Professors for Innovation in Undergraduate Education
Professor Brian Horton receiving the inaugural Dickinson Medal Award from the Society for Sedimentary Geology.
Professor Richard Ketcham being elected a fellow of the Mineralogical Society of America.
Adjunct Professor Camille Parmesan selected as one of 18 awardees to receive a "Make our Planet Great Again" research grant from the President of France Emmanuel Macron.
Senior Researcher Bridget Scanlon receiving the M.King Hubbert Award from the National Ground Water Association and being appointed the William L. Fisher Chair in Geological Sciences and named a Prieto Memorial Fellow.
OUTREACH AND ENGAGEMENT
The Jackson School played host at home and took Texas geosciences to Washington. The school was the site for four international meetings; Dean Sharon Mosher led a NSF-sponsored meeting on improving undergraduate education in geosciences; and Ph.D students Tomas Capaldi and Sarah George represented the Geological Society of America and the American Geophysical Union at an event showcasing NSF-funded research on Capitol Hill.
In alumni news, Robbie Gries (M.A. 1970) released a book on the history of women in the petroleum geology. The Jackson School Newsletter featured a story on UT women's part of the story.
 REMEMBERING THOSE WHO PASSED
An amazing 2017 was tempered with the loss of two longtime members of the Jackson School family. The Jackson School and the world lost a giant with the passing of Peter Flawn, a former UT president and BEG director. And we lost a valuable member of our research community and a good friend with the passing Kirk McIntosh, a senior research scientist at UTIG.  We will miss them.