Seismic Monitoring Program Links Some West Texas Earthquakes to Hydraulic Fracturing
October 15, 2019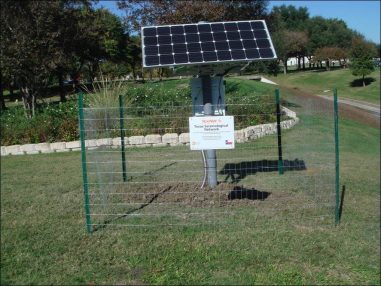 A new study by scientists of the TexNet Seismic Monitoring Program shows that some of the recent earthquake activity in the Delaware Basin of West Texas may be related to hydraulic fracturing.
TexNet and the affiliated Center for Integrated Seismicity Research (CISR), of the Bureau of Economic Geology at The University of Texas at Austin's Jackson School of Geosciences, have conducted a number of studies on induced seismicity (earthquakes possibly caused by human activity).
"The research done through this new study in West Texas, using a statistical approach to associate seismicity with oil and gas operations, suggests that some seismicity is more likely related to hydraulic fracturing than saltwater disposal," said Alexandros Savvaidis, a research scientist and manager of the TexNet Seismic Monitoring Program.
Hydraulic fracturing is an industrial operation in which large amounts of fluid and sand are injected into rock formations under pressure to fracture the subsurface rocks and release hydrocarbons so they can be recovered and refined into oil or natural gas. The Delaware Basin is a part of the Permian Basin, a prolific oil and gas producing province that has seen a significant rise in exploration and production during the past few years. The Permian Basin now produces more than 5 million barrels of oil per day, oil production that is vital to the energy security of the United States.
Hydraulic fracturing has been linked to seismicity in other areas – Oklahoma, China and Canada – but this is the first study to link it to induced seismicity in Texas. Several years ago, when there was an increase in low-level earthquake activity in other areas of the state, the Texas Legislature asked the bureau and its director, State Geologist Scott W. Tinker, to create an earthquake monitoring network to determine the causes of these earthquakes and how to minimize any earthquake impacts. With guidance from state government, the oil and gas industry, environmental organizations and academia, the bureau began deploying the network. With state funding, TexNet now consists of 82 broadband seismometer stations, which supplement 18 stations that existed throughout the state before TexNet was created in 2015.
"TexNet and CISR will continue to work very closely with Texas state agencies, especially the Railroad Commission of Texas, which regulates oil and gas activities, the state's oil and gas industry and many of the state's universities, to share data and information about earthquakes," said Michael Young, the associate director of environmental research at the bureau. "These collaborations help to jointly develop best practices to mitigate potential danger from earthquake activity to citizens or property.
"The bureau collects high-quality data on earthquakes in Texas, makes all of that data available to the public, and conducts fundamental and applied research to better understand naturally occurring and potentially induced earthquakes and any associated risks," Young said. "This study is an important step in that process."
This paper, "Improving absolute earthquake location in west Texas using probabilistic, proxy ground-truth station corrections," by Anthony Lomax of ALomax Scientific and Alexandros Savvaidis of the bureau, was published October 14 in the Journal of Geophysical Research, Solid Earth. This research was funded by the State of Texas through the TexNet Seismic Monitoring Program.
For more information, contact: Anton Caputo, Jackson School of Geosciences, 512-232-9623; Monica Kortsha, Jackson School of Geosciences, 512-471-2241