Leadership
2017-2018 Friends and Alumni Network (FANs) Board Members

Mark Ver Hoeve
President
"When I came to UT, I was blown away. The graduate department had renowned professors in all disciplines and a dynamic student body that challenged you to excel. Many professors and students just starting out at that time that went on to become names in the industry and academics. This is the legacy I want to see continued at UT Austin."
Experience
Mark received a B.A. in Geology from University of Wisconsin Madison in 1978 and an M.A. in General Geology from the UT Austin in 1982. After graduation, he went to work for ARCO Exploration in Houston. Mark's first assignment was working the Cretaceous Edwards in Lavaca County, Texas. He stayed with ARCO for about 14 years, working the Overthrust of the Western US, Offshore Gulf of Mexico in Shelf, Deepwater and Subsalt plays, and Mesozoic Basins along the Gulf Coast States like Mississippi Salt Basin. Mark became an Area Exploration Manager fairly early in his career but returned to technical work after one of the many re-organizations at ARCO. He views this as a blessing in disguise, as it forced him to learn 2D and 3D seismic interpretation on a work station. In 1996, Mark hired on as Senior Geologist with Enron Oil and Gas International, exploring the Plio-Pleistocene of the Columbus Basin of Trinidad and Tobago and had a significant discovery – the Osprey Field, about 1 TCF of gas. In 2000, EOG Oil and Gas split from its parent Enron and formed EOG Resources. One of Mark's first tasks with the new company was to find new exploration. In 2001 he became Exploration Manager and explored the UK, Egypt, Ghana, Columbia, Peru, Poland, Europe, and India for shale plays, eventually making a successful entry into the UK North Sea. From 2006-2015, Mark worked at Cimarex in Denver as Manager of New Venture Exploration. His charge was to look for new plays in the Lower 48. At the time, shale plays were exploding across the country. The industry, including Mark, was struggling to understand shale. It was a very dynamic time, and many of the same challenges to understand and predict performance in these shales remains today. Mark worked a number of shale plays, including the Wolfcamp and Cisco Canyon (the Cline equivalent in the Delaware Basin), which have become principle focus projects for Cimarex over the years. In early 2015, Mark accepted the position of VP for Exploration and Development at Discover Natural Resources.
Why UT?
Mark received his undergraduate degree from the University of Wisconsin Madison in 1978 and became interested in sedimentary rocks. Austin was suggested as a good place to apply and was his top choice for graduate school. Much to his surprise, he was accepted!
Importantly, once Mark started work after graduation, he realized that he had a superior background which has been a huge asset throughout his career. In addition, he has lived in Texas a large part of his career and loves the state. His wife, daughter, father-in-law, and son-in-law are all Texas graduates. That is a lot of burnt orange from a guy who grew up in New Jersey. Hook 'em!
Best Memories and Biggest Influences at JSG
UT was a dynamic place in the late 70s and early 80, with leading researchers in sedimentology, stratigraphy and petrography. Mark's advisor, Earle McBride, was probably his biggest influence, giving him clear advice, helping to scale his efforts which allowed him to graduate in a reasonable amount of time. In addition, Bob Folk's course in Sandstone and Carbonate Petrography (and his Orange book) were huge in Mark's development as a geologist. "Neither of these professors would not let you get away with a lot of BS, which graduate students excel at," he remembers. Al Scott was another inspiration with his clear grasp of depositional systems. Mark was Lynton Land's TA for the graduate Carbonate Petrography course, and that "built character." Last but not least, Mark reflects that peers are a huge influence, coming from diverse backgrounds and incredible schools. And he ended up marrying one of them….
Words of Wisdom
"Be a life-long learner. Looking back over 30 plus years makes Mark appreciate how much change he have seen – from a world of paper maps and logs to fully digital, 2D to 3D seismic, amazing advances in seismic processing, geochemistry, petrophysics and petrographic imaging of nano-scale pore systems. And let's not forget the revolution in our geological thinking where shales are now our reservoirs. Second, be humble. There will be set backs and down turns. Keep your head down and keep learning." -Mark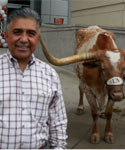 Bruno Maldonado
President-Elect
"Pursuing a degree in geology/geophysics has opened up a great adventure for me. In my work, I use some of the most advance technologies that have allowed me to see the most fascinating rock formations about and beneath the surface of the earth."
Experience
Bruno earned his B.S. from the University of Texas in 1982 then accumulated a wealth of professional experience. He immediately went to work for Sun Exploration & Production Co. in Dallas, TX as an Exploration and Production Geophysicist, and stayed there for almost a decade, he working in the Gulf of Mexico Shelf, Gulf of Mexico Deep Water and US Mid-Continent. Over the next few years, Bruno managed geophysical technical marketing efforts for North and South America at PGS Tensor, Inc., then directed worldwide geophysical technical marketing at Diamond Geophysical Service Corporation. Next, he got into exploration with Burlington Resources and Newfield Exploration Company before accepting a role evaluating SE Asia exploration and production opportunities with Ping Petroleum (Bermuda) Limited. Until 2015, Bruno served a Senior Geophysical Advisor at Apache Corporation assigned to the Worldwide Exploration and New Ventures Team. He is currently consulting independently. In addition, Bruno is a member of the FANS board, SEG, and AAPG.
Why UT?
First of all, being a native Texan, I grew up with the hopes of attending UT and discovered geology through a friend. Having taken my first geology course with Dr. Long, I was fascinated with how we could tell a lot about the earth's history through its rocks. In addition to this, I always had a love for math and physics and chose the geophysics option for my undergraduate degree.
Best Memories and Biggest Influences at JSG
Bruno would have to say meeting my wife of 35 years was his best memory of being on campus. But attending the UT football games during the Earl Campbell years is a close second. And his biggest influence while here was the Geology Department. "It helped mold who I am today. The professors and TA's always showed a great passion for sharing their knowledge," says Bruno. 
Words of Wisdom
"Study hard, play some. You will have time later in life to play more." -Bruno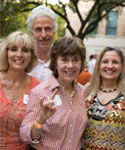 John Michael Long
Past President
"I'm proud of my degree because it gave me the credentials to maintain an enjoyable career in petroleum geology during bad times, that is, when oil prices were low."
Experience
John earned a B.S. in Geology from the University of Missouri, Columbia in 1974 and an M.S. from the University of Texas in 1978. Throughout his career, he has done petroleum exploration in the Gulf Coast and Gulf of Mexico, then West Texas, Kansas, and Wyoming. Currently, he is Petroleum Geologist, consulting independently in San Antonio. In addition, he is a member of AAPG, SEG, South Texas Geological Society, and San Antonio Geophysical Society.
Why UT?
John selected UT for grad school because everyone at Texaco, his first job, told him that it was the best petroleum geology oriented department around.
Best Memories and Biggest Influences at JSG
John will always remember learning to make a slide show from Professor Al Scott, and Ralph Kehle's Gulf Coast Tectonics course that taught him "most of what he needed to know in life."
Words of Wisdom
"Get a well-rounded back ground, including liberal arts courses so you can write and give speeches, specialize in what you like, and hope that what you like stays popular." – John

Ana A. Manzolillo Ramirez
Networking Director
"My degree has given me the foundation for a fulfilling career in an industry that encourages new ideas using well known concepts and cutting edge technology and the opportunity to travel the world."
Experience
After earning a B.S. in Geology in 2005 from the Jackson school, Ana began her career as a geologist at Repsol working on a producing field in the Burgos Basin, Mexico and later working on field development in the deep water Gulf of Mexico. She moved on to Maersk Oil to work exploration and appraisal projects in offshore Angola and offshore Brazil. Most recently, Ana worked at Hess where she focused on near field exploitation in the Gulf of Mexico. Ana is a member of AAPG, HGS, and SPE.
Why UT?
Being a native Texan, Ana always knew that UT offered a world-class education. She had the chance to experience just how amazing the university was while visiting her sister (a fellow UT alum) on campus several times. Although she began her time at UT in the Engineering department, she realized that Geology was her true calling as it combines a love of the outdoors with the desire to work in the petroleum industry (her father spent his career in the industry).
Best Memories and Biggest Influences at JSG
Ana's two favorite classes were Field Methods and Field Camp. She always enjoyed a chance to get in the field and apply what was learned in class. And of course, the after-class discussions at Crown & Anchor were fun too. Dr. McBride was a huge influence. A few weeks into his Sed Rocks class, Ana confirmed her decision to change her major to Geology. She will always appreciate his influence in helping her find her career.
Words of Wisdom
"Seek a mentor or two.  Look for someone who represents where you want to be in a few years. Navigating a degree and career are not easy, and you don't have to do it alone.  You will find success as long as you keep learning and doing what makes you happy." -Ana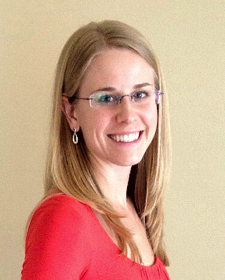 Lauren Greene Martin
Outreach Director
"The Jackson School has such a large and diverse research program that I was exposed to all aspects of geology. I got a fantastic, well-rounded, field-based education with plenty of research opportunities and I was set up to succeed in graduate school and industry. I don't think any other school can compare with the opportunities available here."
Experience
Lauren received a B.S. in General Geology from the Jackson School in 2007 and completed a M.S. in Geology from the University of California, Davis in 2010. After receiving her M.S., she worked for Apache Corporation for six years. She worked in the GOM Shelf, GOM Deepwater and Reservoir Management groups on projects including unconventional and conventional plays in Egypt, Canada, the Midland Basin, the Gulf of Mexico, the North Sea and Southern Louisiana. She is currently taking a step back from work to spend more time with my young children but plans to return to the workforce in a few years. Lauren is an active member of AAPG, GSA, and HGS.
Why UT?
Lauren appreciates that the Jackson School has all the benefits of a small private school (small class sizes, access to scholarships, mentoring, research opportunities) and the benefits of a large public institution (lower tuition costs, campus life, large number of companies coming to recruit, diversity of education opportunities).
Best Memories and Biggest Influences at JSG
Lauren says, "My undergraduate advisor, Jay Banner, was my biggest influence while at JSG. I worked in his lab for over two years and gained invaluable research experience. I also gained presentation and writing skills while in the Undergraduate Research Honors Program that served me well in grad school and in industry." Lauren also really enjoyed class field trips (especially field camp) and traveling to San Salvador Island in the Bahamas for her undergraduate research project.
Words of Wisdom
"If you're currently a student, go to the Jackson school webpage and find some professors you'd be interested in working for. Send them an email, stop by their office, or give them a call and let them know you're interested. I did this my freshman year (with no geology experience!) and only three of the ten professors responded back, but I ended up getting an unpaid internship with one of them. I later used that experience to land a paid research position in Jay Banner's lab, which in turn gave me the experience I needed in graduate school and beyond. Also don't be afraid to simply ask a potential employer what you need to do in order to get hired. Go to career fairs or info sessions, get their advice, and then do it!" – Lauren

Steve Weiner
Austin Chapter Director
"I went into UT knowing a lot of geological theories and observations. While there, I learned how it all intertwined, so that I understood what to expect geologically. I left UT as a geologist."
Experience
Steve received his B.A. in Geology from Franklin & Marshall College in Lancaster, PA in 1979 and his M.A. in General Geology from the University of Texas at Austin in 1981. From 1981-1995, Steve worked as an Exploration & Exploitation Geologist with Exxon Company USA, focusing on Gulf Coast, King Ranch, East Texas, Arkoma Over-thrust, and Permian Basin. From 1995-2010, he was Manager of Geology with XTO Energy concentrating on West Texas Permian Basin, Fort Worth Basin, and Hugoton Embayment. From 2010-2015, Steve was been President of Steve Weiner Consulting and is acting chief geologist for Three Rivers Operating. He is currently retired. He is a member of AAPG, West Texas Geological Society, and S.I.P.E.S.  
Why UT?
Steve wanted to be a petroleum geologist and says, "Why would I want less than the best?"
Best Memories and Biggest Influences at JSG
"During my first semester as a graduate student at UT," Steve says, "I went to a dance with my long-time girlfriend, and we met up there with a friend of hers and her friend's roommate. The roommate, as fate would have it, was a beautiful female geology student. The roommate and I dominated the conversation before the band started playing. But because I realized that this young lady was very dangerous to my relationship with my girlfriend, I avoided her the rest of the evening. As time went on, my girlfriend and I broke up, I became friends with the dangerous young lady, and I went to work in Houston. Eventually I learned to love having danger in my life, and as my wife. Now I wouldn't want it any other way! I'm not sure what my biggest influence was, but I made some life-long friends and learned a whole lot!"
Words of Wisdom
"Find an older alum or co-worker, and ask for advice. Let them be your mentor. They've been through a lot, and can be a compass to help you determine the direction to take your career." – Steve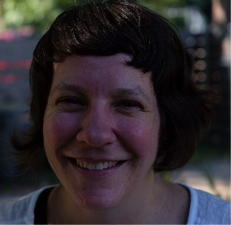 Alison Mote
Austin Chapter Director
"I am proud to have graduated from such a diverse geosciences program, from the groundbreaking geoscience research that comes out of the JSG to the importance that the school places on educational programs like GeoFORCE."
Experience
Alison earned a B.S. in geology from the University of Georgia in 2000 and an M.S. from the University of Texas in 2004. With a passion for geosciences and education, Alison decided to pursue a career in education after graduation with the goal of inspiring more at-risk youth to pursue careers in STEM fields. Alison spent the first five years of her teaching career at W.B. Travis High School in Austin, and the last four years of at the Ann Richards School for Young Women Leaders in Austin, TX. Alison has worked on several curriculum development projects throughout her career that have allowed her to combine her passion of cutting edge geoscience research with education, including co-developing an EarthLabs Climate Literacy module as a result of her participation as an Education Officer on the R/V JOIDES Resolution. In her final year of teaching at the Ann Richards School, Alison taught the OnRamps Dual Enrollment Geoscience course and was excited to introduce her students to college-level geoscience, and even more excited at their response to the content and real-world connections that the course provided. Alison currently works for the UT OnRamps Dual Enrollment program as the course coordinator for OnRamps Geoscience: Earth, Wind, and Fire. In her current role, Alison provides instructional support and facilitates professional learning experiences for instructors, develops curriculum, and collaborates with Jackson School Faculty to ensure students receive an authentic college experience.
Why UT?
Alison decided to attend UT for graduate school because she was impressed with the size of the program, the award-winning faculty, and state-of-the-art research facilities.
Best Memories and Biggest Influences at JSG
"My best memories were connecting with faculty and fellow students during weekly beverages in the park events. And the amazing field experiences offered!" says Alison. She also feels fortunate to have served as a TA for Dr. Jay Banner's introductory geoscience course, Living with a Planet, and was inspired by his dynamic teaching style and engaging lectures. Dr. Banner was one of her greatest influences as a geoscience educator.
Words of Wisdom
"JSG students are so fortunate to have the opportunity to learn from world-renowned faculty; students should challenge themselves and take advantage of every research and field experience they can." -Alison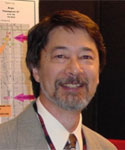 Frank Cornish
Corpus Christi Chapter Director
"UT is world class and I'm in good company."
Experience
Frank Cornish received his B.S. from LSU in 1973 and M.A. from the University of Texas at Austin in 1975. He has worked in the industry in Midland, Oklahoma, Houston, and Corpus Christi for Getty Oil, Texas Oil and Gas, Yuma, Suemaur, and SV Energy. He currently serves as President of Imagine Resources, LLC. He is also a member of the Corpus Christi Geological Society, South Texas Geological Society, Houston Geological Society, AAPG, SEG, and SIPES.
Why UT?
One of Frank's professors, Dr. Clyde Moore at LSU, recommended that he consider the University of Texas for grad school. UT offered him an assistance-ship, and the rest is history.
Best Memories and Biggest Influences at JSG
Frank's favorite memory from Austin was time spent at Hippy Hollow, but his biggest influence was Depositional Systems and the teaching team of Fisher, Brown, and Scott, and Folk/McBride. "They taught us how to think," says Frank.
Words of Wisdom
"Don't forget whose shoulders you are standing on (professors) and those students around you that helped you to achieve your success." -Frank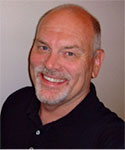 Joseph R. (Joe) Davis
Dallas Chapter Director
Joe is proud of his degree because, "Someone actually bought a copy of my dissertation."
Experience
Joe earned a B.A. in Earth Science from Dartmouth College in 1972, an M.S. in Geology from SMU in 1975, and graduated from the Jackson School in 1981 with a Ph.D. He worked at the USGS as a Field Geologist from 1974-1980, at Arco as a Research Geologist from 1980-1987, and at International New Ventures as a consultant from 1987-2015. He recently joined Kalnin Ventures as the V.P. of Geoscience in 2015. Joe is former President and current member of the Dallas Geological Society as well as Chairman of the Dallas Delegation to AAPG and member of AIPN. He is also a Fellow with the Geological Society of London.
Why UT?
Joe chose UT for the 3 F's: Faculty, Facilities, and Fellowship.
Best Memories and Biggest Influences at JSG
Joe fondly remembers the after class discussions at the Posse, and credits Al Scott and Bill Muehlberger as two of his biggest influences.
Words of Wisdom
"Don't accept, 'No,' as an answer." -Joe
Nabiel Eldam
Houston Chapter Director
"After experiencing first-hand the geology program from the Jackson School, anyone who can make it through has a solid foundation to succeed in the geoscience workforce."
Experience
Nabiel earned a B.S. in General Geology in 2009 and an M.S. in Geological Sciences in 2012, both from the University of Texas. Before starting grad school, he interned at EOG in the Fort Worth office during the summer of 2009. Upon completion of his graduate degree in April 2012, he began a career as a geologist for Marathon Oil Corporation. Projects have included development in the Anadarko Basin, serving as an operations geologist in the Eagle Ford, and presently working the Kurdistan Region of Iraq with a focus on fractured, carbonate reservoir modeling. Nabiel is also a member of AAPG, SEPM, and HGS.
Why UT?
"UT offered an amazing opportunity to learn from top-notch faculty, gain abundant field experiences, and one of the strongest networks in petroleum geosciences," shares Nabiel.
Best Memories and Biggest Influences at JSG
Traveling to exotic field locations like Mallorca, Spain and Turks and Caicos to learn about carbonate sedimentology are the clear winners for favorite memories. Furthermore, Nabiel says, "Dr. Charlie Kerans was a huge influence on my decision to pursue an MS and a career in the petroleum industry."
Words of Wisdom
"Get involved at an early age. Join a program like UGS, GLOW, or the AAPG student chapter. Reach out to your professors and ask to get involved with their research. The JSG has an abundance of opportunities, unlike that at any other university, to gain experiences that will result in a passion for geosciences. That passion is what defines a high-quality geoscientist from their peers." -Nabiel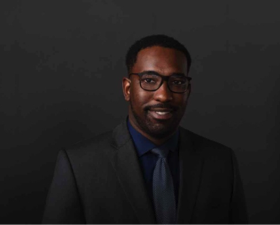 Stanley Stackhouse
Houston Chapter Director
"I am proud of my degree from the Jackson School because there is no doubt in mind that I earned it!"
Experience
Stanly received a B.S. in chemistry from Fort Valley State University prior to earning a B.S. in 2007 and an M.S. in 2009 in geology from the Jackson School of Geosciences. He did internships with Minerals Management Services and Shell as a student. He has worked as a Geologist at EP Energy and a Sr. Geologist at Argent Energy. He is currently a Sr. Geologist at BXP Operating. He is a member of NABGG and AAPG.
Why UT?
After being exposed to geology through the Cooperative Development Energy Program (CDEP) at Fort Valley State University in middle school, geology became a subject that was very intriguing. Knowing about UT's partnership with FVSU made it a no brainer to go study geology at a top-notch facility like UT.
Best Memories and Biggest Influences at JSG
There is no way for Stanley to pick just one influence from the Jackson School. He says that it is a 3-way tie between Dr. Kerans, Dr. Fisher, and former Outreach Director, Doug Ratcliff. His favorite memories are from the many, many, many, trips taken to the Permian Basin.
Words of Wisdom
"Get to know your classmates, the professors, administrators, building workers, everybody. The more people you know in the Jackson School and within University of Texas, the more accessible information and opportunities will be to you during and after your time at the UT." –Stanley
Stevenson Bunn
Houston Chapter Director
"I am proud to have an instantly recognizable degree from one of the most prestigious universities in the country. The memories, friends, and now colleagues I made while at UT are priceless."
Experience
Stevenson earned a B.A. in geology from Washington and Lee University in 2011. He first became interested in geology at Washington and Lee during a field-based course taken during the university's six week spring term. No greater laboratory than the Appalachians! He then earned a
Overview of Career:
I first became interested in Geology at Washington and Lee in a field based course taken during the university's six week spring term. No greater laboratory than the Appalachians! He then came to the Jackson School and earned an M.S. in Energy and Earth Resources in 2015. He began working with Apache after graduation, and has been fortunate enough to work in two regional offices (Houston, TX and Midland, TX) and explore three world-class basins. Stevenson says, "The opportunities I have been afforded and variable nature of my work thus far have taken me to the edges of what I thought possible. I look forward to the knowledge, experiences, and challenges ahead."
Why UT?
Stevenson chose to attend UT for world-class resources and faculty. He says that Austin isn't bad either.
Best Memories and Biggest Influences at JSG
Stevenson easily picks Fynal Bedlam as his favorite memory from his time here, but says it is a tough call to pick a biggest influence. "I would have to acknowledge both Dr. Bill Fisher and Dr. Lesli Wood. Dr. Bill Fisher for his constant guidance, mentorship, and knowledge. Dr. Lesli Wood for the constant humor, amazing ability to fit more red pen on a single page than anyone I've ever seen, and her ability to put up with me for multiple semesters," says Stevenson.
Words of Wisdom
"Stay positive. Stay passionate."– Stevenson
Marcus A. Chroback
Midland Chapter Director
"I'm proud of what I have been able to do as a result of receiving a Jackson School of Geosciences degree."
Experience
Marcus received a B.S. in Geology from the Jackson School in 2010, and earned an M.S. in Geology from the University of Houston in 2013. He worked as an intern with EOG Resources in the summers of 2011 & 2012. After grad school, he started his career as a geologist with EOG Resources in September 2013.
Why UT?
A prestigious reputation in geosciences and overall quality at the University of Texas attracted Marcus to the Jackson School.
Best Memories and Biggest Influences at JSG
Some of Marcus' favorite memories of his time on campus include involvement with the UT Ice Hockey team as well as the field course Geo 660. His biggest influence would have to be Mark Cloos.
Words of Wisdom
"Get to know as many people as you can while in school, from friends to professors. Do your best to get involved with companies during the summer to gain valuable experience, and never hesitate to ask questions." – Marcus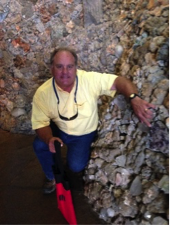 Ross Moczygemba
San Antonio Chapter Director
"I am proud of my degree because of all the options it opened for a little farm boy. The people I have met and will meet… The things I have discovered and will discover… The people I have helped and will help… Every day is still an adventure."
Experience
Ross earned a B.S. from UT in 1979. He worked at Chevron from 1977-1979 doing Uranium exploration. He then worked for Clayton W. Williams Jr. in San Antonio doing oil and gas exploration. He focused on the Giddings Area, Austin Chalk and Cretaceous Trend. From 1982-2000, he focused on Navarro Sand as a Geologist with Hollub Drilling and Bar Mac. In July of 2000, he earned a Teaching Certification from Texas State University and changed career paths. He taught science to students in grade 4-12 from 2000-2016.
Why UT?
Ross says, "I started in Petroleum Engineering and discovered Geology. The best day of my life!"
Best Memories and Biggest Influences at JSG
Ross' favorite memories were from field trips, because there was so much to learn outside the classroom in the field. He says his biggest influences was Dr. Al Scott who taught stratigraphy and opened his mind to economic geology.
Words of Wisdom
"Listen to scientists and other people and apply your knowledge to what they say; they might be partly right. Never assume there is nothing to discover. Remember your imagination creates wealth. This is an awesome degree program!" – Ross