Staying Connected With #SummerFORCE
November 1, 2021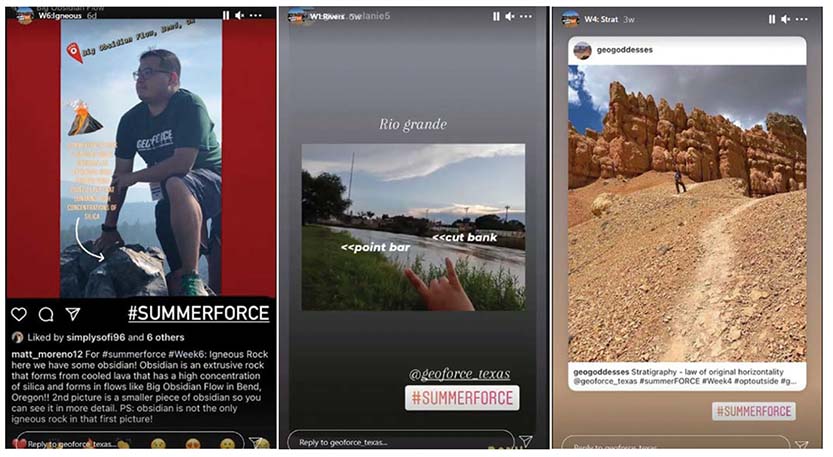 This summer, the Jackson School of Geosciences' GeoFORCE program helped students stay in touch and keep their geoscience skills fresh with a social media challenge: #SummerFORCE.
The nine-week challenge took place through the social media platform Instagram. It encouraged members of the GeoFORCE community to post a photo related to the geology topic of the week and tag it with #SummerFORCE. Each challenge received up to a dozen entries, and one winner each week received a small prize. All 45 entries were also entered into a grand prize drawing.
GeoFORCE is an outreach program for middle and high school students from underserved communities in Houston, Austin and Southwest Texas that takes participants on summer field trips to geologic landmarks as part of a summer academy. However, due to the COVID-19 pandemic, academies have been virtual since 2020.
GeoFORCE coordinator Jasmine Gulick and student assistant Katherine Garcia, who is a GeoFORCE alumna, came up with the #SummerFORCE challenge as a way to build community while students were learning from a distance during the summer.
"When we learned we would be having virtual academies, we started brainstorming ways to connect with students and alumni, and also be able to see everyone's adventures that they went on, even if it wasn't with us," Gulick said. "We've had a lot of fun sharing and being part of the challenge."
Garcia said that she enjoys using images and artwork to make the geosciences more accessible and engaging. She helped start the Instagram account for the earth and environmental department at her undergraduate alma mater Franklin & Marshall College and simplified scientific figures from peer- reviewed geosciences publications so they can serve as better teaching aids for her classmates.
She said she plans to stay involved with geoscience outreach as she joins the Jackson School as a master's student in the Energy and Earth Resources program this fall.
"I want to find ways to engage professors with diversity initiatives that work and that can reach disadvantaged communities," Garcia said.
In addition to summer academies where students experience and learn about geological landmarks firsthand, GeoFORCE provides guidance on preparing and applying for college. All these activities are made possible due to generous support from sponsors, including an ongoing $750,000 match gift from an anonymous donor.