Diversity Update
November 1, 2021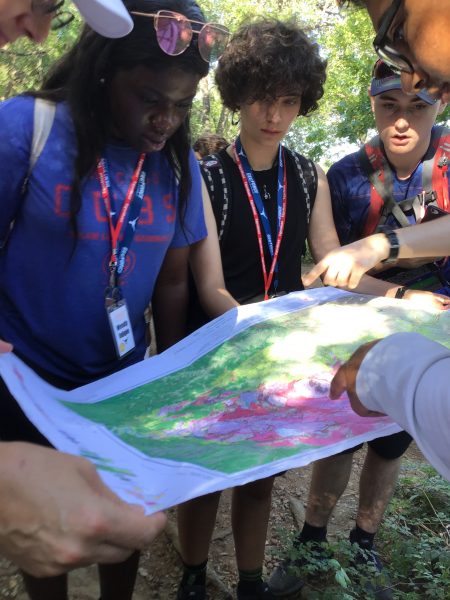 Diversity, Equity and Inclusion (DEI) efforts continue to be an important part of the Jackson School of Geosciences.
GeoFORCE Last summer, when travel was halted and in-person activities were canceled, the GeoFORCE team jumped into action to create a virtual learning curriculum that could engage participants and educate them about geosciences.
This move to virtual learning was borne out of necessity. But it helped lay the groundwork for a new GeoFORCE initiative that is helping expand the reach of the program.
Starting in the summer of 2022, GeoFORCE will offer virtual field academies in addition to the in-person trips. This will allow all interested students in the areas GeoFORCE serves to participate in the field or virtually.
"Every year, GeoFORCE has a waitlist of students," said GeoFORCE program director Leah Turner. "No one should have to miss out because of limited bus space."
Since 2005, GeoFORCE has been partnering with underserved school districts to help drive student interest in careers in STEM, with a focus on the geosciences. During summer academies, students take trips to spectacular geologic sites in Texas and throughout the United States and learn first-hand from geoscientists in the field, the lab and the classroom. The virtual academies will help bring the geosciences to even more students.
GeoFORCE's growth didn't stop there. This summer, they added new student cohorts from school districts in Central Texas including Austin, Del Valle, Manor and Pflugerville. It also launched a new GeoFORCE Family pilot program, which will focus on informing the families of GeoFORCE students about job opportunities in STEM and the geosciences. The program, which is sponsored by Repsol, will start with cohorts from southwest Texas and include visits to Repsol's job sites.
All GeoFORCE experiences are offered at no cost thanks to the generosity of donors. Over the next four years, an anonymous donor is matching every new gift to the program, dollarfor- dollar, up to $750,000.
Last year, the Jackson School of Geosciences launched GeoVISION, a research traineeship program for GeoFORCE alumni and STEM undergraduates interested in learning computational skills and applying them to geosciences questions.
This year, the program continued under a new name, RTX. It brought together 23 participants, most of them undergraduate students from underrepresented groups, for eight weeks of virtual learning from Jackson School experts. The program provided participants access to all the equipment and supplies needed to take part, including laptops, software and access to the UT library system, as well as a stipend.
Scientists — including faculty, research scientists, postdoctoral researchers and graduate students — from each of the Jackson School's three research units took part in the program. This included one-on-one mentorship as well as teaching training modules, which spanned from remote sensing software, to data analytics, to the coding language Python.
The participants who took part in research projects shared their findings at a virtual poster session at the end of the program. Two participants will be presenting to a larger audience at the upcoming meeting of the American Geophysical Union, according to program coordinator Dana Thomas.
Computational skills are in highdemand in both the workforce and the graduate school environment. Thomas said that RTX provides a skillset students can build on while offering a new, hightech perspective on geosciences.
In addition to scientific training, RTX participants also took part in personal development and skillbuilding workshops. Thomas said that RTX is expected to continue into 2022, but that additional funding is required to ensure that students from outside of the GeoFORCE program are able to take part.
In addition to outreach, members of the Jackson School community looked at ways to improve inclusivity within the Jackson School by forming a local chapter of URGE.
URGE is a National Science Foundation-supported initiative with 276 chapters, or pods, worldwide. The goal of the program is to encourage geoscientists to come together to develop anti-racist strategies.
Associate Professor Rowan Martindale leads the Jackson School pod. It currently has 93 members and includes faculty, research scientists, postdoctoral researchers, graduate and undergraduate students, and staff.
The pod engaged in eight two-week units during the spring and summer semester that focused on learning about anti-racist strategies and developing resources and action items for the Jackson School.
A key focus going forward is building diversity among Jackson School faculty, staff and graduate students.
To learn more about the Jackson School URGE pod, or to get involved visit: urgeoscience.org/pods/ut-austin-jsg-pod