Alumni Notes
November 12, 2020
1950's
Walter V. Boyle (B.S. '54, M.A. '55) shares, "Because of the coronavirus pandemic outbreak, Vada's and my life has drastically changed since February 2020. We have become more or less "Stay at Homes" — little socializing and partying with our friends, no Houston Geological Society meetings, no church, no Houston Symphony Concerts and Alley Theater performances — only phone conversations and e-mail notes to my friends — Vada and I have learned to attend "Zoom" meetings with our friends which is great. We also had to cancel a Crystal Cruise to Montreal, Quebec, Boston and New York. I really missed getting to attend the JSG spring meeting in Austin and getting to see old classmates and the Jackson School of Geosciences staff. In conclusion, it has been a distinct honor and privilege to have known former Dean Sharon Mosher for the past ten years, and to see her help build the Jackson School of Geosciences into the largest geoscience program in the country and ranked No. 1 in geology by the U.S. News & World Report 2019 edition of "Best Graduate Schools". Continued success to former Dean Mosher when she returns to her research and wrapping up two major national geosciences education initiatives for the National Science Foundation."
Jimmie Russell (B.A. '52, M.A. '54) writes, "YING/YANG's — FAITH & LOVE: words I often think. My friend Master Sergeant Jesse Wayne Green's service was held January 17, 2020 at Greater Mount Zion Baptist Church in East Austin. I contributed some eulogistic remembrances. I was an Honorary Pallbearer. We will be reunited at Fort Hood, at the Military Cemetery. We were GI "Buddies" in 1956. TAPS, JESSE, REST-IN-PEACE. Doctor Folk told me "We do things differently, than when you were here". The "Boss" is correct, "THE TIMES THEY ARE A-CHANGING". I spent many hours in labs pursuing my degrees, but there was never a lab of this type! The VIRUS has caused me to have many interruptions of activities. However, as disabilities have prevented me from getting out and about for at least a year, a colleague said I appear to have been "under house arrest" for quite sometime. It was contracted by the compound's groundskeeper and his wife, but fortunately both had mild cases. Sadly, complications by the virus resulted in the death of a geological colleague of many years, Dr. E. Gerald Wermund, "Jerry". Also, my mineralogy lab-partner, attributable to hard-work and an "A" passed away: Adios Floyd Sabins. Communication with friends during this time has given me much pleasure. I can be reached at jimmierussell@gmail.com. I will enjoy hearing from you. Also, I answer the phone, but I walk slow, so HANG ON! & HOOK 'EM."
Daniel L. Smith (B.S. '58) says, "I continue being very active and busy with several things. My five grown kids, seven grandkids, and two great grandkids keep me young and always on my toes. I really enjoy my activity as a member of the Foundation Advisory Council and other UT activities. I continue to be active in AAPG, SIPES, GSA and Houston Geological Society. I manage to work most days generating new prospects. I'm not bored."
Theodore Edward Stanzel (B.S. '56) writes, "Going about our changed lifestyle brought about by the pandemic: We stay closer to home eliminating air travel and cruise lines in the interest of health and safety. Our travel agenda has changed to visiting interesting sights in Texas nearby counties of Fayette, Colorado, Lavaca, Lee and Washington. Many small towns and roadside points of interest. Wanda and I also are planning more extensive trips across the northern and western United States to observe the many historic and geologic points of interest. Happy travels."
Leslie Pittman White (B.S. '56) shares, "Dianne and I continue plugging on along here in southwest Austin. We have been mostly sheltering in place at home. It is no big deal. We have been together 58 years, so we think we know pretty well how to do this. When people our age are told that it is proper to lay around the house all day, the instruction is not entirely unwelcome. Another advantage that the aged have is the speedy passage of time. I remember, in the sixth or seventh grade, school would let out in May, and you did not have to go back for the rest of your life. Summer would last forever. At age 88 it does not work like that. June went by in less than a couple of weeks and July, even less than that. It is kinda fun getting to be this old. It is a little like standing on a high place on a clear day and being able to see a lot of things. And the past does not seem to be far away. I remember, as if it happened this morning, that September day in 1951 when I hitch-hiked from Waco to Austin and enrolled in this university. I walked through the Main Building down that long hallway on the ground level. I came out the east end and saw the geology building for the first time. I admired the frieze around the building with the models of fossils and crystals. I looked a long time at the inscription over the south door: "O Earth What Changes Hast Thou Seen." Today I think, "Boy, it sure has, hasn't it." And now we have that somewhat parallel thought, "What Starts Here Changes The World." I can tell you for sure, what started here changed MY world. I was a self-supporting student. The four year degree took five years. At the end of those years I had a degree, I had an education, I had a job, I had a profession and I had a hobby, an avocation that would entertain and intrigue me for the rest of my days. I had a love of learning and an insatiable curiosity. I had friendships that would outlast lives. And I had an inseparable connection with this sterling institution that would become the Jackson School of Geosciences. I am so proud of this school. I am so very proud to be a part of it."
1960's
Joe Norman Meadows (B.A. '62) says, "Hope you and your families are well. We have been skipped by the virus and are thankful for that." Joe can be contacted at joemeadows@sbcglobal.net.
Tom Patty (M.A. '68) writes, "With the virus this year there have been efforts to continue work at the WJE Petrographic Lab, mentoring to the new geologist and petrographers about Central Texas geology and aggregate sources. Some weekend geologic consulting projects have continued mostly in floodplain areas along the Brazos and Colorado Rivers. Recent drilling in eastern Williamson County has had no results but efforts are continuing. There is still a shortage of aggregates for the readymix concrete industry with the continued growth in the central Texas area. So I will keep looking. Just before the virus shut things down I presented a paper PERMIAN AGE BEAVERBURK LIMESTONE: LOCATION, CHEMISTRY, AND ARCHITECTURAL USES at 54th Annual Meeting GSA South-Central Section March 9-10 in Fort Worth, Texas. Since the passing of wife JoAnn in late 2017, I have had chances to travel with the kids and grandkids in addition to keeping the house and yard in shape. Hopefully when the virus plays out we can get back to visiting our friends on campus and at the Pickle Research Center. These have been trying times. I can still be reached at tspgeorock@gmail.com."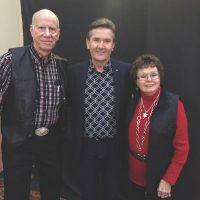 Rubin Amos Schultz, Jr. (B.S. '61) says, "Still enjoying retirement, traveling and grandkids. This photo is from last November in Branson, Missouri visiting with Daniel O'Donnell."
William C. Young, III (B.A. '61) shares, "Still enjoying retirement, although I'm hunkered down at present, and missing my travels and cruises. All is well, and I'm looking forward to the end of the virus and its problems."
1970's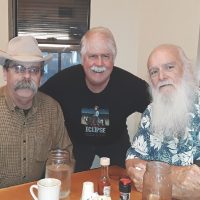 Elmo Brown (B.A. '76) says, "Like everyone else in the world, Kathy and I have been homebound for the last several months. However, before the virus made its unannounced entrance, we did have the opportunity to reconnect with some college buddies. Now that we live in Kerrville, and I am a member of the STGS, we were also able to meet up with Bonnie Weise, John Long and Ted Flanigan. This year, both John and Ted were selected to receive the 2020 STGS Honorary Member Award; very well deserved. We were able to visit Clay Hunter and his wife Nancy in Golden, CO. They too are laying low, with Clay focusing on improving his already excellent banjo and guitar playing. And speaking of guitar playing, Paul Garrison came down from Wyoming to play in a gig or two with Ted Flanigan, who plays bass guitar in venues around the area (at least that was the case before the March shutdown). Some believe that going to college is to fill our heads with important knowledge, which is true, but it is also to fill our hearts with the friendships we make along the way."
Roger Q. Callaway (B.S. '70) says, "Let's see, my accomplishments and activities since last year, or was it the year before.. Only two years have slipped by it seems. The major accomplishment was in 2019, when I got stopped in time on the freeway, and the F-150 behind me did not. Briefly, I was rattling around in my little Nissan truck, sort of like the pea in Coach's whistle. The accomplishment was, the truck died, but I didn't! Not even badly hurt. It took most of a year after, but I bought another pickup. Balance was restored to the Force. I had great plans of travel, but, probably 2 weeks after I bought the truck, NC went into COVID Lockdown. Well, plans have a long shelf life. There's always 2021, or 2022. Until then, I'm making some effort to keep my marbles in the coffee can. Here at the deadline to submit my notes, I left the porch, and the hummingbirds and their acrobatics, and forced myself into the the house and to the keyboard. With greater distance to the Good Old Days, I see my lapses, missteps, and escapes from opportunities less as tragedy and more as experience. Certainly the second go at UT from '75 through '77, and the attendant B.S. in Geology was the buoy that kept me afloat. Here's my hat off to old pals and surviving teachers." Roger can be contacted at rqcallaway@gmail.com.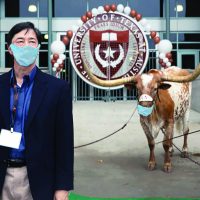 Frank G. Cornish (M.A. '75) writes, "I'm still exploring Texas Gulf Coast: part time consultant for Hurd Enterprises of San Antonio. Our Geological Society is trying to figure out how we survive this covid and oil price crisis just like everyone else. I'm still building a photo art career, but that, too is affected by closures of galleries and Art Centers. We're all sheltering in place waiting for covid vaccines and trying not to catch it yet. I have three grandchildren including two one-year-old boys each from different sons. So with our granddaughter of four, we have some visiting we want to do, but cant."
Patricia Wood Dickerson (B.A. '70, Ph.D. '95) shares, "Far fewer wanderings to report this time, so they were savored all the more. June field work in Big Bend brought us exciting new results in a setting of profound silence, flaming sunrises and splendid star shows. Sparsely peopled, the Chihuahuan Desert is ideal for field research just now. Reported our discoveries at national and regional GSA meetings (no vegetal projectiles thrown!) — the most recent of which was just before lockdown. Since the Ides of March, other lecture gigs/tours/ conferences — including a most eagerly anticipated field seminar in Spain and Portugal — have been cancelled. However, stimulating collaborations with Argentine compadres on kindred lower Paleozoic rocks there and in Big Bend continue (despite my abuse of the language). Teleworking on the GeoRef project is productive but short on discoveries of literary gems in the geology library, and on scintillating daily repartee. As for publications, a new textbook with our chapter on geological mapping methods (Dickerson & Muehlberger) is now out, and one of my photographs from Chilean Patagonia is part of a photo essay in the Journal of Latin American Geography. The Sul Ross U. graduate student, on whose committee I've been serving, defended his thesis with flying colors and has graduated. And most surprisingly, I've been approached by a seasoned spaceman about collaborating on field science strategies for the return to the Moon. An intense and interesting year!"
Ralph S. Kerr (M.A. '76) shares, "As with most people, I started 2020 with lots of plans, most of which were seriously disrupted by both the virus and then the downturn in the energy business. The year has been an exercise in dealing with change, which ironically is one of the topics that I have been coaching leaders on for the past decade. Meetings and courses have become fully virtual and I have become much better at using all the technology we have to continue to connect and work online. I have sought out and opened conversations with a lot of people that I have not heard from in a long time, rediscovered the pleasures of spending time working in the yard, and of being a learner again by taking online guitar lessons — all of which have been an unexpected blessing. Also, enjoyed the "Fossil Road Trip" series on PBS. I hope these types of programs instill the same love of geology in a new generation that I experienced when I was in middle school. Finally, I am grateful for the great education I got at UT, which got me started on a fulfilling career in the energy business." Ralph is an executive coach based in Houston, Texas.
David Kirchner (B.S. '74) is continuing with his professional career in the Great State of Arizona by managing his privately-owned consulting firm, which is known as Basin & Range Hydrogeologists, Inc. He has served as a member of the Advisory Council of UT's Geology Foundation since 2009 and resides in the City of Phoenix with his retired-geologist wife, Kathy. Their two sons, Kory and Kody, are thriving in the States of New Mexico and Arizona, respectively. Kody, the youngest of the Kirchner offsprings, is a mechanical engineer employed by Freeport-McMoRan's corporate office located in downtown Phoenix. His current working assignment is the Grasberg gold and copper mine in Papua, Indonesia. Kody earned his mechanical engineering degree at Northern Arizona University (NAU) in Flagstaff. Kory, the inveterate "dyedin- the-merino-wool-gore-tex-fleece" outdoorsman and mountain-climbing adventurer, now lives in Albuquerque and is attending the University of New Mexico. He is enrolled in a program having the admirable goal of earning his Ph.D. (research interest: geology of the Grand Canyon). Kory earned his Bachelor's degree in geology at NAU (as did his mother, Kathy) and he earned his Master of Sciences degree in geology at the Jackson School. Kory is exploring geologic space and time in the Cambrian of the Grand Canyon and the Trilobite Land of Laurentia. Life is good. "And now, an important message to all my family, friends, and foes: KEEP ON FRACKING!!!" says David.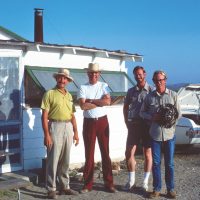 Donnie (Don) Franklin Parker (B.S. '70, M.A. '72, Ph.D. '76) shares, "I wish to thank The University of Texas at Austin and the Department of Geological Sciences (Jackson School) for my educational experiences and the lasting professional friendships established during my tenure as a student. My former teachers, some of whom have passed on, opened up their offices and welcomed a poor student from San Antonio, who was doubtless difficult at times. Among these, in no particular order, were Leon Long, Bill Muehlberger, Keith Young, Steve Clabaugh, Fred McDowell, Dan Barker, R.K. DeFord, Ernie Lundelius, Bob Folk, Earle McBride and Doug Smith. Even when there might have been some conflict, these interactions doubtless improved my character. As Al Scott used to say, "It takes fire to make steel." Note that many of these professors were not in my area of "hard rock" geology. And, of course, many friendships with fellow students were equally valuable. This photo is from the 1975 Geo 660 field camp at the Leary Ranch. From left to right: Bill Muehlberger, Jim Underwood, Don Parker and Rick McCulloh. Note how deeply tanned we were from the 105-115 degree field days in the Marathon Basin!" Don can be reached at Don_Parker@baylor.edu.
John William Preston (B.S. '70) shares, "I'm still working a bit for Hurd Enterprises out of San Antonio. Nancy and I live in Houston, but stay out at my farm in Poteet and do some retainer work with Hurd. So far have dodged the COVID-19 bullet, but have no idea when we will really be able to get back to normal. Like most things, we will probably most remember whatever good comes out of this. As someone who cares deeply for improved understanding amongst the races, I am very hopeful for the first time in my life that there might be some healing in this very old and deep wound." John can be reached at johnp@ hurdenterprises.com.
1980's
Carol Swenumson Baker (B.S. '84) writes, "I am still working for ExxonMobil. Like everyone else, mostly working from home this year."
Patricia Bobeck (M.A. '85, Ph.D. '17) writes, "The pandemic quashed my usual summer plans. I had been planning to do research for a book on Paris and enjoy all the delights of France. Instead, I have been enjoying the delights of Austin. During the month of June, that included almost daily dips in Barton Springs. Sadly, that ended when coronavirus cases spiked. So, I have taken advantage of early morning temperatures to explore geology and creeks and to tour historic parts of Austin, while reminiscing about what life was like without air conditioning. I had proposed a hydrogeological tour to France in connection with the 2020 Geological Society of America meeting in Montreal. We were going to visit Henry Darcy and Jean-Baptiste Paramelle sites in Burgundy and southwestern France. Unfortunately, the tour was cancelled when the GSA meeting became virtual. I continue to translate French and Spanish geology and look forward to travel in French and Spanish speaking countries when that becomes possible again. I can be reached at bobeckpa@gmail.com."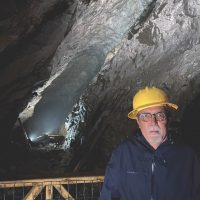 Richard F. Carroll (B.S. '80) shares, "I am still doing well and still working the Delaware Basin of New Mexico. We have been drilling pretty much nonstop for the past two years with great results and continuing to add to our drilling inventory. I have no plans to retire because I still love my job. My boys and my dog are all doing very well and are all very independent. I have done some traveling with my girlfriend over the last year or so, including France, Germany and Switzerland. We have also done some road trips through California and the upper peninsula of Michigan. We were able to visit the Quincy copper mine while there. It is on the Keweenaw Peninsula and is famous for the largest deposits of native copper in the world. I thoroughly enjoyed the mine tour and got a couple of great samples of native copper."
David Chow (B.S. '85) says, "After 24 great years at Marathon Oil, COVID/OPEC+ oil price collapse forced early retirement. Hopefully won't stay in retirement long. Looking forward to resumption of senior track & field meets and rec soccer leagues. I'm proud of my daughter, Carla, an RN at a Houston hospital."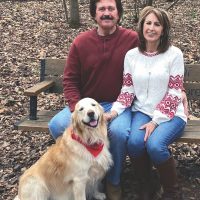 Joel Mark Coffman (B.S. '84) writes, "Finally! I was able to transfer from EPA Region 9 to the Region 4 office in Atlanta. After 30 years in Northern California, it was time for a change. I'm still working on Underground Injection Control Wells. We had a new home built and got to move in in July! It is very pretty and nice here, just wish the coronavirus was not in play so we could get out and explore more! Stay safe everyone, and if you are ever in the Atlanta area, look me up! We love being in the South!" He can be reached at coffman.joel@epa.gov or longhornrockhound@yahoo.com.
Gretchen M. Gillis (M.A.'89) was recently elected President-Elect of the American Association of Petroleum Geologists (AAPG) for the 2020-2021 term. She will assume the role of AAPG President for the 2021-2022 term.
William S. (Will) Logan (M.A. '83) says, "Still directing the International Center for Integrated Water Resources Management (ICIWaRM), located at the U.S. Army Corps of Engineers' Institute for Water Resources (Washington DC area) and under the auspices of UNESCO. See https://iciwarm.info. We are also the technical secretariat for UNESCO-IHP's drylands water resources program "G-WADI." Working a lot with developing country universities and water ministries on water resources management assisted by satellite-driven models, and in light of climate change. Amelia and I are still a year away from an empty nest – we got a bit of a late start and then an even later finish. Jennifer (27) is happily stuck in Argentina helping keep an eye on my 92-year-old mother-in-law while working on her Spanish. Young William (17) is a techie and a clarinetist, probably in that order. Amelia is a recovering geochemist who now does interior design and absolutely loves it. Let us know if you're in town."
Bruno Maldonado (B.S. '82) says, "Salutations to my alumni friends. This has been an interesting year given the virus (COVID-19 Economic Shock) and downturn in the petroleum industry. I hope all have escaped or overcome the COVID-19. As for my family and I, we have been fortunate to avoid the grasp of the COVID-19. On applying my geoscience, international projects have come to a screeching halt during the COVID-19 lockdowns. In spite of this, I have been able to stay busy domestically. I am having success in exploring along the Texas Gulf Coast. I am not yet ready to retire and still love applying geoscience technology in my evaluation of drilling opportunities. On the personal side, I get to see the grandkids (holding at 4) quite a bit and love the quality time I have been able to spend with them. I hope that next year all returns to normal."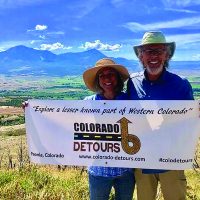 David Noe (M.A. '84) shares, "Well, retirement sure didn't last for long! In following our passions, my girlfriend Jo Ann and I formed a guided tour company in 2018: Colorado Detours. We lead geology and experiential tours out of Paonia, Colorado, in a beautiful but lightly visited part of the state. Our playground includes the Black Canyon of the Gunnison, Grand Mesa, West Elk Mountains, Redstone, Unaweep Canyon, Orvis Hot Springs, an archaeological site in Gunnison Gorge, the Ute Indian Museum, local art studios and chocolatiers, and the wineries and organic farms and orchards in the pastoral North Fork Valley. Wildflower, fall color, rafting, photography, and harvest tours are among our specialties, and oh, that geology!! For the summer of 2020, we are scaling down to provide intimate family and small-group tours. We see amazing sights, learn, have fun, and escape the crowds! Contact us if you plan to visit western Colorado and are looking to have a great guided experience: www.colorado-detours.com! In other news, I am celebrating my 51st year of playing trombone!! I am an active member of the North Fork Community Band. And occasionally I sit in with local blues jams and rock-n-roll bands. Mostly, it's fun to mentor kids and get them excited about playing an instrument. I have an all-plastic, flame-yellow trombone that really catches their attention!" Photo: Dr. Dave Noe and Jo Ann Jarreau own and operate Colorado Detours in western Colorado.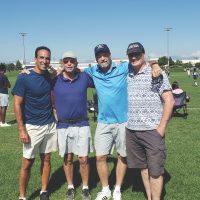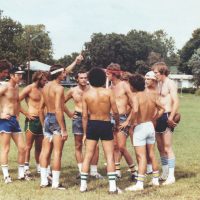 Keith Pollman (M.A. '83) writes, "I've enjoyed two small reunions with UT colleagues this summer. The first was in July when Emil Bramson and his son visited Denver for a soccer tournament. I've attached a photo of (from left to right) Emil, John Curchin, myself, and Roger Wiggin. Emil has not aged a bit – he must have a painting in the attic that ages for him. The rest of us…the years have been kind. John Curchin and I also traveled to Austin in early August to celebrate Allan Standen's 70th birthday. This was my first trip back to UT since 1989, and I was stunned by all the changes on campus and around town. I wish we'd had more time to tour the Jackson School. Of course, we had to go to the Library so that we could view our theses on the shelves. It was great to see Al and other UT alums, including Arten Avakian, at Al's birthday party. I'll try not to let another 30 years elapse before I visit again. Attached is a photo of the Fall 1981 grad student touch football team, which had enjoyed an undefeated season until this game, the league championship, during which we were thoroughly trounced by the Legal Eagles. Pictured from left to right are: Jim Emmett, Dave Palmer, John Curchin, Tim Duex, Steve Cumella's right arm, Rick Kolb, Emil Bramson (back to camera), Chip Oakes, Allan Standen, me, Mark Helper, and Roger Wiggin. You can tell we're grad students by how skinny we all are (were). Thanks to Emil for circulating this last year."
Scott Simmons (B.S. '87) writes, "Well, this year I have certainly become even more familiar with every bit of the Dakota Group forming the ridge behind my house. Geology also still plays a part in my role as the Chief Operations Officer of the Open Geospatial Consortium. I spend a lot of time working with fellow geologists representing research, mapping, and oil & gas organizations in addition to those folks bringing maps to our cell phones. I still pass through some of the 1986 Field Camp locations here in Colorado or in New Mexico and recall great times."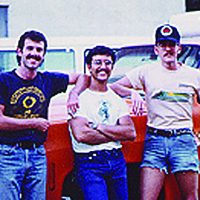 Stephen W. Speer (M.A. '83) writes, "Beam me up Scotty…2020 has been bonkers. Started well…but then both Therese and I got to basically be patient zeros for the Lowcountry regarding COVID-19 back in early March. Fortunately for us we are physically healthy and suffered no real ill effects. Did our quarantine, I lost 10 lbs because we both lost our sense of smell and taste, and we have stayed chipper ever since. Sadly the 10 lbs came back on. Business since then has been, shall we say, "better" for our wedding event space and a planned opening of a new restaurant in June is still up in the air. Timing is everything eh? Oh well, such is life…and we have no complaints as the Lord will certainly see us through this as He always has. Now my biggest issue is to not to be a grumpy old man trying to stay out of jail for not wearing a mask outdoors…and I don't wanna jeopardize my chances at being a Walmart greeter should things really go sideways. All the grandkids (5 stinky boys and one darling girl aged 5 to 14) are doing great and we have a planned mountain retreat in NC at the end of July for the whole family…pray for us. Ok, enough of my frivolity…praying this newsletter finds all of my UT buddies doing well, especially the Dirty Dozen. God rest ye well Al Scott…we are impressed…favorably. Thanks for the memories! Cheers! (Attached photo is of Dave Noe, Steve Speer and Joe Patterson outside the Geology bldg. in August 1983 on the evening I drove to my first job in New Mexico after finishing up my thesis.)
Michael Sweet (Ph.D. '89) says, "Last year (2019) I retired from ExxonMobil after 18 years there and 30 years in the oil industry since I graduated with my Ph.D. from UT. To start my new life, my wife Lily and I took our little tear-drop trailer to Alaska and spent a couple of months in Anchorage, my hometown. It was a wonderful a trip. Using the Rockd app I was able to follow the roadside geology and that was great fun too. After we got back to Texas I started a part time research position at the Institute for Geophysics, so at least before COVID, I was able to spend more time in Austin. It is a great pleasure to be part of the Jackson School again. I am looking forward post-COVID to dividing my time between Austin and someplace cool during the summers." Michael can be reached at michael.sweet@austin. utexas.edu.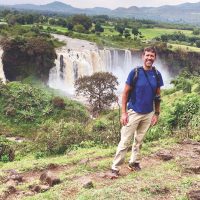 Joseph W. Versfelt (B.A. '84) writes, "After 2 years in Argentina and 8 years in Cairo, Egypt with Apache, I have relocated back to the U.S. In my latest travels, I have been fortunate to visit both sources of the Nile River, the Blue in Lake Tana, Ethiopia and the White Nile at Lake Victoria and Murchison Falls all Lake Albert. Also travelled to the Damaraland inlier in Namibia, Naivasha volcanic complex in the Kenya rift, Olduvai Gorge and Ngorogoro crater (Tanzania), Lake Malawi, and climbed Mt Kilimanjaro. I am now looking to the next professional challenge and adventure."
James Westgate (Ph.D. '88) shares, "I received the Texas State University System's Regents Professor Award in August, 2019 and retired after 30 years of service to Lamar University on Sept. 1, 2019. I can be contacted at james.westgate@lamar.edu."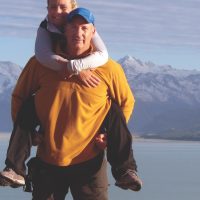 William Barry Wethington (B.S. '85) says, "Getting ready to retire after a fascinating career developing oil and gas fields around the world. I feel the pull to spend time around my 3 grandkids and more time at the lake house in Virginia after living overseas for 27 years. Upon retirement, I will be joining efforts with a colleague to open a boutique consulting firm (W2) focused on upstream and LNG opportunities. It would be great to touch base with the class of 1985. I truly hope everyone is doing well. I can be contacted at wbwethington@gmail.com."
1990's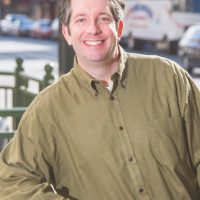 Andrew Bowen (B.S. '91) says, "My experience at UT geology was a wonderful period in my life and has enhanced my life immeasurably. Spending time with leading academics who were both humble and could teach allowed me to retain subject matter for over 30 years. We were challenged and encouraged and the hands on and field aspects of the education were awesome. I still stop at roadcuts and those with me are always fascinated by what I share with them. Maybe I will teach someday. My geology education also gave me a problem solving framework that propelled me to a very successful business career. Geology has also opened up many relationship opportunities for me. I am always amazed at how many people have studied geology or desired to or simply have a rock collection that they want to learn about. Telling people the life story of the rocks in their collection always brings out wide eyed reactions. While I did not make a career out of geology (First stop Consulting Hydrogeologist, Second stop Business, Third Stop Counselor) it has brought much joy to my life. I will return to UT for one final degree — an LCSW to become a counselor to families and individuals. Human behavior has always fascinated me and UT Geo has set me up to be successful in this career as I utilize the problem solving skills with the people who informally come to me today for counseling, I hope one day UT will have a reunion of class years so I can see all the wonderful folks I took classes with and see some of the professors that made my time so fun!" Andrew can be contacted at bowen.andrew@gmail.com.
Danielle Leigh Carpenter (M.A. '96) writes, "Next assignment up for me is GOM Exploration Manager based in Houston, — however, with COVID-19 and working from home we are still in New Orleans and the move is on hold. Will let you know when we get settled in Houston!" Danielle can be contacted at dcarpenter@chevron.com.
Rimas Gaizutis (B.S. '91) shares, "Still employed by REPSOL in Houston as the Global Information Manager for Subsurface Data. My twins start high school this year…"
Mark Buchanan Gordon (Ph.D. '90) says, "I have been living and working in Kuala Lumpur, Malaysia since December, 2019. I work for Beicip Franlab Asia. It has been an interesting experience despite the pandemic."
Christopher Swezey (M.A. '91, Ph.D. '97) and Krystina Scott are pleased to announce the birth of their daughter Evelyn Sofia Swezey on August 11, 2020. Chris continues to work as a Research Geologist with the U.S. Geological Survey in Reston, Virginia. He is currently managing a project focused on geologic mapping in the Great Lakes region of the northern United States.
Justin Zumbro (M.S. '99) currently lives in Rancho Cordova, CA, and can be contacted at justin.zumbro@gmail.com.
2000's
Laura Michelle DeMott (M.S. '07) writes, "In May 2020, I received my Ph.D. from Syracuse University, where I studied the sedimentology and geochemistry of lacustrine carbonate deposits from the Great Basin for my dissertation research. Post-graduation plans were severely hindered by the onset of COVID-19, but I am currently continuing on as a postdoctoral researcher at Syracuse, working on some side projects that were started during my dissertation, while I continue to search for the elusive full-time position."
Anne Dunckel (B.S. '09) shares, "After traveling the country and working seasonally with the Forest Service for a few years I have started a permanent position as a hydrologist with the Helena-Lewis and Clark National Forest in Great Falls, MT. Now if I can only remember those cool spots we went to during 660."
Lyndon K. Murray (Ph.D. '08) currently lives in Borrego Springs, CA, and can be reached at lyndon.murray@ parks.ca.gov.
Nick Sommer (B.S. '03) says, "After earning my M.S. in Geology from CU Boulder in 2007, I continue to reside in the Denver area and have been working at FourPoint Energy/ LongPoint Minerals as a Geologist/ Senior Geologic Advisor for the past 6 years. My current focus is mineral & royalty acquisition & divestitures in the Permian Basin. Prior to FourPoint/ LongPoint, I worked at Encana for 6 years. My wife Kelli and I have 3 great kids, and life is good. I often think back fondly on my time in Austin at the Jackson School, and can't wait to visit again, hopefully soon!"
Mark Lyle Wiley (B.S. '06) lives in Corpus Christi, Texas, and can be contacted at marklwiley@gmail.com. 2010's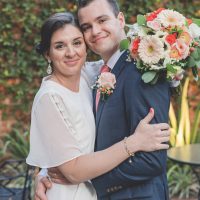 Kaitlin Moran Buzzetto (B.S. '13) was married to Leonardo Santana Buzzetto on July 10, 2020 in Houston, Texas. She currently works as a geologist for Evolution Petroleum and lives in Greenville, Mississippi. Kaitlin can be reached at kmbuzzetto@gmail.com.
Marcus Chroback (B.S. '10) says, "I am excited to start a new role within EOG Resources, as Exploration Manager in our Artesia Division! Hook'em!!"
Caroline Nazworth Doerger (B.S. '17) shares, "I graduated in 2019 with my M.S. in Geology from the University of Kansas advised by fellow JSG grad Dr. Mike Blum, and began my career as a geologist with Chesapeake Energy. I also married my high school sweetheart, Ethan Doerger, in Austin last year!"
Aaron Hantsche (B.S. '13) shares, "I finished my bachelor's degree in geology in 2013, and have continued my education in earth sciences. I received a master's degree in geology at the University of Colorado at Boulder, and am now working on my Ph.D. at the University of Geneva in Switzerland, with a focus on hydrothermal ore deposits. During the pandemic, universities around the world were shut down and international conferences were cancelled. In order to help combat this, I joined a small group of geologists to help bring digital, full-length talks to the Economic Geology community. Ore Deposits Hub is a platform that hosts weekly seminars about mining and mineral resources, and has quickly grown to have more than 5,000 subscribers. We broadcast scientific talks to people across the world, helping diversify our community by granting access to ground-breaking research to scientists who may not normally be able to attend professional conferences and seminars. Likewise, we are committed to changing the status quo, making sure to give a voice to under represented researchers and giving a voice to women and people of color in the economic geology community. We plan to continue our efforts even after the COVID-19 crisis subsides, as digital seminars and discussions provide a sustainable method to ensure earth science communication for years to come. It would be awesome to have support from the Longhorn geoscience community as we look to digitalize scientific talks and continue to link the mineral resource sector." Aaron can be reached at aaron@oredepositshub.com.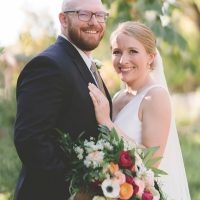 Bridget Pettit (B.S. '15) and Hal (M.S. '17) Hundley share, "After first meeting in Sequence Stratigraphy back in the Spring Semester of 2015, we got married in October 2019. Bridget has been working unconventionals at ExxonMobil since 2017, and Hal will be starting his MBA at UT this fall after time with Eagle Oil & Gas and Oasis Petroleum. We can be reached at bridgetphundley@gmail.com and halhundley@gmail.com."
Jordan Joyce (B.S. '17) shares, "I'm excited to be starting law school this fall at Lewis & Clark Law School in Portland, OR to pursue environmental law and advocate for environmental justice."
Joshua Ryan Lively (Ph.D. '19) writes, "Following my graduation from Texas in 2019, I served for one year as an assistant professor at the University of Illinois Springfield. I recently accepted an exciting new position as the Curator of Paleontology at the Utah State University Eastern Prehistoric Museum in Price, UT. Our museum is accredited by the American Association of Museums and is an important repository for archaeological and paleontological specimens from state and federal lands in Utah. We house specimens from the San Rafael Swell, the Book Cliffs, and beyond, with particular strengths in the Jurassic and Cretaceous. In addition to my Ph.D. advisor Chris Bell, I owe this amazing opportunity to the training I received with Matthew Brown, Kenneth Bader, Deborah Wagner, Chris Sagebiel, Sebastian Egberts, Ann Molineux, Lisa Boucher, and other staff at the Vertebrate Paleontology Collections and Nonvertebrate Paleontology Lab. For those of you that run field trips to the Book Cliffs, the Swell, and anyone passing through the area, please stop by our museum in Price for a tour! From the Permian through the Eocene, we have rocks in our museum's backyard that are ripe for collaborations with all sorts of Texas geoscientists!"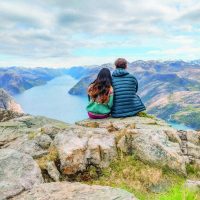 Elizabeth Ashley Menezes (B.S. '18) writes, "Working and living in Norway as a Geophysicist and loving every moment of it!" Pictured: Lysefjord in Norway.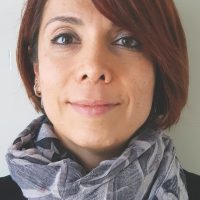 Sinem Okumus (M.S. '15) is an Energy Expert at the Energy Market Regulatory Authority (EMRA) in Turkey.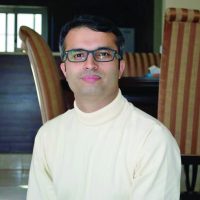 Sagar P. Parajuli (Ph.D. '16) shares, "I remember my time at UT (2012-2015) with pride. I worked under the joint guidance of Zong-Liang Yang and Gary Kocurek and learned many interesting things about our Earth's environment and climate, particularly about 'dust'. Dust affects air quality. It alters Earth's radiation budget. Without dust aerosols, there would be no rainfall. There is even more. On a larger scale, even the planet Earth is just a speck of cosmic dust. Before life happened on Earth, there was only dust. We came from dust and eventually return to dust. So dust continues to fascinate me. I moved to King Abdullah University of Science and Technology (KAUST) in 2017. My Ph.D. was partially funded by KAUST, and I had visited KAUST while I was still doing my Ph.D.. That is what drives me here. KAUST is a beautiful place to live and work. From the beautiful coast of Red Sea, I wish my Jackson School family well. I can be contacted at sagar. parajuli@kaust.edu.sa."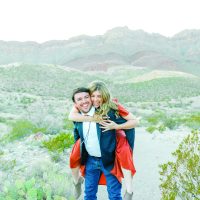 Evan Zachary Pearson (B.S. '10) recently graduated with a Juris Doctor from UT and will begin clerking for Judge Albright in Waco this fall. He will marry his fiance, Carley McCaw, in October. "I hope everyone has remained strong, safe, and healthy during these tumultuous times." He can be reached at ezpearson@gmail.com.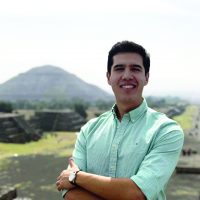 Luis Enrique Arce Perez (M.S. '17) currently lives in Puebla, Mexico and can be contacted at enrique_ arce@utexas.edu.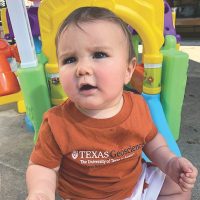 Nataleigh (B.S. '09; M.S. '13) and Nick Perez (B.S. '09; Ph.D. '15) shared this great photo of their son Miles. Although the family lives in College Station, Miles already knows that he should consider the Jackson School for his future geology degree.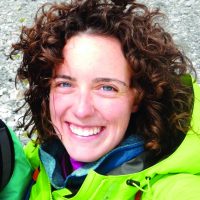 Natalie Raia (B.S. '16) was appointed as a Pre-Doctoral Fellow at the Smithsonian Institution's National Museum of Natural History. Following a month-long field season on the island of New Caledonia (SW Pacific), Natalie spent the fall in-residence in Washington, D.C., completing research for her dissertation in metamorphic geology at the University of Minnesota- Twin Cities. Natalie can be reached at raia0003@umn.edu.
Catherine Rohan (B.S. '14) shares, "I recently received a master's in community and regional planning from the University of Oregon and am now working in transportation as an assistant planner with the Albany Area Metropolitan Planning Organization."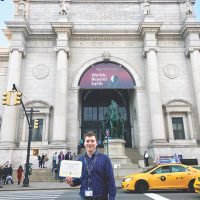 Kevin J. Toth (B.S. '16) celebrated his first year at Arcadis in June 2020, specializing in the remediation of per- and polyfluoroakyl substances (PFAS), and spends his weekends as a docent for the American Museum of Natural History in New York City, focusing on biodiversity and conservation. Kevin can be contacted at kjt44023@gmail.com.
Chak Hau Michael Tso (B.S. '12) has successfully defended his Ph.D. on "enhancing the information content of geophysical data for nuclear site characterization" from Lancaster University (UK). His family enjoys living in the beautiful Lake District. He is currently an RA data scientist for the UK Centre of Ecology and Hydrology in Lancaster. You can follow him on Twitter @michael_ts0 or email him at tsohau@gmail.com.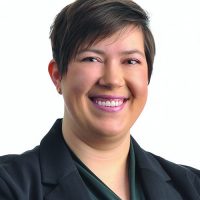 Kelsi Ustipak (M.S. '15) shares, "My career has come full-circle. While I studied at UT, I worked to understand the petroleum exploration industry. Now as an environmental consultant in Minneapolis, Minnesota, I work with pipeline and refining companies to monitor groundwater contaminants and maintain compliance at their facilities. My time in Texas has proved valuable as I understand energy infrastructure and have the best scientific training available in the world, thanks to JSG."
Zehao Xue (B.S. '17) completed his MS in Geology at Louisiana State University during fall of 2019. He is excited to begin his geologist position with the U.S. Geological Survey in Woods Hole, MA.
2020's
Kelly Malone (B.S. '20) started working for Golder Associates in their Lakewood, CO, office as a hydrogeologist. She can be reached at kamalone@utexas.edu.
Marlowe Enrique Zamora (B.S. '20) writes, "After having graduated this spring, I will begin studying law at St. Mary's University School of Law this fall."
Friends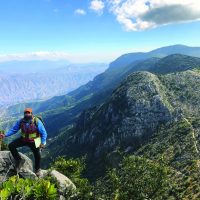 Abdulah Eljalafi (current student) shares, "During the past year, I was very fortunate to spend several months doing fieldwork in remote parts of Central Mexico as part of my Ph.D. dissertation. The fieldwork was aimed at collecting pertinent field data for my research on the composition, architecture, and nature of demise of a behemoth carbonate platform system that flourished during the Cretaceous Period. The data collection process included scaling very steep gradients and cliffs to measure sections, collect drone models, sample for petrography and geochem analysis, and even classical contact and structure mapping using high-resolution GigaPan photos and maps. This experience (among others during my time as a Ph.D. student at UT) have helped shape me as a rising geoscientist while quenching my thirst for exploration and also expanded my interest in geology. I hope you enjoy this small glimpse from my adventures in the field and hope it reminds you of all the reminiscence worthy adventures you had during your time as a Longhorn."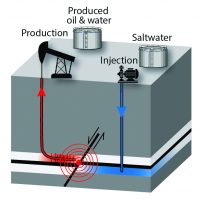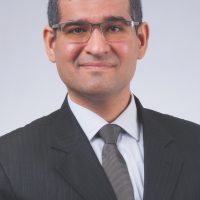 Mahdi Haddad (Postdoctoral Fellow) says, "I was inducted as an American Rock Mechanics Association (ARMA) Future Leader last fall. The ARMA Future Leader Program recognizes outstanding early-career members for their contribution to the rock mechanics society and better organizes their voluntary effort to ensure that ARMA has an enduring foundation. Also, Ms. Monica Kortsha, Peter Eichhubl, and I collaboratively developed a press release report for one of my recently published articles, Poroelastic Models for Fault Reactivation in Response to Concurrent Injection and Production in Stacked Reservoirs, accessible for free at https:// doi.org/10.1016/j.gete.2020.100181. One relevant figure to this press release report is printed here for you to see".
James Sprinkle (Professor Emeritus) writes, "This was my 7th year of retirement as a Professor Emeritus, but not one of the best years that I've ever had. The 1st half of the academic year went fine. I attended the GSA Annual Meeting in Phoenix in November, where I was involved in two poster sessions, one with former Ph.D. student Ron Lewis (1982, now at Auburn), and the 2nd with colleague Tom Guensburg and several other coauthors. In February, wife G.K. and I went on 2 fossil collecting and gymnastic meet trips up to Oklahoma, returning home on March 1st, about 3 weeks before everything got shut down here because of the coronavirus pandemic. We were then stuck at home for the next 6 months, getting out to buy groceries (and a few other items) once or rarely twice a week, and me coming into my office at UT to check e-mails and do research only on Sunday afternoons. However, most of the research projects that had been submitted late last year or were nearing completion were either published early this year, or now have been accepted and put on-line. This includes the Zamora et al. (18 authors) rebuttal paper in Nature Communications about whether an Early Cambrian deuterostome is an echinoderm (we don't think so!), and the Guensburg et al. new Early Ordovician crinoid with unusual arm morphology that was published in the last issue of Journal of Paleontology before it shut down in April. Two other smaller papers, the Zamora et al. new flattened Late Ordovician echinoderm, was accepted after review and is now on-line to be published in Acta Palaeontologica Polonica, and the Blake and Sprinkle new Late Silurian starfish from southern Oklahoma, also survived review and has recently been put on-line at Journal of Paleontology, both hopefully to be finally published later this year. So this has been quite a good year for getting research papers published or about-to-be published."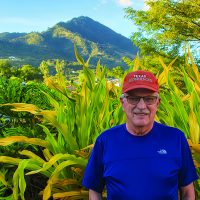 William I. (Bill) Woods (retired staff) shares, "In December 2019, we returned to El Salvador to take Francisco's Mom to visit relatives. We spent time in our usual favorite places: Juayua, Apaneca, San Salvador, and at the homes of Francisco's Nephews and Nieces. It was a nice, relaxing trip and we really enjoyed seeing everyone again. Now, with the pandemic under way, we are staying home and only dreaming about traveling. I can be reached at billw@utexas.edu."