Geeta Persad: Assistant Professor
November 12, 2020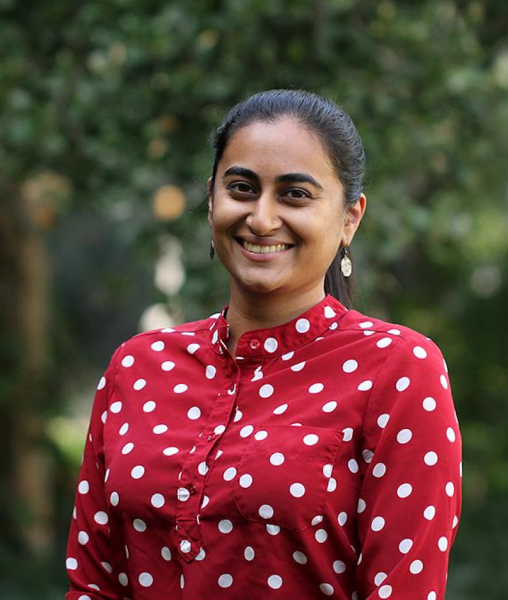 By Jasmine Gulick
Growing up in Austin, Geeta Persad spent her childhood exploring the Texas Memorial Museum, auditing classes and attending evening lectures at The University of Texas at Austin. Now, 14 years after leaving the city to study at Stanford University as an undergraduate, Persad has returned to Austin as an assistant professor of climate science at the Jackson School of Geosciences.
"Coming home was a really big draw, being able to give back to the UT educational mission that played such a large role in my childhood," Persad said. "I have a long family and Austinite connection to the university."
After receiving a bachelor's degree in geophysics from Stanford University, Persad went on to earn a doctorate in atmospheric and oceanic sciences from Princeton University, where she was also a fellow in the Science, Technology, and Environmental Policy program. Persad said that working in policy helped her understand how policymakers and academic scientists look at data differently.
"It's been illuminating and helped me as a scientist realize the many different uses of our work," Persad said. "I enjoy having a foot in both worlds, producing the fundamental science and seeing how it's being used in the broader world."
As a climate modeler, Persad uses computer representations of the entire Earth system to understand the fundamentals of climate change. She's especially interested in aerosol particles, such as sulfur dioxide and black carbon.
Aerosol particles complicate climate change projections because the particles have a cooling effect that can mask warming.
"Which is not to say that they're good things, because they have terrible effects on human health and precipitation," Persad said.
One of the questions Persad is most interested in is how aerosol emissions from different regions of the planet affect the climate system as a whole.
Persad said that she is looking forward to collaborating with other scientists in the Jackson School's Department of Geological Sciences and the University of Texas Institute for Geophysics to investigate aerosol effects and other climate modeling applications at the local, regional and global scales.
"It was really appealing to me to bring my expertise in atmospheric science into a department that has such a wide range of expertise and research activities going on," Persad said.