Fred Beach Appointed Director of the Energy and Earth Resources Graduate Program
August 9, 2023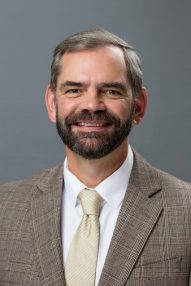 The Jackson School of Geosciences has named Dr. Fred Beach Director of the Energy and Earth Resources (EER) Graduate Program. For over 40 years, the EER program has provided students the opportunity to pursue an advanced, thesis-based degree at the intersection of energy and natural resources, finance, law, policy and engineering.
Beach holds a Ph.D. from The University of Texas at Austin LBJ School of Public Affairs, which focused on energy and technology policy related to electricity generation, transmission and storage; an M.S. in Physics from the Naval Postgraduate School; and a B.S. in Chemistry with a minor in Nuclear Engineering from the University of Oklahoma.
Since 2005, Beach has held a number of roles in energy and technology research, development, management and policy at UT within the Institute for Advanced Technology, the LBJ School of Public Affairs, the Center for International Energy and Environmental Policy, and the Energy Institute, where he was the Associate Director for Energy and Technology Policy. He is a Senior Fellow in Energy, Technology and Policy at the George H.W. Bush Foundation for US-China Relations and he has taught energy and policy courses at the Cockrell School of Engineering, McCombs Business School and the LBJ School of Public Affairs. Beach is no stranger to the EER program, having served for many years as a graduate mentor and member of its Graduate Studies Committee.
Prior to joining UT, Beach served for 25 years in the U.S. Navy. He is a graduate of the Defense Acquisition University and Certified Level III DoD Acquisition Professional and Program Manager. Since retiring from the Navy in 2003, he has served as a consultant on defense-related topics for the U.S. Chief of Naval Operations Strategic Studies Group, MITRE, Naval Research Advisory Committee, Naval Research Laboratory, Defense Advanced Research Projects Agency, and the Defense Science Board.
Beach's appointment will begin August 14, 2023. He assumes the role from Richard Chuchla, a geoscientist who successfully led the program over the past seven years.