Steven Wedel, another EER student, has walked a very different path. Before enrolling in EER he was working as a diver at the Georgia Aquarium, a job that spoke to his interest in ocean life and ecosystems. After earning a bachelor's in earth and environmental science from the University of Michigan, Wedel initially planned on going to graduate school to study coral reefs and how they could be protected from climate change. But a lack of graduate funding led him to explore other career options. He thought back to a class that emphasized the connection between climate change and the energy system, and the need for lower carbon options to mitigate that change. He also watched the stock market.
"I followed a lot of sustainable companies … and I kind of realized I could go to grad school for something along those lines," he said. "I was fascinated by [the EER program] because I would be able to get the business experience while getting sustainability to play into it, too."
Now an EER student, he is building skills and experience in business development in the sustainable energy space. As part of his thesis work on Environmental, Social and Corporate Governance (ESG) evaluation — a metric that seeks to capture the broader impacts of a company's business practices — Wedel is working as a senior student associate with UT's Austin Technology Incubator. The program helps start- up companies build business skills and connections in its specific sector. Wedel's job involves working closely with businesses with technological innovations that achieve an aspect of sustainability. He said that he thinks of himself as the "optimistic scientist" in the start-up space, believing in the ability of businesses to help mitigate climate change, but only if sustainable practices are considered from the very start.
"A lot of people just look at things from a business perspective, ROI — return on investment — how much money companies are making them, and then try to incorporate sustainability measures," Wedel said. "It can be a big reality hit, realizing that that's not always something that can be easily done."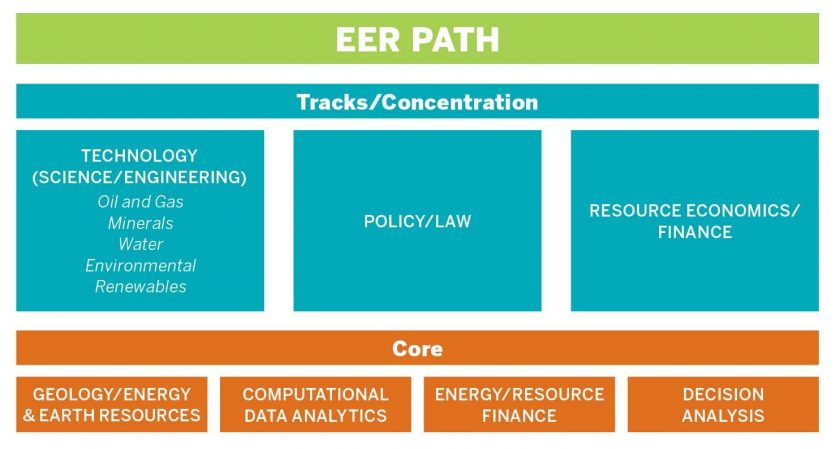 Good Business
While the EER program provides a space for each student to pick a specialized track, the multidisciplinary foundation helps students see how the different parts intersect in the energy space. It also gives them a foundation that can help them collaborate with colleagues from different areas.
"The premise is you can't solve any energy or earth resources program with just technology, with just finance, or with just policy," Chuchla said. "Think of each of these as equations that you have to solve simultaneously to come up with what I call a truly sustainable energy and earth resources solution."
During his time at ExxonMobil, Chuchla went from being a field geologist in the mining and minerals sector to a project executive in oil and gas, seeing firsthand the success of leaders who kept that balance in mind while seeking input from colleagues across disciplines. EER alumna Jenny Brown (née Sauer) said this approach is an essential part of her work, too, even though she is in a very different part of the energy industry — grid-scale energy storage.
Brown is manager of market analytics at Jupiter Power, a company that develops, constructs and operates batteries that can be linked to the electric grid to store and release surplus power. Large-scale batteries play an important role in expanding the adoption of wind and solar, Brown said, because they help counter intermittency issues. During sunny and windy hours, the batteries charge on excess power. When it's cloudy and still and grid demand is high, they can release their store of electrons back to the grid and preempt the need for generators to come online.
With multiple Jupiter sites already plugged into the Texas power supply, the company is developing construction plans across the country, including across the northeast, Midwest and California. Part of Brown's job is determining the commercial prospects of energy storage at different locations. To do that requires analyzing input from energy experts from across the company, including colleagues in finance and data science, engineering and development. She said that from day one in the EER program, students are set on a path to problem solve in this collaborative fashion.
"EER equips students with a synthesis and judgment skill base where they become deeply exposed to a variety of disciplines," she said. "The students will always have that ability to engage with an expert on the other side of the table, which I think allows more enriched analysis, communication and decision making in a business environment."