European Distinguished Geoscientist Medal Goes to UT's Thorsten Becker
June 12, 2023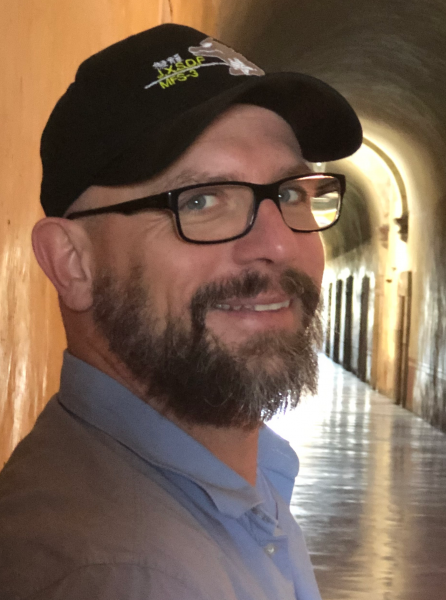 The European Geosciences Union has awarded the 2023 Augustus Love Medal to Thorsten Becker, a professor at The University of Texas at Austin Jackson School of Geosciences, for outstanding research contributions in the field of geodynamics and for leadership and selfless service to the scientific community.
The Love Medal is Europe's highest honor in geodynamics — the study of convection in Earth's solid mantle and of accompanying processes that shape the planet. The field includes plate tectonics, volcanism, mountain building and earthquakes.
"I'm happy to be honored this way and to be in the company of some really outstanding geodynamicists," Becker said.
Becker studies mantle convection. Although scientists have long understood that Earth's solid interior can behave like a liquid over long periods of time, Becker was among the first to use computer modeling to understand the pattern of flow in the mantle and its effect on the planet. He is also leading research to better understand how earthquakes happen — an important step toward forecasting them.
Demian Saffer, director of the University of Texas Institute for Geophysics (UTIG), a research unit of the Jackson School, said that the medal was an extraordinary success and an acknowledgement of both Becker and the institute's role as leaders in the geophysical research community.
"The Love medal is a terrific recognition of Thorsten's stature in the international geodynamics community, and together with a number of recent awards won by our researchers, it speaks to UTIG's presence in geophysics on the global stage," he said.
Becker's first major breakthrough used computer models and seismic data to show how the alignment of subsurface rocks indicated convection currents in Earth's mantle. Further studies looked at the influence of mantle flow on Earth's surface, including research on the origin of earthquakes and work that showed the Nile River owed its course to a hot mantle plume.
Becker and collaborators, including current and former students, also found that geologic weak spots carved into tectonic plates from past collisions seem to divert the movement of the plates in relation to each other. The discovery could answer a long-standing question as to why plate tectonics continues at a steady rate when, according to physics, the process should have slowed as the planet's core cools.
"Thorsten was really one of the first to merge seismology, geology and geodynamics and put it together to extract information about the evolution of our planet," said Claudio Faccenna, a former Jackson School professor who led Becker's award nomination committee and is now a professor at GeoForschungsZentrum Potsdam. "It's an approach that's transmitted to his students, many of whom now have brilliant careers in academia and the industry."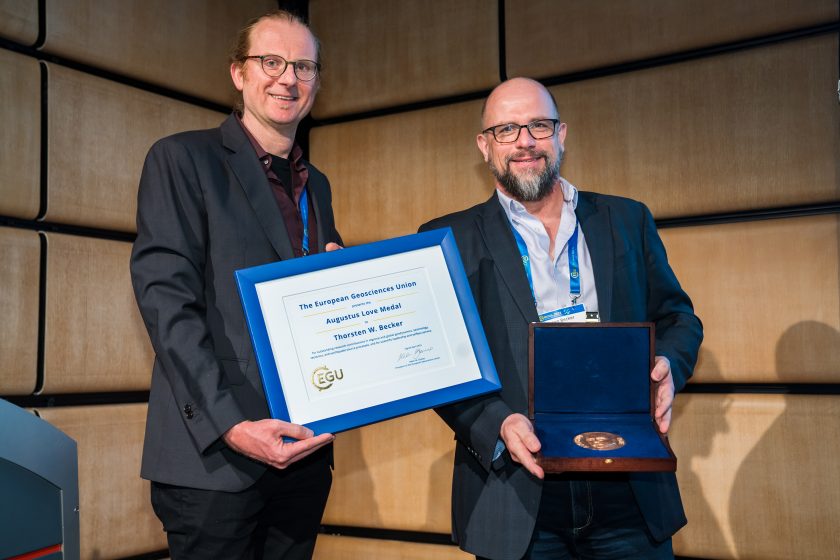 In recent years, Becker has been part of several international efforts to understand large earthquakes, including the Megathrust Modeling Framework. Funded by the National Science Foundation, the project aims to use supercomputers to potentially forecast earthquakes in a manner similar to how they're used for forecasting weather.
The European Geosciences Union established the Augustus Love medal in 2005 in honor of a renowned mathematician whose work in the late 19th and early 20th centuries on the mathematics of elasticity laid the foundations for modern geodynamics.
Becker is a professor at the Jackson School's Department of Geological Sciences and senior research scientist at the University of Texas Institute for Geophysics. He is also faculty associate at the UT Oden Institute for Computational Engineering & Sciences.
For more information, contact: Anton Caputo, Jackson School of Geosciences, 210-602-2085;  Monica Kortsha, Jackson School of Geosciences, 512-471-2241; Constantino Panagopulos, University of Texas Institute for Geophysics, 512-574-7376.