Groundwater Could be Sustainable Resource in Africa
December 5, 2022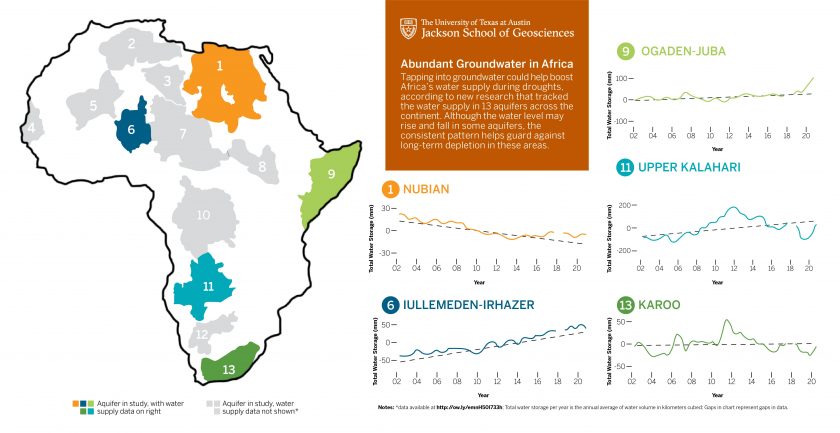 Tapping into groundwater can help communities in Africa diversify their water supply and strengthen their drought defenses, according to a study led by the Jackson School of Geosciences.
The research, which was published in Environmental Research Letters in January 2022 tracked long-term water storage gains and losses across Africa's 13 major aquifers and found opportunities for sustainably withdrawing groundwater across much of the continent.
The data showed that even though certain sub-Saharan aquifers sometimes faced water level declines, the levels consistently and quickly recovered during rainy periods, which helps guard against overuse, said lead author Bridget Scanlon, a senior research scientist at the Jackson School's Bureau of Economic Geology.
"Groundwater levels go up and down," said Scanlon. "People need to know the dynamics of this resource and optimize for its use."
The researchers used data from NASA's GRACE satellites to track total water storage in the aquifers from 2002 to 2020. The result is an 18-year timeline that provides a longer-term perspective on water trends and what drives them.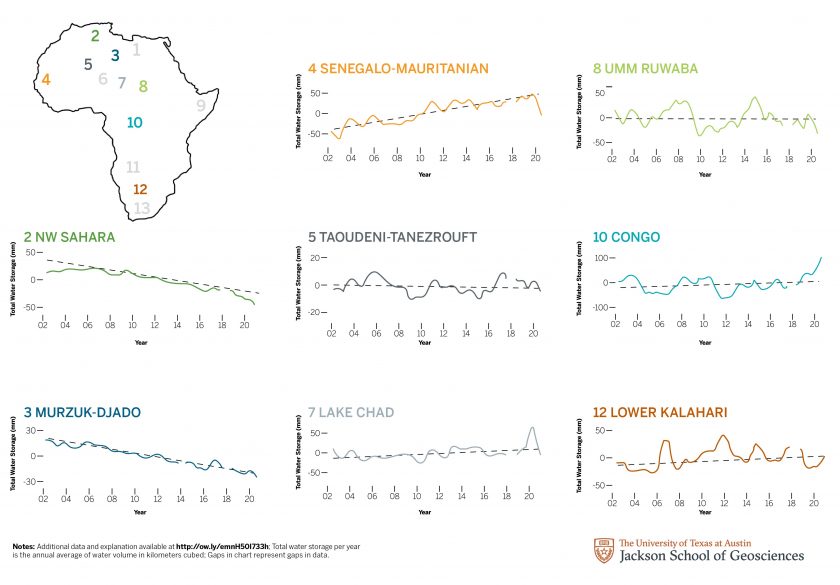 In sub-Saharan Africa, the study found that most aquifers increased their water supply during the period. However, the data show that water levels frequently underwent big swings, too. The study found that these swings closely tracked with climate patterns that are known to influence rainfall in the region.
This means that although years with little rainfall can cause sharp declines in water storage, the rain eventually returns and readily refills the aquifers when it does. This helps protect the groundwater from longterm depletion.
Western Africa also saw an overall increase in water levels in most aquifers. But there, the increase was relatively steady and probably due to land use changes. The researchers cite other studies that have linked rising groundwater levels in the area to the clearing of deep-rooted shrubland for crops with shallower roots.
And even in northern Africa, where groundwater showed a steady decline in water storage due to all three of its aquifers being tapped for irrigation, the study notes that the sheer volume of water held in these aquifers provides an extra buffer. However, sharp declines may occur locally, affecting groundwater supplies in local wells and oases.