Ecological Response to the Early Jurassic Climate Crises
December 5, 2022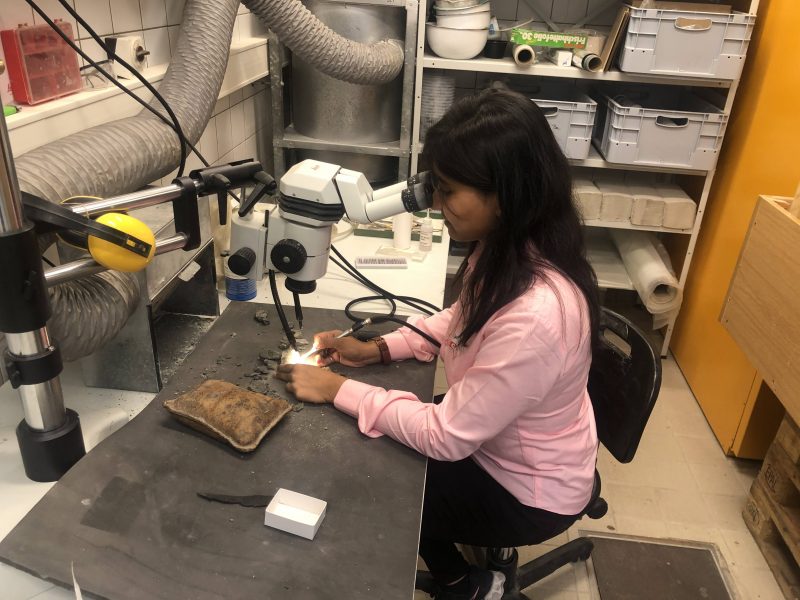 During the Early Jurassic, there were severe perturbations in environmental conditions (such as ocean warming or acidification resulting in mass extinctions. But these environmental conditions may also have enhanced exceptional fossil preservation (e.g., soft tissues of organisms). For my Ph.D. dissertation, I am assessing the impacts of changing environmental conditions on Early Jurassic exceptional fossilization, extinction, and recovery. In summer 2022, I was awarded the DAAD (German Academic and Exchange Service) short-term research grant to conduct research at the University of Hamburg, Germany. Specifically, the research project in Germany involves studying the Early Jurassic macrofauna, including preparation of the fossils, their taxonomic identification, and finally the paleoecological analyses. I am working under the expert supervision of Dr. William Foster, my Ph.D. committee member and former JSG postdoctoral fellow.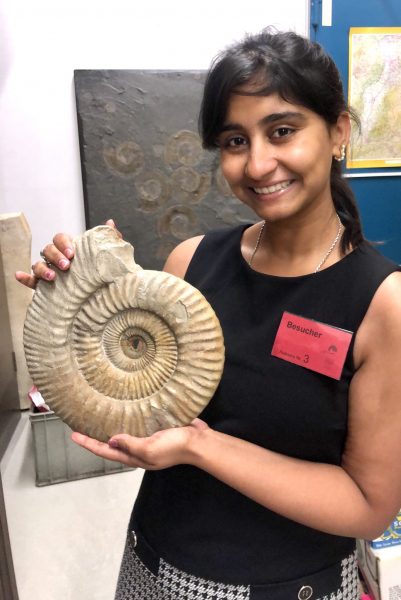 In addition to conducting research at Hamburg, I visited the Museum für Naturkunde in Berlin to work with Dr. Martin Aberhan. Dr. Aberhan is a macrofaunal expert and visiting the museum allowed me to learn macrofaunal identification directly from him. I learnt about the various field sampling techniques, and could access his Jurassic fossil bivalve collections. At the Berlin Museum, I got the opportunity to learn fossil preparation from the museum's head preparator, Mr. Brinkmann.
The Early Jurassic is also known for Lagerstätten deposits, which preserve soft tissues and articulated skeletons of fossils. My first dissertation chapter includes what environmental conditions drove soft tissue preservation and I studied fossils from the Posidonia Shale Lagerstätte in Germany. This visit to Hamburg provided me the opportunity to meet with Posidonia Shale experts Dr. Guenter Schweigert and Dr. Erin Maxwell at the Naturkunde Museum Stuttgart. The museum houses the exceptionally preserved Posidonia Shale fossils, and I got an opportunity to visit both the collections and the exhibits.
My research will produce new paleontological data about long-term patterns of biotic change in tropical marine communities in an understudied but crucial period and region. Further, the results will enable us to study how these communities recovered from events driven by factors similar to modern anthropogenic changes.
Preliminary research results will be presented at the Jurassic conference 2022 in Budapest, Hungary. While the discussions and exchange of ideas could have been done over Zoom calls, learning unique fossil preparation and fossil photography techniques was better learnt in the same physical space as compared to an online environment. The research conducted at Hamburg will contribute as the second and third chapter of my Ph.D. thesis, which is environmental conditions impacting extinction and recovery during the Early Jurassic of Morocco. In September, I headed out to the Central High Atlas Mountains in Morocco for fieldwork and additional sample collection. Post-fieldwork will involve processing the samples and learning statistical techniques from Dr. Foster. Any additional financial assistance was provided by the NSF career awarded to my supervisor Dr. Rowan Martindale and the Jackson School off- campus research grant.
Sinjini Sinha,
Doctoral candidate