Overcoming Hydrogen Hurdles
October 29, 2021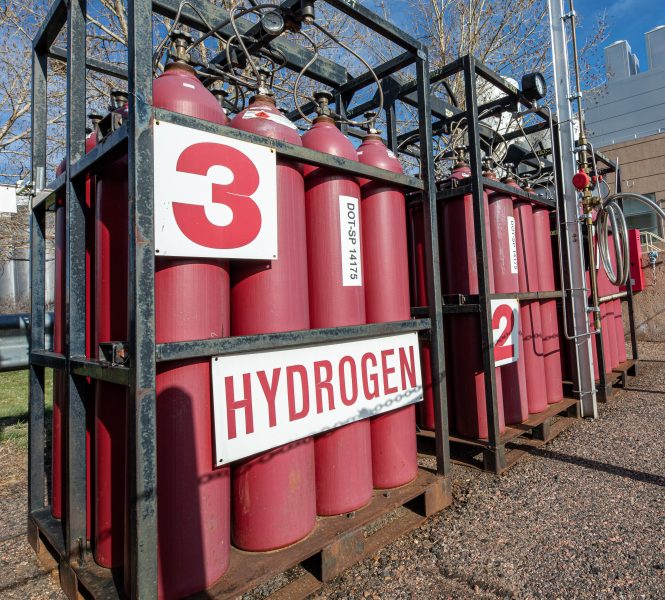 The U.S. is counting on hydrogen to play a significant role in the low-carbon economy of the future, but fundamental questions about transportation, storage and cost need to be addressed in order to integrate hydrogen gas into the nation's existing infrastructure, according to a preliminary study from a new research program at the Bureau of Economic Geology.
That's because although hydrogen gas burns carbon free, it gives only about a third of the energy of natural gas per unit volume. That means the U.S. will need to make and store much more of it for heating, transportation, power generation and industrial uses.
The research offers a framework for solving these issues, presenting an initial goal of replacing 10% of the nation's natural gas supply with hydrogen as a reasonable first target. That move could reduce U.S. greenhouse gases by 3.2%, based on 2019 emissions, and help meet the Department of Energy's goal of enabling a low-carbon economy in the U.S.
The analysis considers what it would take to scale up the use of hydrogen, including integrating hydrogen into the country's natural gas system, which is probably the most robust in the world, said lead author Mark Shuster, associate director of energy at the bureau.
"We know how to move gas. We're very experienced in it, particularly in the U.S., so it makes sense," he said. "You have a whole suite of potential uses for the hydrogen, but it's going to take some work, some research, and I think it's going to take probably some targeted incentives."
The paper, authored by scientists and economists at the bureau, was published in the Oil & Gas Journal.
Hydrogen can lean heavily on geologic storage instead of tanks or batteries, researchers said, with the gas stored in suitable underground formations and moved via pipeline. There are currently three such geologic storage locations in the country being used for hydrogen and many more for natural gas. The UT team pinpointed other potential storage areas across the country.
Most hydrogen is produced from natural gas. To help bridge the gap until low-carbon production technology can catch up, the study recommends ramping up hydrogen production using natural gas with carbon capture and storage technology, which keeps carbon out of the atmosphere by piping it underground into geologic formations.
"We can utilize natural gas right now, if you're prepared to move forward with carbon capture and storage, and give the electrolysis and related technologies a chance to catch up and become more economically viable," Shuster said