Jackson School Writer Honored
December 15, 2020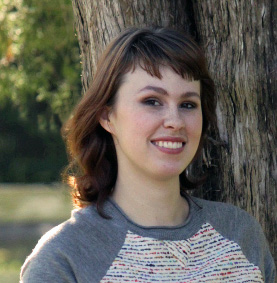 Jackson School of Geosciences Science Writer Monica Kortsha has won the annual writing award from The University of Texas at Austin's University Excellence in Communications Awards.
Kortsha was honored for her story "Out of the Shadows" from the Jackson School's 2019 Newsletter. The story explores how a new fossil photography technique developed at the Jackson School is enabling amazing new discoveries and influencing the way fossils are prepared, studied and displayed. It was picked as the top piece of writing produced by any communicator on campus between mid-2019 and mid-2020.
"It's incredible work," UT presidential speech writer Matt Kivel told the audience of university communicators at the virtual awards ceremony. "I know everybody here aspires to reach that point where you just so perfectly capture your subject and disseminate it in a way that touches people, and takes down that guard that most people have toward higher ed, and makes it accessible and relatable and powerful. Monica, kudos to you."
Kortsha has been the chief science writer at the Jackson School since 2015. She writes features and stories for the school's publications and website, manages the Jackson School's social media channels, writes media releases and works with reporters around the world to maximize coverage of Jackson School news.
"Monica works tirelessly to craft Jackson School stories for audiences close to home and across the globe," said Jackson School Communications Director Anton Caputo. "Whether she's writing about student achievements for an alumni publication, an important scientific breakthrough for major media outlets, or putting together a video for social media, Monica shows a deft hand and sound judgement. I'm proud that her work has been recognized."
Before coming to the Jackson School, Kortsha worked as a feature writer at UT's Institute for Computational Engineering and Sciences, and reported on science and research for a local online news outlet. She is a UT alumna, earning undergraduate degrees in biology and journalism.
"I am so honored to win this award, and to have my writing recognized by the UT communications community," Kortsha said. "The Jackson School if full of important and fascinating research that makes for great stories. I am grateful to play a part in telling these stories to the world."