Just as important as the approach's ability to reveal unseen tissue is the power of Progressive Photonics to show which specimens should not be studied — the ones that are more artistry than anatomy. An Asian rhino skull — or what's supposed to be one — in the Jackson School's collections has become a classic example.
It looks like a passable specimen under white light. Shine a UV light on it, though, and the skull is revealed to be a practical mosaic of different materials. Plaster, rhino fossil, and bits of pieces of bone swiped from other unknown fossils all glow with their own distinctive hues.
If a researcher wants to know anything about actual ancient rhinos, they should steer clear of this skull.
For most specimens, though, it's not an all-or-nothing situation when it comes to research. The same Progressive Photonics session that reveals signs of extensive repair can also distinguish which areas of the fossil are good for scientific study. Eklund gives the example of a pterosaur fossil that was put together from 13 pieces. Certain regions of the fossil were lost to globs of glue. But others gave exceptional insight into the anatomy of the winged reptile. Progressive Photonics offers scientists the insight to unequivocally tell such areas apart.
"You have to think about what you're looking at," Eklund said. "And that's where the suite of images gives you the tools to really digest and interpret what's present in the specimen. Close proximity is not enough. Likeness is not the real thing."
Eklund notes that with all the talk of paint, plaster and distinguishing what's natural from constructed, Progressive Photonics can seem like a ready-made fraud detection tool. But he's quick to say that's not the point.
"People look at the system and too quickly jump at associating it with fake, fraud and forgery detection — but those are not relevant terms," he said. "By having the imaging here I can ask, 'Is it viable for my study or research purpose? Can I make a statement about the confidence I have in it? Is it acceptable to my research or education needs?'"
In other words, while Progressive Photonics can't tell you how a fossil came together, it will let you know what's there. From that point, it's up to the researcher what to do next, whether that's write a paper, raise an eyebrow or wave a red flag.
KEEPING IT REAL
Progressive Photonics pulls back the curtain on the preparation history of fossil specimens. That undoubtedly helps scientists analyze their specimens. But Bell said that he thinks the larger public could also benefit from getting to know the work that goes into preparing and displaying fossil specimens. The statuesque skeletons in museums are impressive, but they can give the wrong impression about the science of paleontology: namely, that fossil specimens are much more complete than they actually are.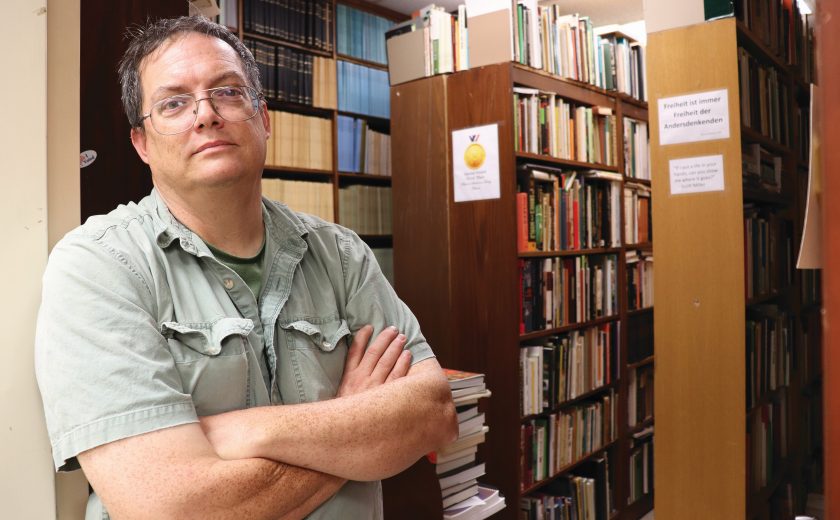 "That's a form of deception," Bell said. "It's benign deception. It's not done with the intent to deceive or lie. It's an intent to have a visually captivating representation of past life on Earth — but you're ceding the interpretive context."
Jackson School Professor Christopher bell helped develop the progressive photonics method and co-authored a paper on it with Eklund.And when a display isn't forthcoming about what's real and what's not, it can give fodder to those who want to undermine a scientific world view in general, he said.
In contrast, exhibits that employ the principles of Progressive Photonics — seeking to highlight unseen features, those left behind by nature and those added in museum prep labs alike — could provide more information about the specimen and the scientific reasoning that informed the display process.
"Why not talk about it?" said Bell. "From my perspective, we're missing out on a really important educational opportunity to talk to people about the confidence we have when reconstructing the past and the places where we do have differing degrees of uncertainty."
The Smithsonian Institution has embraced this line of thinking. In June 2019, the National Museum of Natural History reopened its hall of fossils after an extensive five-year renovation, the first one since the fossil hall opened in 1911. The fossil displays include casts of bones articulated into lifelike poses — a dog-size Stegoceras dinosaur using its back foot to scratch the top of its domed head, a Tyrannosaurus rex chomping on the frilled crest of a Triceratops, an extinct species of horse rearing up like a bony replica of Silver, the Lone Ranger's steed. These mounts serve as a reminder of the amazing animals that once walked the Earth. But when it comes to real bones, the distinction is clear. All synthetic materials are painted a shade darker than the surrounding bone, said Steve Jabo, a preparator, researcher and collections assistant in the Smithsonian's Department of Paleobiology. That wasn't always the case. Many of the old mounts gave the illusion of a complete specimen by painting plaster the same shade as bone, or even painting over the bone itself.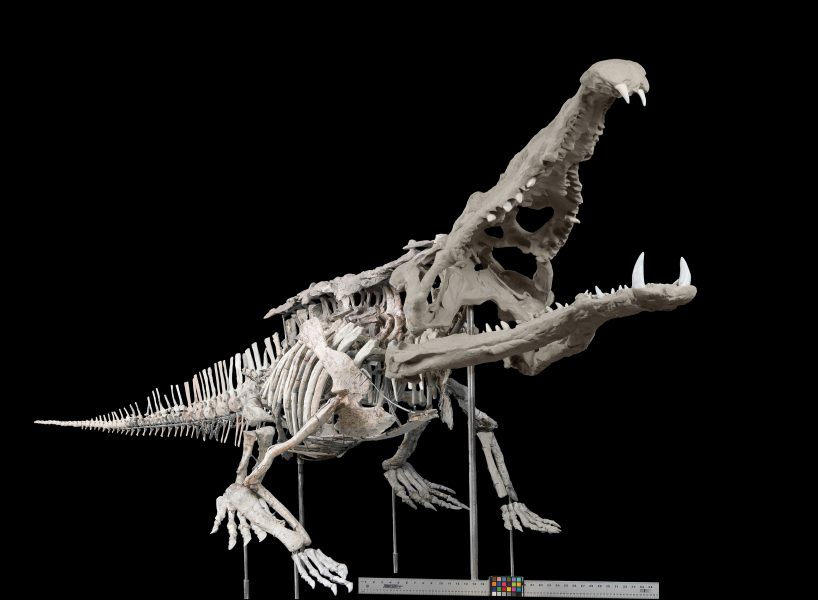 Part of the renovation process involved removing the illusion of a complete specimen when preparators were just working with parts.
"We made the decision to go back and do that uniformly," Jabo said. "We don't want to trick people, especially the researchers, the people who are doing active research on our research specimens. Because deciding if something is real or not, sometimes that's hard to do."
The new exhibit also features a UV light box. At the push of a button, delicate crab fossils from the famed German Solnhofen Limestone go from blending in with the surrounding rock to popping out in a shade of glow-stick orange. Eklund played a key role in choosing the lightbox specimens, which were selected from among a number of specimens in the Smithsonian collection that got the Progressive Photonics treatment during a research visit.
In addition to helping with the exhibit, Jabo said that seeing Progressive Photonics in action has changed his approach to fossil prep, mainly, to go easy on the consolidant (which can cover small or delicate parts and complicate the chemistry research) and to stop and check for soft tissues.
"It has affected how I do prep," Jabo said. "In the process of doing things, I can stop, get a light on it to look and see if there's anything. If something cleaves along the bone, that's the perfect time to look at it because that's where you're going to find any soft tissue preservation."
The work of fossil preparators sets the stage for a fossil's future — how it's interpreted, how it's displayed, what is seen and what goes overlooked. But just like the many hidden fossil features that Progressive Photonics has helped bring to light, the critical role of preparators in paleontological research usually remains in the shadows.
Preparators are frequently volunteers. They come from a variety of backgrounds and don't always work within the usual research spheres, said Brown, whose own career in paleontology started when he was a volunteer fossil preparator while in high school.
"It's a quirk of paleo; the person who discovers a fossil is usually not the preparator," Brown said. "The preparator
is the hidden hand."
Progressive Photonics helps reveal the impact of that "hidden hand" and other features that would have otherwise remained hidden to the human eye. By spreading the word and practice of the technique to preparators and scientists alike, Eklund said that he hopes to remove some of the uncertainty that's inherent to studying fossils. You might not know much about how a fossilized animal lived, but you can at least know whether the fossil is a good starting point for asking questions, Bell said.
"When you go back and image these fossils, you can now say 'this part's paint, this part's plaster and now we know,'" said Bell. "We don't have to worry. We don't have to guess."