Vibroseis Experiment at the Texas Observatory
November 12, 2020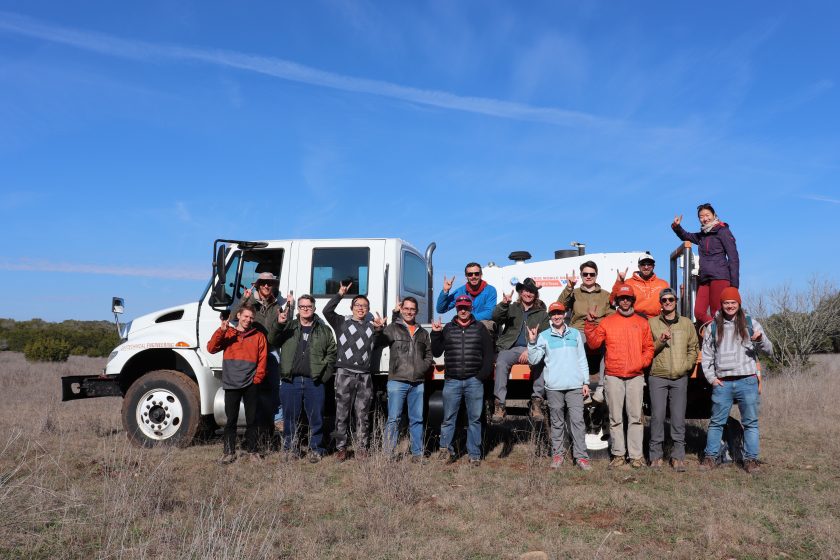 In February 2020, the Texas Geophysical Society, The University of Texas at Austin's student chapter of the Society of Exploration Geophysicists, led a unique seismic survey in the heart of the Texas Hill Country. The experiment took place in an open field at the White Family Outdoor Learning Center, which is part of the Jackson School of Geosciences' Texas Observatory, and adds to the breadth of research conducted at the property since it was donated to the school by the White family.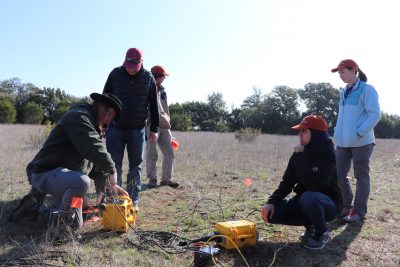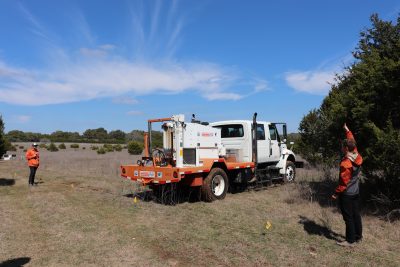 Seismic data is a staple of the geophysicist's toolbox, and while many students learn processing and interpretation techniques, few get the opportunity to participate in the data acquisition. With over 20 undergraduate and graduate participants, the experiment allowed students to gain hands-on training deploying seismic instruments and contributing to the collection of meaningful images to better understand the subsurface geology at the property. The survey was particularly unique because the seismic waves were generated by "Thumper," a vibroseis truck with a hydraulically controlled platform to shake the ground at a range of frequencies. Thanks to UT's Natural Hazards Engineering Research Infrastructure program, which operates Thumper, the students were able to see the truck in action and feel the vibrations traveling beneath their feet — an immersive experience that cannot be replicated in the classroom.
Guided by Associate Professor Kyle Spikes, Research Professor Sean Gulick and Research Engineering Scientist Associate Thomas Hess, students took charge and planted geophones into the ground, laid cables connecting the geophones into seismometers, surveyed the precise location of the instruments, and guided Thumper to each shot location.
Overall, operations went smoothly and the experiment was a great success! Postcollection processing of the 200 meter-long 2D seismic profile has provided the first subsurface image along the property. Preliminary results show the interaction of faults, fluids, and possible cave structures, which may lead to new scientific insights about the Edwards-Trinity Aquifer system. For the students, getting their hands dirty and vibing with Thumper was an extraordinary experience they will never forget.
(Watch a video highlight reel from the experiment.)
Brandon Shuck
Doctoral Candidate