UT Energy Week Headed by EER Student
November 12, 2020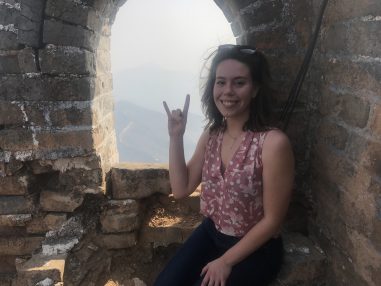 UT Energy Week is the premier student-run energy event at The University of Texas at Austin, bringing together energy experts in industry and academia with UT energy students for five days of panels and research presentations.
In 2020, then-graduate student Jennifer Sauer took the lead role in organizing the event, which took place Feb. 17-21.
Sauer graduated in spring 2020 with two master's degrees: an MBA from the McCombs School of Business and a master's from the Jackson School's Energy and Earth Resources (EER) program.
Managing and executing UT Energy Week was one of her key duties as the president of the Longhorn Energy Club.
"Our goal is to expose students to current trends and events in the energy industry," she said. "I was very happy with it."
The theme of this year's event was energy transition. It included talks and presentations on the science, law and geopolitics of shifting from carbon-based fuels to an energy system incorporating more renewable options.
Sauer said that members of the Longhorn Energy Club, which cohosted the event with members of the Texas Journal for Oil, Gas, and Energy Law, selected the theme. But the theme was also right in line with her interests in sustainable development.
This is what first piqued Sauer's interest in the EER program, which enables students to pursue interdisciplinary studies in areas of geosciences, engineering, management, finance, economics, law and policy. She entered the program in 2017 thinking she would study water resources, but she soon shifted to the electricity industry.
"The energy system is changing so quickly, and electrification is a huge part of that," Sauer said. "And I find it so fascinating, the mechanics of the industry, policy, finance. I love it because it's very dynamic."
During her time in the EER program, she held internships at the Lower Colorado River Authority, Wood Mackenzie, Orsted, 7X Energy, and the National Renewable Energy Laboratory. Research she conducted at the lab on utility business models has been required reading in a Stanford Law School course on energy regulation and policy.
The opportunity to earn an MBA while earning an EER degree — a common track for EER students — helped Sauer learn more about business operations in general. She is now applying both degrees in the energy sector as a finance associate at Jupiter Power, an Austin-based energy startup dedicated to building utilityscale batteries.
And though she's focusing on renewable energy, Sauer said that she values the connections she made with classmates who have gone to work in other parts of the energy industry.
"I really treasure the relationships I developed with people in water, and oil and gas, or vehicles," she said. "In EER in general, you have an amazing opportunity to develop your network, and with energy changing so rapidly, that's very valuable."
EER Director Richard Chuchla said that Sauer's journey to the energy industry illustrates the opportunities offered by the program and bodes well for Sauer's energy career.
"In my four years as director of the EER program, I can't think of a student who better idealizes the multidisciplinary EER vision than Jenny," said Chuchla. "She came to us after several years in the health care industry with an undergraduate degree in neuroscience from Vanderbilt. She has left us with dual master's degrees, internships that exposed her to many aspects of energy and earth resources and exemplary leadership of the Longhorn Energy Club. She is more than ready for the dynamic world of energy."