Library Report
November 12, 2020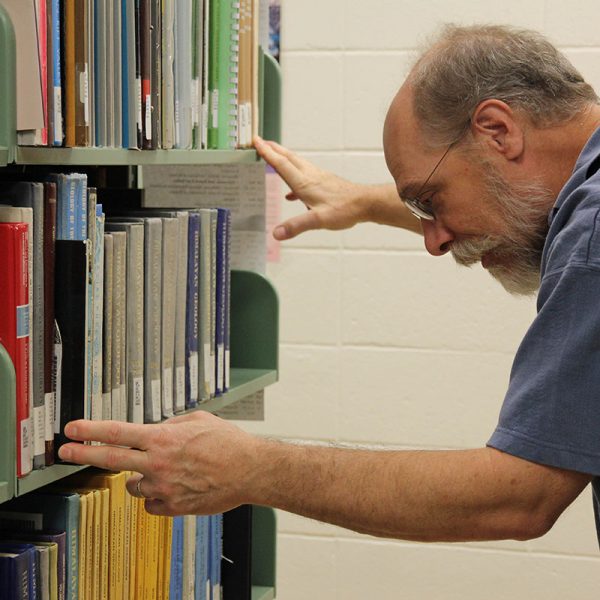 As I write my 35th and final Walter Library Report in the middle of the pandemic lockdown, I want to start by reflecting on what an honor and a pleasure it has been to work over the decades with the students and researchers of the Jackson School. Much has changed since 1985, and even now, much remains the same, but the pursuit of excellence in earth sciences research and teaching at the Jackson School remains a constant. Thank you for allowing me to participate.
Last year, in planning for my retirement, I developed a multipage punch list of projects large and small to be completed or organized for my successor. With funding finally in hand, renovations to the west end of the library to move and enhance the Jackson School gem and mineral display were due to commence. A new excellence fund would give future librarians greater flexibility to take on special projects, travel and do research, acquire special collections, or take advantage of other opportunities. A review of the entire collection was well under way, selecting about 30% of the low demand print collection for relocation to the newest storage facility, with the intention of reducing risk in water damage prone areas, and creating more space for new materials and for users. Negotiations were underway with several Latin American and Middle Eastern vendors to acquire hard to find regional materials. Our master index of theses and dissertations, significantly enhanced and improved, was ready to reveal, and our legacy thesis and dissertation digitization project had just identified another 50 theses that were boxed and ready to send out for processing. Our full text online Virtual Landscapes of Texas database, with almost 60 new documents, was successfully moved to its forever home in the ScholarWorks repository: repositories.lib.utexas.edu/ handle/2152/69304.
Things were lining up nicely. That was in early March. Since then we have all been surfing a tidal wave of disruption, with yet unknown consequences. Certainly all our welllaid plans are up in smoke, significantly delayed at least. With other challenges resulting from a major library data migration, the regular work of moving materials, receiving packages, processing physical objects like books and journals, ordering new materials in physical formats, has all come to a grinding halt, creating backlogs that will all have to be dealt with when we are allowed back in the facilities. In effect, we will be almost a year behind on many routine workflows, at the same time that we will have to begin moving forward into the new structure for campus life, whatever that will be. We know we will be even more reliant on electronic resources, which will create hardships for our discipline and others. We know staff will return in phases, and with workspace capacities reduced, further delaying the catch-up process.
When the university reopens, with programs and procedures still subject to development, we will all be finding our way in a new landscape. Nevertheless, we remain dedicated to our traditional goals and values – the best services we can provide and the best collections and materials access we can afford. Certainly, the university faces serious fiscal decisions in the coming year or two. With the librarian retiring, a hiring freeze already in place and uncertainty about how those fiscal change
s will affect the libraries, now more than ever your support for the Walter Library is essential to its future ability to continue as an integral part of the Jackson School experience. I hope this will be just a bump in the road, and that with time, someone with energy and imagination will come aboard, and, using the tools and collections we have developed over the past 35 years, will find new and better ways of serving the Jackson School with the information services it deserves for the 21st century.
I would be remiss if I did not acknowledge the many librarians and library staff I have worked with over the decades, who have done so much of the heavy lifting for my sometimes overambitious projects. A library is a community, not a room full of stuff. Thanks to one and all! This year's Guion Award winners, for extraordinary service to the Walter Library, are James Galloway, Walter Library unit manager, Colleen Lyon, head of scholarly communications, and Anne Morgan, iSchool GRA and excellent cataloger. Thanks to you all for your efforts! Student workers who graduated this year are Pamela Perez and Noelle Fremin. We wish them good luck and thank them for efforts. So thank you for the memories, Jackson School family. Time to ride off into the sunset!
Dennis Trombatore, Librarian This report was printed posthumously. Trombatore served for 35 years as the Head Librarian at the Walter Geology Library. Please see Trombatore's memorial.