Mohrig Wins Pettijohn Medal; Named Associate Dean of Research
December 5, 2018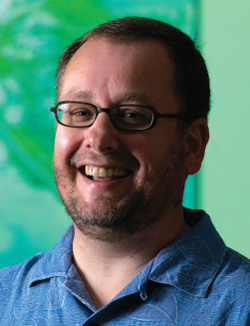 David Mohrig has been selected by the Society for Sedimentary Geology (SEPM) to receive the Francis J. Pettijohn Medal for Sedimentology.
He is the second faculty member at the Jackson School of Geosciences to receive the medal, which recognizes excellence in sedimentology. Mohrig was also named associate dean for research at the Jackson School.
The Francis J. Pettijohn Medal recognizes individuals who have a significant record of outstanding contributions in sedimentary geology, including all aspects of sedimentology and stratigraphy. The award will be presented at the 2019 President's Reception and Awards Ceremony, during the SEPM Annual Meeting held in San Antonio on Tuesday, May 21, 2019.
Mohrig has been a part of the faculty of the Jackson School since 2006 and is the John E. "Brick" Elliott Centennial Professor in Geological Sciences. As the associate dean for research, he is responsible for fostering an active research culture and promoting the formulation and implementation of major collaborative research initiatives and multi- and interdisciplinary research. As associate dean, Mohrig also oversees the implementation of the research portion of the Jackson School's Strategic Plan.
"Dave is an outstanding scientist and educator, and a key addition to the Jackson School's leadership team," said Jackson School Dean Sharon Mosher. "I am pleased he has taken on this critical role in our school."
Mohrig's own research focuses on how sediment is transported and deposited to build landscapes on land and in marine environments.