Graduate Student Calculates Size of Jackson School's Carbon Footprint
September 18, 2017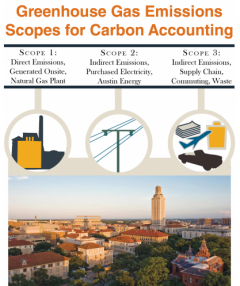 The Carbon Roadshow, an initiative of the University of Texas at Austin's Center for Sustainable Development (CSD), put together a best practices guide for schools to calculate their carbon footprint—the amount of carbon dioxide emissions released during a period of time.
Elbin A. Collado, a graduate student in the Jackson School's Energy & Earth Resources (EER) program, partnered with the CSD to test the carbon accounting method by calculating the size of the Jackson School's carbon footprint during the 2015-2016 school year. Collado found that, in total, the school produced 2,291 tons of carbon dioxide.
Collado analyzed the emissions produced by Jackson School activity in the Jackson Geology Building (JGB), the E.P. Schoch Building (EPS), and on school-sponsored travel. It did not include emissions associated with Jackson School activity on the J.J. Pickle Research Campus, where the school's Bureau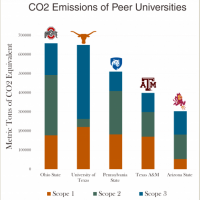 of Economic Geology and Institute for Geophysics are located.
You can learn more about Collado's findings and the Carbon Roadshow at the links below:
Jackson School Greenhouse Gas Inventory Executive Summary