Cenote Descent
May 13, 2016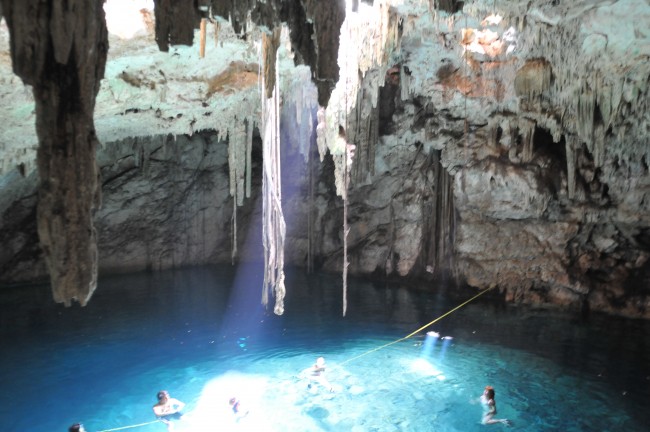 The Chicxulub impact's biggest claim to fame is wiping out the dinosaurs. But, as I mentioned in my first post from Merida, the impact also played a role in shaping the hydrology of the Yucatan, including the region's most distinctive hydrological feature–cenotes. A collection of at least 900 outline the land-based portion of the Chicxulub crater in a formation called the "ring of cenotes."
I had the opportunity to visit two of those cenotes on Thursday. I went with my co-travelers Rose and Anna, staff members from the UT alumni magazine Alcalade.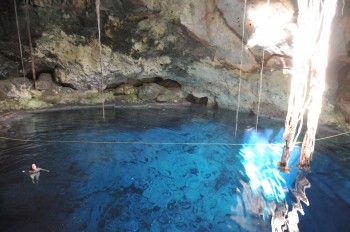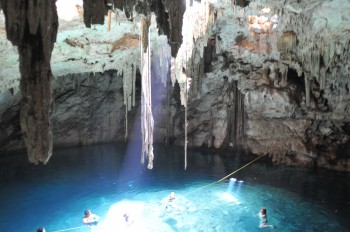 Cenotes are underground caverns with a skylight. The cavern portion forms when groundwater trickles into cracks in carbonate rock and dissolves the rock away.  But the structure is not considered a cenote until a passageway between the surface and the cavern below forms, a process that's facilitated by plant roots growing into the ground.
The Chicxulub crater seeded the Yucatan for cenote formation by creating cracks in the land that groundwater could
seep into.
The two cenotes I visited were called Chacsinicche, which means "red ant from the wood" in Mayan, and Bolonchoojol. Descending into the cenotes and jumping into their crystalline water was simultaneously nerve-inducing and thrilling.
So was the ride getting there.
The cenotes are located about three miles away from a paved road. So to get to them the tour company uses a system of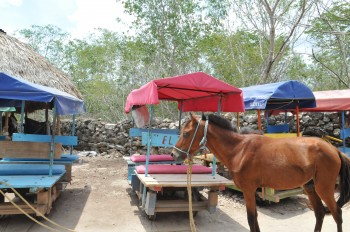 horse-drawn railroad cars and motorcycle carriages.

The whole system worked similar to a relay race, with horses and motorcycles taking turns depending on the path. Where there were tracks, we got pulled along deeper into the forest by a cantering horse in a rope harness. When the tracks ran out the motorcycle  took us along the path.
I was nervous for about five minutes. Then I enjoyed the ride.
The first cenote we arrived at was Chacsinicche. A ladder led down into the cenote. Me and my co-travelers were the only people inside.
The stillness and clarity of the water was breathtaking. A cluster of vines that fell into the center of the cenote seemed to fuse with its reflection in the water.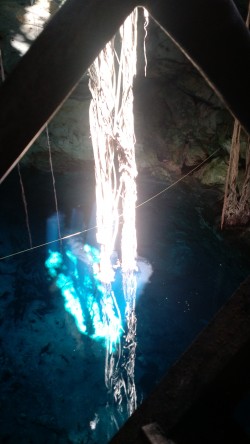 The second cenote, Bolonchoojol, reminded me why the ancient Maya considered cenotes as symbolic for the underworld.
Getting in required a steep descent down a near vertical ladder into a small hole.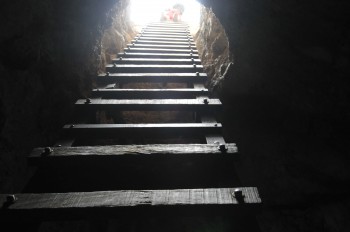 My backpack scraped against the rock at certain places on the way down. The cenote itself was almost entirely covered by surface rock. Our entry hole and a small opening in the cenote's center were the only passages for light. Stalactites covered the ceiling.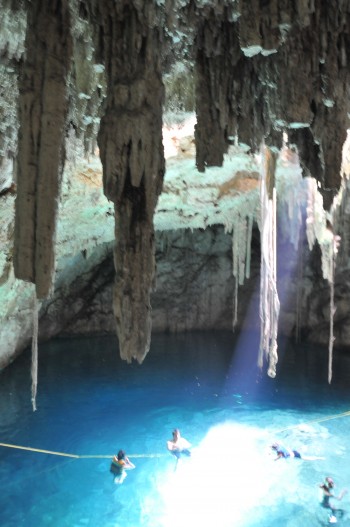 The Chicxulub impact crater is covered by hundreds of meters of sediment. We'll never be able to see its entirety without the aid of geophysical technology. The cenotes are the opposite; they're totally  immersive. A person can enter inside to touch their walls, swim in their waters, and observe wildlife.
For me, knowing that cenotes are connected to the Chicxulub crater makes the impact site seem more accessible. A gravity map is something I can understand. A cenote is a place I can experience.