Banner Chosen as 2015 Kappe Lecturer
October 5, 2015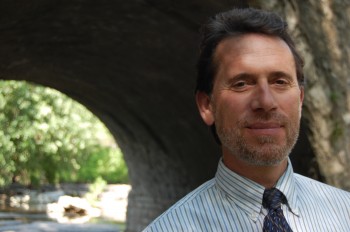 Jay Banner, a professor in The University of Texas at Austin Jackson School of Geosciences and director of the UT Austin Environmental Science Institute, has been selected to be the 2015 Kappe Lecturer by the American Academy of Environmental Engineers & Scientists.
This prestigious lectureship was endowed in 1989 to "share the knowledge of today's practitioners with tomorrow's environmental engineers and scientists" and involves a national university speaking tour. Banner is the first scientist to ever be honored as the Kappe Lecturer. All previous speakers were engineers.
Banner's research and teaching interests center on Earth surface processes with the goal of understanding the interactions that occur between the atmosphere-land-ocean systems, and how these interactions are preserved in the geologic record. As director of the Environmental Science Institute, a collaborative Jackson School and College of Natural Sciences program, Banner oversees a range of interdisciplinary programs for basic scientific research, education, and outreach related to the environment and sustainability.
The lectures offered by Banner during his Kappe Lectureship will be "Past, Present, and Future Climate Change Impacts on Water in a Semi-Arid Region: Science and Policy" and "Cave Mineral Deposits as Proxies for Past Climate Change."
Banner will begin presenting his lectures to host universities in fall 2015. More information on the Kappe Lecture Series.
For more information contact: Anton Caputo, UT Jackson School of Geosciences communications director, 512-232-9623; or Monica Kortsha, UT Jackson School of Geosciences public affairs officer, 512-471-2241.