Memorials
October 22, 2014
Alumni & Friends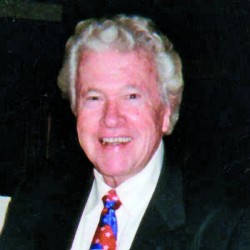 Larry Barnett (B.S. '59) relocated to Heaven on Sept. 25, 2013. Larry, as he was known to family and friends, was born in Galveston, Texas, on Feb. 19, 1934, to L.T. Barnett, Sr. and Theresa Irene Barnett of Texas City, Texas. Larry was a longtime resident of Austin, Texas. Larry attended Texas City High School where he earned a basketball scholarship to Wharton Junior College. After leaving Wharton, Larry set his sights on the University of Texas at Austin. Post enrollment he placed his academic career on hold in order to serve two years in the Army as specialist during the Korean Conflict. Upon receiving an honorable discharge Larry returned to the University of Texas, completed his studies and graduated with a B.S. in Geology. With degree in hand, Larry began to forge a career in Central Texas real estate, receiving numerous accolades and honors in both the residential and commercial industry. Larry was distinguished as the first recipient of the CCIM (Certified Commercial Investment Member) designation in Austin. In addition to real estate, Larry participated in the intricacies of the Texas oil and gas industry as a landman. Larry was the quintessential, dyed-in-the-wool, Texas Longhorn and could be found on college football game day sitting in the stands or squarely in front of a radio or television cheering on his beloved Longhorns. Larry also had a love for the arts; he was an ardent admirer of the classical artists, the Three Tenors and honed his own talents with singing Schubert's "Ave Maria" in Latin. Larry had an adventurous spirit and loved to travel. He visited Europe and Greece but his favorite destination was the peaceful shores of Hawaii and many memories were made on the islands with his travel buddy and wife, Callie. Larry loved his home and his two faithful, canine companions, Cuddles and Honey Bunny, and enjoyed all that life brought him. Larry met his wife of forty years, Callie Schaefer Meyer, in 1974 and the two of them blended their hearts and homes as loving and proud parents and grandparents. Larry's legacy will live on in his sons: Trey Barnett and wife Micki of Spring, Texas, Tim Barnett and wife Ninna of Houston, Texas, Stephen Barnett and wife Patricia of Meridian, Texas, Blake Meyer and wife Janet of Austin, Texas and Missy Meyer Gattis of Richmond, Texas. Larry's and Callie's thirteen grandchildren will continue in their grandfather's footsteps as they all have inherited his sense of adventure, love for the arts and education and a very witty sense of humor.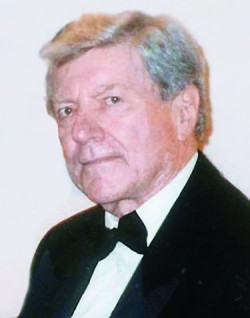 Robert E. Beatty (B.S. '54) passed away on May 30, 2014, in San Antonio, Texas, at the age of 89. He is preceded in death by his wife, Marilynn (Geisler) Beatty, sister Barbara (Beatty) Sullivan, and his parents Robert E. and Julia E. (Bodet) Beatty. Surviving family members include his niece Susan (Sullivan) Yvanovich and nephews Jay and Brian Sullivan. He was a graduate of Central Catholic High School and attended Texas A&M University where he was a member of the Corps of Cadets and Theta Xi fraternity. He later earned a B.S. in geology from the University of Texas at Austin. Subsequent military service included duty assignments in the United States Navy. He retired from the Texas Railroad Commission after 25 years of service as a regional director regulating Texas oil and gas production. His was very involved in the community spending most of his life residing in the Monte Vista Historical District within San Antonio. He enjoyed civic associations, which included memberships in The Harp and Shamrock Society of Texas, San Antonio Conservation Society and the South Texas Geological Society. Our Uncle Bobby had an irrepressible zest for life including a passion for fashion and travel. He met his wife Marilynn later in life and they traveled the world, sharing with us wonderful memories of their numerous trips and escapades. Together they were our historians, passing down family legacies and a full appreciation for decorum, etiquette, and entertaining. The camaraderie of their conversations will be sorely missed; Uncle Bobby was the life of the party and he knew it!
Walter E. Belt (B.S. '43), age 91 of Georgetown, Texas, passed away on Jan. 30, 2014. He was born in Wallis, Texas, in 1922. Parents were Walter E. Belt, Sr., and Winnie Allen. Walter graduated from the University of Texas at Austin in 1943 and had a long career as a geologist and as a petroleum landman. He is survived by his wife of over 70 years, Virginia Duckett Belt, four children, five grandchildren and two great grandchildren and numerous other relatives.
Fred Blackmar (B.S. '55), age 81, passed March 29, 2014. Fred was born on Oct. 6, 1932, in Taylor, Texas, to Kenneth and Bettina Blackmar but grew up in Luling, Texas along with his brothers Guy and Jim. It was in Luling, Texas that Fred would meet Carolyn, his wife of 59 years. Fred went on to graduate from the University of Texas at Austin in 1955 where he was a member of the Beta Theta Pi fraternity, the Naval ROTC and the Texas Cowboys. Fred then joined the U. S. Navy, earned his wings and proudly served as a naval aviator for 22 years. He flew AD's, S-2's and the E-2C Hawkeye aboard aircraft carriers USS Ranger, USS Yorktown, USS Midway and the USS Constellation. His distinguished career included serving as the CO of VAW-115, Air Ops Officer aboard the USS Constellation and numerous medals and awards before retiring in 1976 from the CNATRA staff in Corpus Christi, Texas. Retiring from the Navy allowed Fred to pursue a second career in golf. Having been an accomplished player himself as evidenced by winning the 1965 National Left Hander, the Texas State Left Handers six times and the Inner Service Championship; he touched the lives of many as a golf instructor for adults and juniors alike. Fred also excelled creatively as a restorer of old persimmon woods. Fred's other passion was rocks. Specifically, he had a deep love of Laguna agate and various crystals. In fact, he annually shared some of his better specimens at the Corpus Christi Gem and Mineral Show having been a long standing member of the Gulf Coast Gem and Mineral Society. Fred is preceded in death by his son Donald and survived by his wife Carolyn, daughter Allison, her husband Bill Hunt and his children Tom and Maley, son Phil his wife Carol, their children Kristin, Kelli, her husband Pete Maginot and son Peter, Philip and his wife Ashley, and Mark and his fiance Savannah Lester.
Erich B. Blohm (B.S. '54) was born on Oct. 6, 1930, in Poth, Texas, and entered eternal life on April 11, 2014. Erich was devoted to his family and Good New Lutheran Church. He enjoyed hunting with his best friend and brother Boobie Blohm. Erich was an admirer of nature and taking pictures. His most admirable trait was helping people in their time of need. He was a very well rounded person as he could fix a car engine, hunt animals, and play sports with anyone. He graduated from University of Texas at Austin in 1954, then joined the Navy until 1958. In 1959, he started his 30-year career at Kelly Air Force Base in electronics. He was preceded in death by his wife Janis Stanton Blohm, his parents Walter and Hulda Blohm, brothers Ben, Willy and Bobby Blohm, sisters Gertrude Swanner and Amanda Thompson. Erich is survived by his son Erich Craig Blohm and wife Julie, grandson Erich Stanton Blohm and stepdaughter Makari Jacobs, his brother Walter Blohm, sister Elsie Lance of Redmond, Oregon, and sister-in-law Elizabeth Blohm of Portland Oregon.
Charlene J. Bolden (spouse of the late Gerald Pat Bolden, B.S. '51) was born on March 9, 1929, in Marysville, Texas, to Stephania and Fred Johnson. On the death of her father in 1937, the family moved to Kerrville where she grew up in the home of her aunt, Mary Haberman. She graduated from Tivy High School and Schreiner Institute. In 1949, she moved to Austin. In 1951, she married J.L. Hutchison Jr. They moved to Midland in 1952 where he was employed by Gulf Oil Corporation. They were transferred to Roswell, N.M. in 1960 and returned to Midland in 1971. She was associated with University Lands – Oil, Gas and Mineral Interests from 1973 to 1994. She was a member of First Presbyterian Church, Chevron Retirees Association, Permian Basin Geological and Geophysical Auxiliary and was 1980 President of the Desk and Derrick Club of Midland. J.L. Hutchison Jr. died in 1983. In 1989, she married G. Pat Bolden. He died in February, 2013. She was also preceded in death by a sister, Bernice Johnson. Survivors include sons, Mark Hutchison (Tracy) of Austin and Jay Hutchison (Cyndi) of La Grange; daughter, Sharon Ott (Rich) of Houston; sister, JoAnn Mandriota (Frank) of Bayport, N.Y.; brother, Fred Johnson (Martha) of Burnet; granddaughter, Amy Hutchison of Austin; and the children of Pat Bolden, Craig Bolden (Sylvia) and Cathy Bolden, all of Houston.
Josephine N. Bluntzer (spouse of Robert Lee Bluntzer, B.A. '60), age 74, passed away on Aug. 12, 2014. She was born on April 14, 1940, in Port Arthur, Texas, to Francis Oliver Nicklin, Sr. and Josephine Mellers Nicklin. After she graduated from Bishop Byrne Catholic High School in Port Arthur, she earned a bachelor's degree in 1962 and master's degree in education in 1965 at the University of Texas at Austin. Jo taught sixth grade in Port Arthur, Texas and at Joslin Elementary School in Austin through 1968. Jo was a very dedicated, loving and outstanding wife to her husband of 48 years, mother, grandmother and friend. She loved living in Austin and took advantage of the cultural activities it offered. Jo was an avid reader and never stopped loving to learn and being a teacher at heart. Jo was very active in her children's and grandchildren's lives and liked to visit and chat with her neighbors and friends. She was a member of the Austin Junior Forum, Women's Art Guild, and the UT Quest Continuing Education Group. Jo is preceded in death by her parents. She is survived by her husband, Robert Bluntzer and son, Peter Bluntzer, both of Austin, Texas; daughter and son-in-law, Alice and Joshua Ley, and grandchildren Andrew and Kate, all of Englewood, Colorado; and brother, Oliver Nicklin of Chicago, Illinois.
Bryan R. Bracken (M.A. '82), age 57, entered into rest on Aug. 10, 2014, surrounded by his wife and sons. Born in Kansas City, Bryan and his family moved to San Marino, California, in 1966. He graduated from Polytechnic High School in Pasadena in 1975, and moved on to get his B.A. in geology from Colorado College in 1979. It was at "CC" that Bryan fell in love with the science of geology, continuing on to earn his M.S. from the University of Texas at Austin in 1982 and his Ph.D. in 1987 from the University of Utah. When beginning his doctorate studies, Bryan uncovered a love to surpass geology when he found Judy, and they married in September 1983. Bryan was employed by Chevron after the completion of his schooling, starting in Hobbs, New Mexico, then Houston, and finally settling in San Ramon in 1991. His passion and enthusiasm for geology inspired countless students and fellow geologists. Known as an excellent field scientist, Bryan taught and mentored many of his colleagues, leading field schools in the beautiful wilds of Utah, New Mexico and several unique worldwide destinations. During his 27 years with Chevron, he set his sights on long-term goals and never wavered from them, culminating in his dream job in clastic stratigraphy research. At home in San Ramon, Judy and Bryan teamed up to raise three wonderful sons. Bryan was involved in almost everything they did, from school activities to sports to scouting. A natural teacher, he introduced his sons to his love of nature and the mountains. He had a rare talent for growing the biggest tomato plants in San Ramon! Bryan was happiest when surrounded by his family, whether it was hiking in the mountains or at home watching a movie. As an Eagle Scout himself, Bryan served as a leader of his sons' scout troop for several years and enjoyed adventurous outings in the mountains and oceans. He continued mentoring young men as they worked up to their Eagle Scout rank even after his sons were no longer in the troop. Bryan lived his scout values daily and was an excellent example to his sons and countless other young men. After Bryan was diagnosed with cancer in 2009, he continued to work and enjoy a full life until about six months before his death. He endured several years of  various treatments, never complained, and remained positive and upbeat throughout those years, serving as a model of strength and resilience to all of us. Bryan is survived by his wife Judy of 31 years, sons Cameron, 28, Ryland, 25, Stewart, 23, mother Janice Bracken, five nieces and seven nephews. He outlived his father Dan Bracken (1919-1971), his sister Frances Gay Kohen (1958-2005) and his brother Dan (1955-2012). Bryan will be missed by all who crossed his path, especially by his wife and three sons.
Patricia A. Buffler (spouse of former professor Richard Thurman Buffler), an internationally esteemed researcher known for her work on some of the world's largest studies on childhood leukemia and environmental health, and a former dean at the University of California, Berkeley's School of Public Health, has died. Buffler died of a stroke while in her campus office on the evening of Sept. 26, 2013. She was 75. At the time of her death, Buffler, who held UC Berkeley's Kenneth and Marjorie Kaiser Chair in Cancer Epidemiology, was leading several large research programs related to childhood leukemia and other childhood cancers. Among them is the California Childhood Leukemia Study, which Buffler launched in 1995 to investigate the relationship between diet, genes, infections and environmental exposures and the development of leukemia. Buffler was also principal investigator of the Center for Integrative Research on Childhood Leukemia and the Environment, funded in 2010 by the National Institute of Environmental Health Sciences and the U.S. Environmental Protection Agency (EPA) to study the role of prenatal and early life exposures to carcinogens in the development of leukemia. While best known for her work on childhood cancers, Buffler's work covered a broad range of environmental health issues, including the effects of secondhand tobacco smoke and electromagnetic radiation. In the 1980s, Buffler chaired a scientific advisory panel formed by the Semiconductor Industry Association to evaluate the risks of miscarriage among its workers. Buffler was born Aug. 1, 1938, in Doylestown, Pennsylvania. When she enrolled in the Catholic University of America in Washington, D.C., she became the first person in her family to go to college. She graduated in 1960 with a bachelor's degree in nursing and biology, and then moved to New York where she worked as a public health nurse in Harlem. While she was in New York, Buffler met her future husband, Richard Buffler, a U.S. Navy communications officer stationed in Rhode Island, on a blind date. The couple married in 1962 and soon moved to California. While Richard Buffler obtained his Ph.D. in geology at UC Berkeley, Buffler worked as a public health nurse in Alameda County. She then earned her master's in public health in 1965, and a Ph.D. in epidemiology in 1973, both at UC Berkeley. From 1974 to 1991, Buffler held various faculty positions at the University of Texas, starting as an assistant professor in the Department of Preventive Medicine and Community Health in Galveston, and leaving as a full professor of epidemiology at the School of Public Health in Houston. While in Texas, she also directed the Epidemiology Research Unit at the university. Among Buffler's long list of career achievements are membership in the Institute of Medicine and the American College of Epidemiology, and being named a fellow of the American Association for the Advancement of Science. She was also president-elect of the International Epidemiological Association. She served as advisor to the World Health Organization, the U.S. Department of Energy, the U.S. EPA and the National Research Council, among others. Buffler also served on scientific advisory boards of several major corporations and industries, including the Scientific Advisory Panel on Electromagnetic Health Effects of the Electric Power Research Institute and the DuPont Company's Epidemiologic Review Board. In 1985, Buffler was named by the state governor to the Texas Women Hall of Fame. Buffler is survived by Richard, who shared homes with her in Berkeley, Calif. and Santa Fe, N.M.; son Martyn Buffler of Austin, Texas; daughter Monique Does of Berkeley; and five grandchildren.
Donald Malcolm Campbell (B.A. '55), passed away on Oct. 10, 2013, Donald Malcolm Campbell. He was 83. Born in San Antonio, Texas, to the late Clyde and Janice Campbell, he spent his childhood and early adult life in Texas. Mr. Campbell graduated from University of Texas at Austin with a degree in geology, working as a geophysicists for different petroleum companies before being retained by the federal government for whom he worked the rest of his career, traveling extensively throughout the United States and much of South America. While working for the government Mr. Campbell met Carol Burdette whom he married in May of 1973. They lived in Colorado, San Antonio, Texas and Maryland. After retirement he worked for the Frederick and Harford County Public School System as a substitute teacher and an inclusion helper, and most recently for the Harford County Public Library.  He is survived by his loving wife of 40 years Carol Campbell, his daughter Robin Smith and her husband Edward and his step-son David Flynn; his granddaughter Kimberly Campbell, who was the light of his life. Along with his parents he was predeceased by his brother Robert Campbell.
Howard E. Ellis (B.S. '51), 88, formerly of Victoria, Texas, passed away Aug. 1, 2014, at PRMC in Kerrville, Texas. He was born in Newton, Texas, to Virgil Oscar Ellis and Maude Mary Frances Hext Ellis on Sept. 3, 1925. He married Marjorie Louise Gilstrap on Jan. 26, 1951, in Austin, Texas. He attended many schools in Texas as his father was a bridge engineer with the Texas Highway Department, moving as each bridge was completed. He graduated from the University of Texas at Austin, where he was a member of the Sigma Nu fraternity. He worked for the Texas Railroad Commission, the Social Security Administration, and finally for Victoria Bank and Trust, which eventually became Wells Fargo. He was a veteran of World War II, serving in the U.S. Navy. An active Boy Scout leader for over 25 years in the Gulf Coast Council (renamed the South Texas Council), Howard was the recipient of the Silver Beaver Award, a national distinguished service award. He was inducted in the Order of the Arrow Honor Society, earning his Ordeal, Brotherhood, and Vigil. He served on the 1973 National Jamboree staff in Valley Forge, Pennsylvania. His three sons earned the rank of Eagle Scout. His daughter earned the equivalent award in Girl Scouts. Howard was a valued member of First Presbyterian Church in Victoria, Texas, for over 40 years where he served proudly as a Deacon and Elder. In his later years, he served as a construction supervisor for many small projects before moving his membership to First Presbyterian Church in Kerrville.  An AVID Texas Longhorn fan, Howard, affectionately known as "Tex" to family and friends, actively supported all of the university's sports, especially football. He attended home games for 65 years from 1948 through the fall of 2012 missing two home games to watch his youngest son play a Saturday varsity football game. He was president of the Victoria Texas Exes chapter and thoroughly enjoyed ribbing the Aggies at their joint luncheon before the annual Turkey Day game. Howard is preceded in death by his parents and only brother, retired Marine Lieutenant Colonel Frank B. Ellis.  He is survived by his wife of 63 years Marjorie G. Ellis. He leaves behind his daughter Debra E. Heath and husband D. Mayo Heath of Lewisville, Texas; his son Stephen H. Ellis of Clear Lake, Texas, his wife Jennifer and their sons, Robert and Matthew; his son David H. Ellis of Kerrville, Texas, his wife Donna and their son Derek; and, his son Henry C. "Hank" Ellis of North Richland Hills, Texas and his sons Caleb and Micah. Other relatives include his brother-in-law Ralph Gilstrap of Draper, Utah, his wife Carolyn, and their children, Christopher and Mollie; his niece Dana Ellis Smith, nephews Christopher H. Ellis and Jeffrey B. Ellis, and their children.
Bruce W. Fields (B.S. '51) passed away on Aug. 26, 2014. He was born on Oct. 27, 1924 in Sparenberg, Texas. Bruce's parents were Jessie Belum Fields and Beckham Woodard Fields. He was one of seven children. Bruce graduated from Lamesa High School and proudly served his country during World War II. Bruce enlisted in the United States Army at the age of 18 where he worked independently in the Allied Supreme Command Post in Kandy, India, where the headquarters was located. Also known as the Seven Wonders of the World Botanical Gardens. He had the opportunity to work side-by-side with many world famous generals like General Louis Mountbatten from Great Britain and General Joseph Stillwell from the United States. After returning from World War II, Bruce attended the University of Texas at Austin on the G.I. Bill where he earned a Bachelor of Science degree in Geology in 1951. He met and married the love of his life while at the University of Texas, Mary Lois Applewhite Fields. Bruce worked as a petroleum geologist for Union Producing and Phillips Petroleum until he went independent in Corpus Christi in 1960. One of Bruce's contributions in the field of Geology happened while on a University of Texas student field trip. His professor John A. Wilson stated "the day you found the jaw in Tornillo Flat was one of those lucky days." Bruce's discovery changed the age of Big Bend Park from Cretaceous to Paleocene and Eocene which made Big Bend Park a much younger age. He was a member of SIPES, AAPG, Corpus Christi Geological Society and the Longhorn Foundation.
Martha M. Finklea (spouse of Lawrence Finklea, B.S. '54), 85, of Sonora, affectionately known as Jodie by all who knew and loved her, passed peacefully at home Aug. 19, 2014, surrounded by family. A dedicated wife, devoted mother, doting grandmother and dear friend, she was preceded in death by her mother, Martha, and loving stepfather, William "Willie" Miers; her father, Andrew Moore and stepmother Nellie; and half-brother Andy Moore. Jodie was born Nov. 5, 1928, in Austin, Texas. Jodie attended Sonora High School and the Hockaday School in Dallas before graduating from Austin High School. She went on to receive a degree in home economics from the University of Texas at Austin where she was involved in intramural sports and won the campus wide posture contest. While at UT, Jodie made many lifelong friends as a member of the Delta Gamma sorority. Jodie met Lawrence Finklea in the spring of 1951, and they married on Aug. 14, 1952, at the historic Burton Parish Episcopal Church in Colonial Williamsburg, Virginia. They remained in Virginia where Lawrence was stationed with the U.S. Army at Fort Eustis. In 1954, they returned to West Texas to live and work on the family ranch. Jodie's happiest times were spent on the ranch keeping up with her children at a time when all three were in  diapers. As they grew, Jodie was a constant fixture in their lives: she taught 4-H cooking to Marsha's friends and supported her children as they competed in 4-H wool, mohair and grass judging competitions. She was a "homeroom mom" for many years, as well as a Cub Scout den mother. Constantly on the move, Jodie loved golf and instilled a love for the game in her  grandchildren. Summer weekends were spent with friends on the Devils River, checking trotlines in the middle of the night and trips to Ruidoso for the horse races. Jodie traveled the world but when asked to name her favorite place, her answer was always the same: Sonora, Texas, where she was a mother and grandmother to many in the community. Throughout her life Jodie remained active in the Fling Ding Club, the Sonora Women's Club, the Sonora Women's Golf Auxiliary, the Sonora Rodeo and the La Tarantella Dance Club. Jodie was passionate about Broncos athletics, traveling hundreds of miles to watch the teams play. Those left to honor and cherish her memory include her husband of 62 years, Lawrence; her two sons, Bill and Larry; her daughter, Marsha Cardwell; her two grandchildren, Margo and McCurdy Cardwell; her half-sister, Angie Wright; nieces Deanna Wright Tovar and April Finklea Beckerley; nephews Peter Finklea and Keith Wright; and many, many friends. Above all, Jodie was fun. Her zest for life was rare and precious and she possessed a spark that brightened the world for all who knew her. Life in Sonora will not be the same without her. She will be missed by all. The family would like to thank the staffs of Lillian M. Hudspeth Memorial Hospital in Sonora and Shannon Medical Center in San Angelo for their compassion and care over the past months.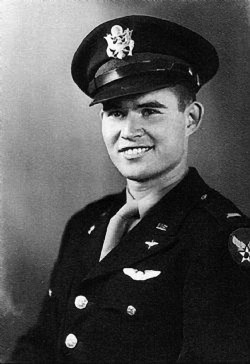 Goldoni E. Flack (B.S. '51) died at his home in Georgetown, Texas, on April 15, 2014, after being cared for lovingly in his last days. G.E. Flack was born in Caddo, Texas, on Feb. 1, 1924, to Elmer L. and Emma L. (Smith) Flack. His parents migrated to Texas with Elmer's three brothers and a sister. The family followed the oil boom of Texas. G.E. grew up in Monahans, Texas. He graduated from Monahans High School in the class of 1942. Upon graduation, he joined the Army Air Corps Pilot program, commissioned second lieutenant at 19 years of age. On Feb. 3, 1943, he attended Aviation Cadet School in Altus, Oklahoma, where he became a flight instructor. He served with the 557th AAFBU in Great Falls, Montana, the 565th AAFBU in Reno, Nevada. On April 12th, 1945, he was assigned to the 1337th Air Transport Command in Sookerating, India. There he flew "The Hump" over the Himalayas, from India to China, ferrying supplies for the troops and "The Flying Tigers." He was awarded the following medals: Asiatic Pacific Campaign Medal, Victory Medal, Bronze Service Star, American Theatre Campaign Medal, and The Chinese Memorial Medal. Upon Honorable discharge from the military, G.E. Flack entered the University of Texas at Austin. There he met the love of his life, Ruth E. James. They married on Dec. 23, 1947. They  enjoyed 65 years of marriage and had two sons, Stephen and David. Goldoni is preceded in death by his parents, Elmer and Emma Flack; his step mother, Helen Kinney; sister, Letha  Grantham; and his loving wife, Ruth. He is survived by his sons, Stephen and David Flack; two grandchildren, Amber Flack and Justin Flack; niece, Yvonne Dobkins; and nephew, Rodney Grantham.
Paul Giraudin (B.S. '48), was born Oct. 18, 1920, to Paul, Sr. and Mary Crow Giraudin in Gainesville, Texas. After high school, Paul attended Cooke County Jr. College before transferring to the University of Texas at Austin.  World War II interrupted his education and Paul was commissioned into the US Army Air Corp as a second lieuteant, assigned to various aviation squadrons. His love of flying from his teens allowed him to be accepted as a pilot trainee immediately.  In a cooperative agreement with the British, he was awarded his wings both from the Royal Air Force and the U.S. Army Air Corp. Among the more memorable assignments was flying C-46 cargo planes over the "Hump" between India and China. During his time in the Air Force, he met and married Bettie Pat Parham.  They were married on Dec. 15, 1945. He was honorably discharged as a first lieutenant and returned to UT where he completed his B.S. in Geology. He was hired by Marathon Oil Company and retired in 1970, having worked in Amarillo, Wichita Falls and Corpus Christi. Paul was a member of First Christian Church in Corpus Christi where he was recognized as an Elder for Life. He also worked on the staff as Church Administrator for 10 years. Following his retirement he devoted his energy to his woodworking talents. Many people brought their broken furniture to Paul for repair during his 50 years in Corpus Christi. "Fixing" things was just something he loved to do. His other love was music, both playing and singing.  In his early years, he played drums in the Gainesville Community Circus, and the University of Texas Longhorn Band.  He continued his musical interests as a bass in the church choir and as a charter member of the Corpus Christi Civic Chorale.  He never had formal musical training, but did have an ability that was surpassed only by the pleasure he received from participation. During his 40-plus years with the Chorale, he had the opportunity to travel and perform in Mexico City, and numerous locations throughout the U.S., including New York City and the Kennedy Center in Washington, D.C. Paul is survived by his son, Paul Giraudin, III, wife Elsie of Katy, Texas, and daughter, Patrissa Getz, husband David of Corpus Christi. Seven grandchildren; Nicole Martinez (John), Scott Giraudin, Rachel Giraudin, & Clayton Giraudin, Laura Dow (Scott), Lisa Vickers (Bo), David Getz, Jr., and seven Great-Grandchildren, Luke, Colt & Lilah Dow, Addison and Kyle Martinez, Cooper and Riley Vickers.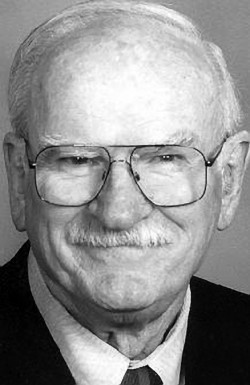 C. Clyde Hamblin (B.S. '50) expired on Aug. 10, 2014, at the age of 90 years. Clyde was born on May 11, 1924, to Verna Ruth Thornbury and George Herbert Hamblin in Austin, Texas. He was predeceased by his parents; his brother, Herbert Andrew Hamblin; his sister, Lola Ruth Collons; and his son, George Spencer Hamblin. Clyde is survived by his wife of 70 years, Martha Hamblin; three grandchildren; six great grandchildren; and many nieces and nephews. Clyde attended schools in Austin, Texas, graduating from Austin High School before joining the Marine Corps during WWII. He married his high school sweetheart, Martha Poole, in Norman, Oklahoma, on Jan. 25, 1944, while he was stationed at the Naval Air Base in the Marine Air Wing. He proudly served his country in the Marine Air Wing during Worl War II in the Philippines and occupation of China and again in the Korean War. After leaving the corps, Clyde returned to his  hometown and earned a B.S. degree in Geology from the University of Texas at Austin. After graduation, he was employed by Union Producing Company in Houston, Texas, Tennessee Gas Transmission Company, later Tenneco, in Corpus Christi, Texas, Denver, Colorado, and Oklahoma City, Oklahoma before moving to Midland, Texas. In 1961, he became a founding partner in HMH Operators and later was an independent lease broker and operator of oil and gas properties. He was a petroleum pioneer. Music played a big part in his life and he loved all kinds of music. While in Austin High School, he played the clarinet in the marching band and the "fiddle" in a country western band called the West Side Ramblers. While stationed at the Naval Air Station in Norman, Oklahoma, he played clarinet in the Marine Marching Band and the bass violin in the dance band. He sang in a barbershop quartet in Midland and was in the chancel choir at St. Luke's United Methodist Church for 54 years. He also served on the Administrative Board at St. Luke's and was a lay delegate to the Northwest Texas Annual Conference of the Methodist Church. Clyde also was a member of the Society of Independent Professional Earth Scientists and the American Association of Professional Landmen for 50 years.
Miles H. Hardy (B.A. '52) passed into the presence of our Lord on Jan. 3, 2014, at age 87. He was a loving father and husband, and a kind and gentle friend to all.  Born on Sept. 21, 1926 in Pearsall, Texas, he was a student at Pearsall High School and graduated in 1944. He attended the University of Texas at Austin and earned a degree in Geology. He married Lois Darleen Glover in 1956. Henry worked for the Texas Department of Transportation for 34 years before retiring in 1992. He also served 39 years with the Texas Transportation Federal Credit Union in various positions. He loved music, both listening to classical or jazz, and singing in the church choir at Trinity United Methodist Church, attending Spurs basketball and San Antonio Mission baseball games, gardening and reading. He is survived by his wife Darleen, two daughters, Joni and Julie, and two granddaughters, Rebekah and Sarah.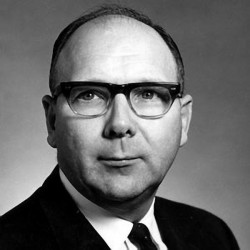 Hubert A. Henry (B.A. '48) was born on Oct. 13, 1919, in Pleasanton, Texas. He attended elementary school in San Antonio, Texas, and graduated from Austin High School in Austin, Texas. In 1941, he entered the U.S. Army as a private. He retired from the Air Force Reserve after 25 years of military service, including five years on active duty. He held enlisted, warrant officer, and commissioned grades to the rank of Major. Hubert Henry graduated from The University of Texas at Austin in 1948 with a bachelor's degree in geology. In 1955, he became a Registered Geological Engineer. He joined the Texas Highway Department in August, 1948, as a research assistant in the Highway Design Division. During the next few years he worked in Research and Development. The Highway Department's engineering geology program was one of his major activities. In 1953 he was given the added responsibility for developing highway illumination designs and assistance. He was then the head of the Automated Division when it was formed in 1965 and served in this position until his retirement in 1985.  Hubert served on many professional committees throughout his career. In 1972 he served as the Scientific Director for the NATO Advanced Study Institute on Computer Systems in Highway Design in Copenhagen, Denmark, and was an invited participant in the International Colloquium on Integrated Systems in Civil Engineering at the University of Liege, Belgium. In 1975, he was the overseas guest speaker for the Symposium on Computer Applications in Pretoria, South Africa. He loved traveling to these places and having the opportunity to share his knowledge with other engineers. He was very active in a variety of professional engineering organizations and received many invitations to speak and participate in conferences all over the world. He married Peggy Ruth Evans on Dec. 26, 1948, and they celebrated their 58th wedding anniversary before her death in 2007. Hubert loved to go to his place on Lake Travis and spent as much time there as he could. He enjoyed working in his beautiful yard and entertaining at his home. He was a Mason and a member of the Ben Hur Shrine Temple in Austin, Texas, for many years.  He is preceded in death by his wife, Peggy Henry and his son, Leslie Evans Henry. He is survived by his son, Jim Henry (Austin) and his daughter, Kathleen Moore and her husband Mike Moore (Denver, CO). He is also survived by eight grandchildren and seven great grandchildren, numerous nieces, nephews, cousins and other extended family.
Eleanor M. Hoover (B.S. '56), age 88, passed away Jan. 7, 2014, in The Woodlands, Texas. Ellie was born Feb. 20, 1925, in Bomarton, Texas, where she graduated from high school. She later attended the University of Texas at Austin and received a Bachelor of Science degree in Geology. She accepted a position as geologist with Humble Oil and Refining Co. (Exxon-Mobil) in 1956 in Corpus Christi, Texas. She transferred to Houston in 1968 where she worked in the Exxon Exploration Department until retirement in 1993. Ellie was active in both community and professional affairs. She was a member and officer of the Houston Geological Society, American Association of Petroleum Geologists (AAPG), Corpus Christi Geological Society, Parent Teachers Association and Conroe Band Boosters. She was a member of the Magnolia Bend Volunteer Fire Department for 24 years where she served as both firefighter and board member. She was also a long serving Commissioner for Montgomery County Emergency Service District 5, a Life Member of the University of Texas Ex-Students Association and a member of the University of Texas Longhorn Foundation. Ms. Hoover was preceded in death by her husband, Robert C. Hoover, her parents Mary Marak Macha and Louis J. Macha and her brother George J. Macha. She is survived by her three children, Carol, Sharon and Mark. She is also survived by a sister, Marilyn Cloud; and various nieces and nephews. Eleanor was a member of the Sacred Heart Catholic Church of Conroe, Texas. She was baptized in St. John's Catholic Church, a designated Texas Historical Landmark in the small community of Bomarton, Texas located in Baylor County in a part of Texas known as the Rolling Plains, about ten miles west of Seymour, Texas, which is on the Salt Fork of the Brazos River. She was immensely interested in history, archaeology and geology. Her work in the field of geology provided many opportunities for the study and enjoyment of these interests.
Gretchen M. James (spouse of the late Otis Lee James, Jr., M.A. '52) passed away Feb. 12, 2014, at the age of 78, in Dallas, TX. A Dallas native, Gretchen was born Jan. 16, 1936, to the late Freda Y. Kadane and Henry E. Wendelborn. She loved growing up in Lakewood, attending Lakewood Elementary and Woodrow Wilson High School, and matriculating to the Unversity of Texas at Austin. She studied Geology, and was on the university ladies golf team. Before marrying Robert Alfred Hall, of Waco and Valley Mills, Texas, where she spent 11 happy years in town and at the ranch before the family moved back to Dallas, and raising their three children, she was a model for Neiman-Marcus in Dallas. Selected for the feature story about the store, "Texas Shangri-La," in the December 1955 issue of Cosmopolitan, she was likened to Audrey Hepburn. An avid cook, she enjoyed holding gatherings for family and friends, sharing her love of all things flavorful. Whether it was laid out with family Lebanese recipes, her truly Southern fried chicken or homemade ice-cream and cobbler, Gretchen's table was always a favorite. After dinner games such as Scrabble and Trivial Pursuit, cards or Yatzhee, were often seen at family holiday celebrations. She always strived to bring her family together, and loved to see them happy. She spent many happy years with her second husband Otis Lee James, Jr., before his passing in 2008. They loved to laugh, and were a loving and caring duo. She is survived by daughter Heidi Hall Bass of Dallas; Audrey Hall (Tim) of Phoenixville, Pennsylvania; and son Robert Alfred Hall, Jr. (Colette) of Wylie; grandchildren, Amber Bass and Timothy and Hannah Hall; great-grandchildren, Trinity and Timothy Hall, Jr.; sister Barbara Wendelborn Thompson. She is preceded in death by her parents and husband Otis Lee James, Jr. Her first husband, Robert A. Hall, passed away on his ranch in Valley Mills on Feb. 21, 2014. They will both be dearly missed and always loved.
Luther G. Jones (B.S. '59) passed away peacefully in his sleep after a lengthy illness on June 28, 2014. Born in Temple, Texas, on June 10, 1930, to Catherine Panton and Luther G. Jones, Sr., he graduated from Texas A&M high school in College Station and then travelled around Texas working for "Ma Bell." After serving in Army during the Korean War, he attended the University of Texas at Austin on the G.I. Bill, earning a bachelor's degree in Geology. Following a stint of working in the oil fields, he settled in San Antonio, where he worked at Kelly Air Force Base. Luther retired in 1990 and spent his sunset years reading travel books, building various contraptions, and happily puttering around the house. He is survived by his wife of 45 years, Karen Lee, sons Luther (Kristy) and Anthony (Genevieve) and daughter Madeline (Lorne); sister Louise (Bob) King; brother Bill (Carol) Jones; three grandchildren; and numerous nieces and nephews.
David G. Koppel (B.S. '50) passed away Feb. 15, 2014, peacefully and with dignity surrounded by his family. He was born in Houston, Texas, to Mae and Joe Koppel. He attended San Jacinto High School and graduated from the University of Texas at Austin with a degree in Geology. After several years in the oil business in Texas and Louisiana, he settled in Oklahoma to start a career in commercial real estate and raise his family. He was preceded in death by his first wife, Virginia Flanagan Koppel, son Joseph and daughter Melissa. Years later by his second wife, Donna Farber Koppel. He is survived by his daughter Carolyn Kelley and her husband Sean, son Mike Koppel and daughter Kristy Copeland and her husband Bill, grandchildren Tyler Koppel, Kaitlyn and Jacob Copeland and Laurel Kelley.
Elizabeth A. Lochte (B.S. '56) was called to her heavenly home on March 5, 2014. Elizabeth "Bess" was born on March 23, 1930, in Houston, Texas, the fourth child of Cary and Arthur Sitterle. She grew up in Beaumont attending St. Ann's Catholic School. The family moved to San Antonio in 1943 where Bess attended Thomas Jefferson High School. She attended the University of St. Thomas in Houston and the University of Texas at Austin. She was married for 52 wonderful years to Erwin Richard "E.R." Lochte, Jr. who proceeded her in death in 2004. Bess was a parishioner of St. Gregory's Catholic Church where she was a devout member of the Eucharistic Adoration Adorers. She enjoyed spending weekends at the family ranch in Willow City, Texas, annual trips to Rockport, New Orleans and Las Vegas. Her faith in God always guided her and was the source of her strength. Her devotion to Christ and the close relationships she fostered among her children and grandchildren is the legacy she leaves. Bess was preceded in death by her parents, sister Jeanne Hicks, brother Arthur "Ossie" Sitterle and son in law David Alan Linahan. She is survived by her children Dr. Richard Lochte III and wife Mary Ann, Cary Lochte Kopecky, Anne Linahan and husband Craig Kirby, Marci Aune and husband Jon, Traci Darr and husband David, nephew Ricky Gregorie and wife Jennifer. She was blessed with 23 grandchildren, Trey, Emily, Beth, Casey, Rich, Randy, Kristie, Katie, Jason, TJ, Chad, Mitch, Betsy, Chip, Ashley, Carson, Coy, Kaylee, Mary Catherine, Liesl, Cary, Keith, Lyndsie and 11 great-grandchildren. The family would like to thank the staff of The Lodge at Leon Springs and her devoted caregivers, "Momma's Angels", for their love and care especially Felizidad, Cydie, Mia, LaToya, Bernice, Gayle, Dee Dee, Annette, Chris and David. Angels watch over all of you.
Laddie F. Long (B.S. '52) passed away on April 17, 2014. He was born on April 4, 1926, to Fred and Flossie Long in Wright City, Oklahoma, the second of three sons. He moved at an early age to Barstow, Texas, where he grew up and graduated from high school in 1943. Shortly after finishing high school he entered the U.S. Navy flight training program and served in the Pacific area as pilot of a patrol bomber. Upon the discharge from the Navy in 1949, he attended the University of Texas at Austin and received a Bachelor of Science degree in Geology in 1952. He worked for several oil companies as an exploration geologist in the Panhandle, West Texas, New Mexico and East Texas before accepting a position with the University of Texas Lands, Midland office. He retired in 1986 as Manager of Oil and Gas after 22 years in service. He married his high school and lifelong sweetheart, Faye Echols, in 1946. Four sons were born to this union. He was a long time member of the American Association of Petroleum Geologists, West Texas Geological Society and the Presbyterian Church, which he served as deacon, elder and Sunday school teacher. He enjoyed bird hunting and fishing; especially in the streams and lakes of the Colorado Rocky Mountains. He took great pleasure in attending Navy and squadron reunions, renewing old friendships from the service years. He was preceded in death by his parents and two brothers. He is survived by his wife of 67 years, Faye Long; four sons, Stephen Long of Taos, New Mexico, Michael Long and wife Dee of Colorado Springs, Colorado, David Long and wife Martha of Terlingua, Texas, and Kevin Long of Marfa, Texas; three grandsons, Lance Keith and wife Maggie of Comanche, Texas, Dustin Polk and wife Sara of Artesia, New Mexico, and Samuel Long; granddaughter, Anna Long of Colorado Springs, Colorado; and by four great-grandchildren, Rylie, Laddie, Tinsey and Ayden. Laddie is also survived by his sister-in-law, JoeAnn Long of El Cajon, California; and many nieces and nephews. The family would like to thank Laura Serrano for the devotion and care that she has provided the last five years.Lester E. Ludwick (B.S. '50), age 87, of El Paso, Texas, passed away on March 12, 2014. Lester was born on Sept. 21, 1926, in Temple, Texas, to Lester Ludwick and Mona Renker. Lester graduated from Temple High School in 1943. He attended Temple Junior College, and during this time, worked for the U.S. Postal Service and for Scott and White Hospital as a film developer and then an X-ray technician in the X-ray department. During this time, he met his future wife, Martha Richards. They were married on June 5, 1947. After graduating from Temple Junior College, Lester and Martha moved to Austin, Texas, where Lester attended the University of Texas, earning a Bachelor of Science in geology in 1950. He then began a successful career in the oil and gas industry, joining Standard Oil of Texas in Iraan, Texas. In 1954, he joined El Paso Natural Gas Company in Houston, Texas, as a reservoir engineer. In 1959, Lester and Martha moved to El Paso, Texas, where he continued his career with EPNG until his retirement in 1986. Lester was an avid golfer. He loved music and when the occasion allowed, enjoyed dancing. He enjoyed time with his family, and especially enjoyed time spent during summers with his wife, children, and extended family members at Lake Belton, in Belton, Texas, where he taught his children to water ski and to love being on the water.He demonstrated his love of his children and grandchildren by his participation and attendance at sports and music events and activities. He was always ready to make an ice cream cone or play a game of backgammon or gin rummy with a grandchild. He enjoyed traveling, and during his retirement years, was able to take many road trips with Martha, traveling throughout the United States. Lester was a loving husband and father and will be greatly missed by his family. He is survived by his wife of 66 years, Martha, his son Larry and wife Donetta of Mansfield, Texas, his daughter Laura and husband Dennis Svatek of Jacksonville, Florida, and his daughter Mary and husband Brent Thompson of El Paso; eight grandchildren, and three great grandchildren.
Robert W. Luker (B.S. '51), age 90, passed away on Feb. 20, 2014, in Corpus Christi, Texas. Bob was born on Sept. 30, 1923, in Austin, Texas to W.F. and Charlotte N. Luker. He served in the U.S. Navy during World War II and after his tour of duty he married Betty in 1947. He then enrolled in the University of Texas and graduated in 1951 with a B.S. in geology. Immediately after graduation he went to work for the Humble Co. on the King Ranch in Kingsville, Texas. After Humble, he worked for the Seaboard Oil Co. in Dallas and later transferred to Corpus Christi as a district geologist. Seaboard merged with Texaco in 1955 and Bob then became an independent exploration geologist from 1955 to present (Luker Energy). Bob was an avid hunter; hunting dove and quail, he loved ranching with his favorite bull "Big;" he was a tremendous family man and planned numerous family trips and vacations, and he loved to water ski, skiing until the age of 70. He was a member of AAPG, SIPES, TIPRO, IPAA and CCGS. He is preceded in death by his daughter, Vicki Lynne Luker and daughter-in-law Melissa Ann Luker. He is survived by his wife of 67 years, Betty Luker; children, Steve (Jeanne) Luker, Scott Luker; six grandchildren Austin Luker, Stephanie (Garrett) Weidman, Catherine Pennington, Shaun Dunk, Valena Hanson (Jose Jacquez), Ricky Hanson; two great grandchildren Khloe Jacquez and Cairo Hanson; two brothers Clifford (Ruth) Luker, Ernest (Nannette) Luker; a sister Marge Reuter; numerous nieces and nephews.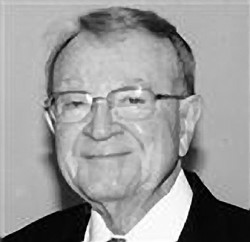 William E. Maynard (B.S. '51), 89, of Bastrop died at home on Jan. 24, 2014. He was born on April 7, 1924, in Bastrop, Texas. Billy graduated from Bastrop High School in 1941 and received an associate's degree from Shriner College in 1949 and a B.A. in Geology from the University of Texas at Austin in 1951. He married Clara in 1982 after an eight-year courtship. He is survived by his wife, Clara Maynard, three children: Dawn Kana and husband Chris, Scott Curtis, Craig Curtis and wife Rosie. Grandchildren, Erica Kana, Laura Lee Curtis, Morgan Curtis, Sam Curtis, Dan Curtis. He was preceded in death by his parents William "Ed" and Elsie Maynard and his sister, Betty Maynard. Billy owned Maynard Insurance on Main Street for over 30 years. He expanded to include a real estate office and savings and loan agency. Billy served on Bastrop City Council, Chamber of Commerce Board, Historical Landmark Commission and numerous church boards.
Robert J. Oliver (spouse of Evan Royal-Oliver, B.A. '02), 61, died Feb. 1, 2014, at his home in Austin, Texas. He was born Nov. 10, 1952, in Bennington, Vermont, and was the son of the late Morris A. Oliver and Josephine Burn Oliver who emigrated from Great Britain after World War II. He was a graduate of Central Dauphin High School, class of 1970. He attended HACC, and joined the U.S. Naval Reserves in October 1976. He graduated from the University of Texas at Austin and worked as a real estate appraiser and later started Bufalo Bob's Chalupa Wagon. He is survived by his wife, Evan Royal Oliver of Austin, Texas; his brother, Michael W. Oliver of Downingtown, Pennsylvania; and his sister, Kathryn O. Armstrong of Linglestown, Pennsylvania. He has five nieces and nephews.
Ora S. Ottmann (spouse of the late Robert "Bob" Ottmann, B.A. '51), age 84, of Houston, passed away July 25, 2014. She was born July 21, 1930, in Seguin, Texas, daughter of Monroe and Elsie Schmitt. Ora graduated from Seguin High School in 1948. She trained as a vocalist and a pianist for 14 years and was a member of the First United Methodist Church where she sang in the choir. Her favorite jobs while growing up involved work at a local candy store, which enhanced her love of chocolate, and a local radio station where she wrote copy for on-air commercials and other broadcasts. After high school she attended The University of Texas at Austin, where she met the love of her life, Robert "Bob" Ottmann, in the biology lab. She and Bob were married in 1950. During Bob's career with Exxon as a geologist, the couple lived in Texas, California, Oklahoma, and Louisiana. Ora was a devoted mom to her three children, and at various times worked in retail and real estate.  She and Bob loved to travel, taking the family on numerous car trips throughout the United States in the early years. During retirement, they continued their love of travel throughout the country and abroad. Ora was also a proud grandmother, known as "Mimi" to her grandchildren, spending countless hours attending dance recitals, soccer, basketball, and football games. She was preceded in death by her husband, Bob, just months shy of their 59th wedding anniversary; and her daughter, Janis Ann Ottmann. Surviving to cherish her memory are son, Jeff Ottmann and his wife, Margaret Ottmann; daughter Judi Ottmann; grandchildren Kaitlyn and Robert Ottmann; sister Mozelle Howton and brother-in-law Jack Howton, and many other family members and friends.
Rodulfo Prieto Cedraro (Ph.D. '87), age 60, passed away April 5, 2014, in Houston, Texas. Our dear friend Rodulfo left us too soon. Those of us who knew him will always remember him as an honorable man who was dedicated to his family and his profession. He was a scholarly man who had many close friends around the world. Rodulfo was passionate about education; he received a Bachelor of Applied Science in Geological and Geophysical Engineering from The Pennsylvania State University in 1980, a Geophysical Engineering degree from Universidad Central de Venezuela in 1983 and a Doctorate of Philosophy in Geological Sciences at The University of Texas at Austin in 1987. His research resulted in numerous publications. His work career began with Petrόleos de Venezuela S.A. where he held many leadership roles until 2003. As a result of his vast knowledge and strong work ethic his career path led to the position of Vice President and General Manager of Suelopetrol Corporation in Houston, Texas. In addition, he shared his knowledge with students at the Universidad Central de Venezuela where he taught for many years.
W. T. Probandt (B.S. '56) passed away on April 25, 2014, following a lengthy illness. He was born on Feb. 22, 1929, in San Angelo, Texas. He served in the Army during the Korean War. He received his bachelor's degree in Geology from the University of Texas at Austin and  master's degree in Geology from Texas Tech at Lubbock. After working as a geologist for Anderson-Prichard he struck out on his own finding oil and gas in West Texas and New Mexico. Two of his passions were music and animals; he was involved in many philanthropic causes, including The University of Texas Performing Arts Center and the Midland SPCA, which was recently taken over by Grand Companions Midland. He is survived by his loving wife of 55 years, Jeanette; two children Teresa Bowman of Ft. Worth and Jeff Probandt of Dallas; grandson Joshua Bailey of Ft. Worth; and pets Shadow and Button. The family greatly appreciates all the calls and visits with Bill over the past difficult years of his life.
T. Donald Reed (B.S. '62) was born to Thomas Ervin Reed and Luna Catherine Seale Reed in Camp County, in the Holly Springs Community of East Texas. He was the only son and the youngest of nine children. Don attended Holly Springs Elementary and graduated from Pittsburg High School in the Class of 1950. He started attending the University of Texas at Austin in 1953 and stopped to serve in the U.S. Army in August, 1955, in the DMZ Police Company in Korea. In June of 1957, he received an honorable discharge from the Army and returned to the University of Texas to continue his studies. While at the university he met Nancy Farrington from Wimberley, Texas, in the fall of 1957, and they were married Feb. 6, 1959. Together they were blessed with three children: Thomas Donald Reed Jr., John Stephen Reed and Maridon Reed Grochowski. After graduating in 1962 as an honor student with degrees in Geology and Math, Don became employed in Tyler, Texas, as a geophysicist for Pan American Oil Co., which later became Amoco Production Co. While with Amoco, the family was located in Tyler, Texas; Houston, Texas; Tulsa, Oklahoma; and Denver, Colorado. After working with Amoco for 17 years, Don decided to resign and start Geotrace Technologies Inc., his own Seismic Services Co. in Denver. The family continued to live in Denver for 30 years. Through the years, Don was a committed Christian, always active in his church, serving as an ordained Deacon, and adult Sunday school teacher and being involved many other ways. He and Nancy raised their children in the church. Don was also active in his sons' sports as a winning little league baseball and football coach. In 2002, Don and Nancy moved to Argyle, Texas. In 2004, he retired and sold Geotrace, which by then had branches in Denver, Dallas, Houston, England and Norway. After moving to Argyle, they became members of Southmont Baptist Church, and later members of First United Methodist Church in Denton, where Don often taught and was President of Searchers Sunday School Class until he had to resign for health reasons. Finally, after a long struggle with chronic lung disease he went to be with Jesus on March 5. Don was loved and will be greatly missed by his family and friends. Don is survived by his wife, Nancy; sons Thomas Donald Reed Jr. and wife Angie, John Stephen Reed and wife Desiree; daughter Maridon and husband Jason Grochowski; grandchildren Austin Reed, Shlby McAdoo, Andrew Reed, Whitney McAdoo, Tyler Reed and wife Abigail, Danielle Reed, Kimberlyn Reed, Alexandra Grochowski, Annaleise Grochowski, and great-granddaughter Elyse Reed.
G. Phil Roberts (B.S. '58), beloved husband, father and friend, passed away on April 21, 2014, with his family at his side. Phil was born in Gilmer, April 14, 1932, the only child to Loraine Powers and Gordon King Roberts. Phil's father owned the Chrysler dealership in Gilmer but was also interested in aviation. He had learned to fly from an old barnstormer and owned a Waco airplane. When World War II broke out, that put an end to people buying cars. The United States was in desperate need of training for pilots so Mr. Roberts, in conjunction with Kilgore Junior College and the United States Government, opened a training facility for Navy pilots at Elder Field in Kilgore. During this period of time, he met Walter Beech, founder of Beech Aircraft, Wichita, Kansas, who also had a training school for Navy pilots. When the war ended, Mr. Roberts went into business with Walter Beech and was awarded the Beechcraft dealership and distributorship for Dallas and East Texas. Mr. Roberts moved his family to Tyler and established a dealership and maintenance facility for Beech Aircraft Corp. at Pounds Field and in Dallas at Love Field which he managed out of his businesses, Tyler Aero, Texas Aviation and Roberts Aviation (now Johnson Aviation) at Pounds Field. Since Phil was surrounded by aviation, he learned to fly at a very early age and soloed on his 16th birthday in a 40 Horse Cub. He had a license to fly before he had a driver's license. Phil graduated from Tyler High School in 1949 where he was on the golf team. He attended Virginia Military Institute in Lynchburg, Virginia. After spending a summer working for his close friend, Jack Bunn's father, who was in the oil business, Phil decided that the oil patch was his destiny and transferred from VMI to The University of Texas at Austin, obtaining a Bachelor of Science degree in geology and petroleum engineering in 1958. He was a member of the Sigma Alpha Epsilon fraternity. Phil served in the United States Army during the Korean War as a survey specialist based at K-8 Air Force Base in Pusan, Korea, for one year. The next year he served at Camp Hakata on the island of Kyushu in Japan. The general of the base saw Phil playing golf one day, was duly impressed, and asked him to wind up his survey job and take over the base golf course, which he gladly did.  Phil was employed as a geologist by Trice Production Co. in Longview in 1958. He was transfered to Houston as district manager in 1961 to 1965 when he became an independent and started his own company, R.O.M. E. (Roberts Oil and Mineral Exploration). He was a member of AAPG, a lifelong member of the Houston Geological Society and was a founder and president of the Houston Geological Log Library. He was a member of The Petroleum Club of Houston, Memorial Drive Country Club and Westminster United Methodist Church where he married Carrie Anna Crockett McGee in March 1980, in Houston. Phil was a lifelong member of the Methodist Church, growing up in Marvin United Methodist in Tyler, and was a member of the Emerald Bay Community Church, Emerald Bay, Bullard. In high school and college, Phil was well known for his water-skiing ability. Reading a magazine about the 1949 World Water Skiing Championship in France, he was intrigued by the slalom ski but it was not readily available in the U.S. So from the magazine pictures, Phil made his own slalom ski, taught himself how to use it, then taught his friends. Phil was a marvelous and innovative cook, an avid hunter and fisherman who taught his family that "if you shoot it or catch it, you clean it and eat it." He was an exemplary father to his two boys and actively devoted his time to their activities and upbringing. Phil loved playing golf and snow skiing, but his life's passion was flying and he continued to fly until he was 80 years old. The many, many family trips to exciting places will be remembered and cherished by his family and it was with great sorrow that he sold his last airplane last year. The end of an era. There was never a dull moment when Phil was around because he was always fun, had a marvelous sense of humor (no one could tell a joke like Phil) and had a zest for life. He had impeccable manners and was truly a gentleman. He never complained or lost hope during his 3 1/2-year battle with cancer and was optimistic to the end. He was looking forward to the birth of another grandchild due in June. He was preceded in death by his parents, Gordon K. and Loraine Roberts, and his grandson, Benjamin V. McGee. He is survived by his wife, Carrie Anna Roberts, Emerald Bay, Bullard; son, Gordon H. Roberts and wife Kelley, Fort Worth; son, Andrew B. McGee and wife, Elizabeth, New York, N.Y.; cousins, Barbara Pinkston, Buddy Nolley, Suzanne Mayfield; and his best buddy, Frankie, who was his constant companion at home. A special thank-you goes out to Joyce Storey and Yolanda Veezey for the loving care they provided.
Albert L. Sexton (B.S. '40), a native of Orange, Texas, went to his eternal rest in Houston, Texas, on March 21, 2014. Lee was born on Sept. 28, 1918, to William Putnam Sexton, Sr. and Annie Lee McGuire Sexton. He attended the public schools in Orange and graduated from the University of Texas at Austin in July, 1940. Following his graduation, he returned to Orange and married his lifelong sweetheart, Lillian Addington on Oct. 28, 1940. To this union, two sons were born, David Andrew Sexton and Dr. John Alan Sexton. Lee's first job was at Consolidated Steel where he built warships. At the beginning of World War II, he began his career at E. I. DuPont Refinery where retired following 38 years of dedicated service. Lee was a lifelong member of First Presbyterian Church in Orange. He joined the Madison Lodge #126 in Orange in 1940 where he became a 32nd degree Mason and became a Shriner in 1944 at the El Mina Shrine in Galveston. Lee is predeceased by his parents; two brothers, W.P. Sexton, Jr. and John Graham Sexton. He leaves to cherish his memory his devoted wife of 73 years, Lillian, and their two sons, David and wife, Karen Sexton and Dr. Alan and wife, Jan Sexton all of Houston. Also surviving are grandchildren, Jason and Alice Sexton, Adam Sexton, William Sexton, Laura Sexton, Stefani and Seth Goldberg, Katherine and Eric Lange and Paul Allison along with great grandchildren, Kailey Elizabeth Sexton and Sarah Britton Lange and his nephew, Charles Sexton.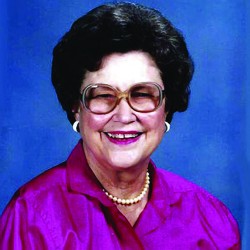 Mary Alice Nitschke Smith (spouse of the late Joe E. Smith, B.S. '48) was born to Lewis Nitschke and Mayme Cocreham Nitschke on June 4, 1922 in Austin, Texas. She graduated from high school in 1939. She graduated from the University of Texas in 1942 with a Bachelor of Business Administration. She married George Roy Huston in 1943 in Austin, Texas, and lived with his parents in Los Angeles, California, while he was serving overseas during the last year of the war. They had three children: Nancy, Kathleen and George and lived in Casper, Wyoming, and Salt Lake City, Utah, until George Huston's death in 1965. She then moved back to Austin with her three children. Mary Alice married Joe Earl Smith of Beaumont in 1971. They lived in Austin. Joe Smith died in 1987. Mary Alice's father's family originally came to Austin in the 1850's and she was proud of her early Texan history and could tell endless stories about "Old Austin." She had a wonderful sense of humor and loved being around people; volunteering for numerous clubs, committees and her sorority Alpha Chi Omega; bragging on her grandchildren and being the "life of every party." She was particularly fond of the Sunday Night Supper Club and all of its regulars over more than 20 years. Always playful and fun, she will be greatly missed. Survivors include Nancy Huston of Houston, Kathleen Huston of College Station, George Huston of Austin, and four grandsons: Colin and Corey Liter and Matthew and Zachary Rider.
Ruth Ann Tips (spouse of Craig Adams Tips, B.S. '48), beloved wife, mother and grandmother passed away at home in Bandera on Nov. 11, 2013, surrounded by her family. She was born July 27, 1926, to William and Evangeline Ratcliffe who preceded her in death. Ruth Ann was also preceded in death by her sister Edith Granger. She is survived by her husband of 65 years, Craig Adams Tips; sons Jack Tips and William Ratcliffe Tips; granddaughter Lauren Tips-Smith; great grandchild Jaxon Tips-Smith; sister Evangeline Wilson; and numerous nieces, nephews,and a host of dear friends.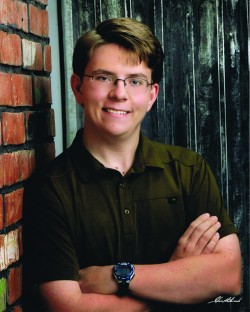 Lee Middleton Hooper Walker, the joy of his parents' lives, passed away on May 22, 2014. Lee was born in El Paso, Texas, on Oct. 25, 1994. He loved the outdoors, dogs, history, hiking, camping, fishing, hunting and learning. He enjoyed Alaska and volunteered with the Student Conservation Association to help care for our National Parks, including the Kenai Fjords National Park. He was a scholar and an academic. He attended St. Clement's and Coronado High School. At St. Clement's, he received the Rector's Award for the highest academic performance, but more dear to his heart was the Outdoor Program awards he received every year. He was one of the top 10 graduates from Coronado High School and competed in debate. He completed his freshman year in 2014 at the University of Texas in Austin, where he was in the Plan II Honors Program and in the Jackson School of Geosciences on scholarship. Lee was a leader and a kind, polite, honorable, respectful and compassionate person his entire short life. He held himself to exceptionally high standards. He enjoyed travel and visited Yosemite, Yellowstone, Muir Woods, New Zealand, France, Scotland, England, Durango, Jackson Hole and Washington D.C., among many other places. His most favorite place, though, was hiking through the woods and mountains and he preferred simplicity. He is survived by his parents, Mark Callis Walker, UT Jackson School alum, B.A. '81, and UT Law '85 and Kathleen Campbell Walker, UT Law '85, and his grandparents, Barbara Callis Walker and Arland R. Walker, all of El Paso. He was the only child of Mark and Kathleen. He was cherished every day of his life and always will be. A service in honor and celebration of Lee's life was held on May 29, 2014, at First Presbyterian Church in El Paso.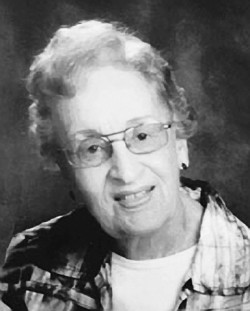 Shirley W. Whiteside (B.S. '52), born Dec. 3, 1931, in San Angelo, Texas, passed away peacefully in her home after a long battle with breast cancer. She was preceded in death by her parents Niles Baker Winter Sr. and Glenna (Allen) Winter and two months earlier by her beloved husband of 62 years, Wilfred Drennen (Bill) Whiteside Jr.  She is survived by children Tom Whiteside (Judy), Lee Ann Kreig (Ray) and Will Whiteside (Shannon) and brother Niles Winter (Margot). Shirley attended the University of Texas at Austin, graduating in 1951 with a Bachelor of Science degree in Geology and was a member of the Delta Zeta sorority.  But the real accomplishment at UT was meeting the love of her life, Bill, whom she first met dissecting a fetal pig in biology lab. They were married June 21, 1951, and moved to Houston for Bill to attend dental school.  After Bill graduated from dental school and four years in the army at Fort Hood, the family moved to Corpus Christi in 1958. Shirley and Bill were very active members of the First United Methodist Church from their arrival in Corpus onwards and cherished the church and their many friends there. Shirley got involved in all things related to her children including becoming a Cub Scout den mother and a Girl Scout leader and was a lifetime member of the Parent Teacher Association.  She was a board member for the Robert L Moore Community Center and made dyeing Easter eggs for the children a family tradition as well as organizing children's activities and other services. Shirley was a charter member of the Key Study Club. She was also an importantmember of Bill's dental office team, helping with accounting and other administrative functions. She was president of the Auxiliary to the Nueces Valley District Dental Society and served on the board and various offices and committees for the Auxiliary to the Texas Dental Association. Shirley was a Master Gardener and was quoted in a Caller Times article saying: "Truly, I think you are closer to God in a garden than anywhere else.  Nature is what supports us, and there is a new gift every day.  A new flower, a rainbow,  a lizard, a frog, whatever." She loved going to schools and teaching children about plants, flowers and insects.  Her home garden is a beautiful wonder enjoyed by monarch butterflies, lizards, hummingbirds and too many cats. She served as chair of the projects committee of the Beautify Corpus Christi Association and this led to the creation of the Xeriscape Coalition board on which she also served. They worked across a number of organizations to create the Xeriscape Garden at the Corpus Christi Museum of Science and History. She received the Jefferson Volunteer Award for this effort. She and Bill were volunteers at the dental clinic in Progresso, Mexico, helping to bring dental and other care to the poor.  Shirley crossed the language barrier by bringing crafts to the children. She was also a member of First Friday, an organization of support for women with breast cancer. Shirley combined sweetness, persuasion, tenacity and meticulous attention to detail to accomplish whatever she set out to do. She loved people but most especially her true love, Bill. Bill had numerous serious health issues as did she, and both lived to take care of the other. She was not afraid of dying and looked forward to seeing Bill and Jesus, in that order.
Wilfred D. Whiteside (spouse of Shirley Whiteside, B.S. '52), age 82, passed away on May 26, 2014. Bill was born in Houston, Texas, to Wilfred Drennen Whiteside, Sr. and Tommye (Bell) Whiteside on Oct. 16, 1931. He grew up in Timpson, Texas. He began his pre-dental studies at the University of Texas at Austin where he met the love of his life, Shirley Lee Winter, in a biology class. Nothing like dissecting a fetal pig together to spark a lifelong romance! Bill and Shirley married June 21, 1952. Bill attended dental school in Houston, graduating at the top of his class in 1954. He then served four years in the Army Dental Corp at Ft. Hood. They moved to Corpus Christi and opened a dental practice in 1958 after falling in love with the "Sparkling City by the Sea" while on vacation. They soon joined the First United Methodist Church, the source of great life enrichment and many friendships. Bill combined a talent for attracting and building a top-tier staff with a dedication to excellence and downright fun, establishing one of the most successful dental practices in Corpus Christi. He had a passion for preventive dentistry. His goal was that his patients would take such good care of their smiles that they would put him out of business. Bill was instrumental in establishing the Dental Assisting and Dental Hygiene Programs at Del Mar College. He served as president of the Nueces Valley District Dental Society and as president for the Texas Academy of Dental Practice Administration. He was made a Life Fellow of the American College of Dentistry in 1986. He served as a governor appointee on the Texas State Board of Dental Examiners from 1990 to 1993. He received the Master Practitioner Alumni Award from the University of Texas Health Science Dental Branch in 1998. Bill was honored with the Texas Dental Association Lifetime Service Award in 2009. Bill enjoyed a good story and reliably kept us laughing. He truly loved people and was first and foremost a mentor in whatever role he served—father, dentist, Sunday school teacher or scout leader. He was very active in Indian Guides, Cub Scouting, and the Boy Scouts of America. He became an Eagle Scout in his youth and later received the Order of the Arrow and the Boy Scout Silver Beaver Award. He was a past president of the YMCA and received their Distinguished Service Award. Bill led Boy Scouts on trips to Camp Karankawa, on canoeing expeditions in Canada, to a national jamboree, and on hiking treks at Philmont Scout Ranch. Bill was preceded in death by his parents. He is survived by his sister Barbara Ferguson, and children Tom (Judy), Lee Ann Kreig (Ray), and Will (Shannon). In keeping with his dedication to others, his body has been donated to the University of Texas Health Science Center at Houston. At a future date, his ashes will be buried at Woodlawn Cemetery in Timpson, Texas. Bill's life was one of service, love, laughter and joy.
Mildred A. Williams (spouse of the late James Howard Rucker, B.A. '48) died of natural causes on September 28, 2013, in Tucson, Arizona. Known as "Millie" to her friends and family, she was born on July 28, 1921, in Whitehouse, Texas, to Grady and Jo Robinson Winston. Although the second oldest of five children, she outlived her siblings. Millie grew up in Robstown, Texas; her father was a farmer and her mother was a teacher and both were strong role models for their daughter. When she was 34 she earned a degree in education at the University of Texas at Austin in only three years, while working full time as a single parent. She then taught English, Geography, and Texas History at Baker Junior High in Austin, where she earned the Teacher of the Year Award in 1959-1960.While still teaching she obtained a master's degree in counseling and found her true vocation as a counselor. Millie spent 20 years in this role in the Austin Public Schools, as Director of Counseling at McCallum and Reagan High Schools. She had passion for music, playing the piano at home as well as at church and Sunday school. Additionally, loved to sew and in high school made all her clothes and this continued throughout her life. At the drop of a hat, she would design and sew outfits for everyone—dresses, shirts, pants and curtains or whatever was needed. Certainly Millie was happiest when doing something for someone else. She was a dedicated and active member of the Methodist church, a member of Delta Kappa Gamma, a volunteer at the Wesleyan Home, the Caring Place and earned the title of Stephen Minister (a lay minister) through the First United Methodist Church in Georgetown. She always had a deep interest in others, especially young people. At work, she was dedicated to helping students achieve to the best of their ability by directing them to colleges and universities suited to their interests. When asked what was most meaningful, she said it was her students and that she loved "getting them to see the light." At home and in the community, she was known for putting others' needs first. Millie outlived three husbands—Walter McGonagill, James Rucker, and Carl Williams. She is survived by three sons—Grady McGonagill (Lanng Tamura) of Brookline, Massachusetts; Richard Rucker (Marianne) of Pflugerville, Texas; and Dan Rucker of San Marcos—and one daughter, Margy McGonagill (Garry Bryant) of Tucson, Arizona. Millie was very proud of her grandchildren, Evan McGonagill and Aurora, Alvie and Max Rucker, and her many nieces and nephews whom all looked up to her.
Leonard M. Young (Ph.D. '68) was born Oct. 20, 1935 in Dallas, Texas, and passed away May 3, 1914. Leonard graduated from Woodrow Wilson High School, Dallas; Rice University, Houston, B.A. Geology; University of Oklahoma, Norman, M.S. Geology; The University of Texas at Austin; and Ph.D. Geology. Young served three years at U.S. Corps of Engineers Research and Development Labs, Ft. Belvoir, Virginia. He was a Professor of Geology for 35 years at University of Louisiana at Monroe. He was preceded in death by his parents, L.E. and Vivian Cheek Young, his brother David Young; sister-in-law Linda Sue Jones Anderson; father-in-law Luther "Cig" Jones; mother-in-law LaVerne Knight. He is survived by his wife, Mary Frances Jones Young, beloved pet, Paris; sister, Mary Black, brother-in-law, John L. Jones (Sharon); brother-in-law, Roy Anderson (Donna); nephews, Roy, "Hank" Anderson (Diane); Brian Anderson (Cheryl); Jeffery Anderson (Brandi); Joby Jones (Lauren); Justin Jones (Audra); great nephews and nieces, Martin Anderson, Hunter Anderson, Colt Anderson, Kealea Sue Anderson, Brooke-Lynn Anderson, Breanna Anderson, Landon Jones, Madison Jones.
The staff and members of the Jackson School of Geosciences community would like to convey our respects to the families of the following alumni and friends:
Olusegun K. Agagu (M.A. '75)
Cheryl H. Gucwa (wife of Paul Gucwa, M.A. '71, Ph.D. '74)
Jack A. O'Mara (B.S. '54)Edwin C. Robinson (B.S. '50)
Eva K. Worrel (spouse of the late Charles Worrel, Jr., B.S. '51)
Faculty & Staff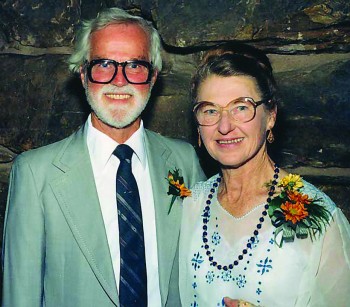 Professor emeritus Edward Jonas passed away in January 2014. In lieu of a memorial, which, we offer this edited version of remarks written by Leon Long on the occasion of Jonas' retirement in 1988.
Professor Edward C. Jonas retired from active teaching in the Department of Geological Sciences in May 1988. His entire professional career as a geologist, thirty-four years, was accomplished in this one department.
Ed was one of the few UT-Austin geology professors who was actually a native Texan. He was born in San Antonio of parents whose roots went back to Germany and France. Early experiences, neither sought nor expected, helped channel Ed's career into its unique direction and style. Perhaps the most important was his contact with one of his grandfathers who was a diamond merchant. Even if Ed's love of minerals may not have been genetic, his childhood discovery of gemstones made a big impression on him. Years later he was to design and teach a very popular university course in gemstones.
Ed did not start out as a geologist. His B.S. degree in 1944 was in chemical engineering from the Rice Institute in Houston (now Rice University). The enthusiasm of one of his professors, an authority on the subject of colloids, was influential in steering Ed toward his eventual specialty, the study of clay minerals. But first there was a stint of active duty in the Navy during the later war years. Ed left the Navy as an ensign in 1946, lectured in physics briefly at the University of Houston, and found a job as chemist for the Shell Oil Company where a good friend and mentor was doing research on clay minerals. Despite such close encounters with earth science, in the timescale of Ed Jonas these were all events in the Pregeological Era.
About this time, Ed married Martha Sullivan. After a glorious (Ed's emphasis) summer of honeymooning in Europe, they settled down to a long, stable family life and had three children. Ed and Martha were an extraordinary couple who put much effort into filling their home with charm and beauty. In 1967 they trucked a dilapidated old house in pieces out to Manchaca, south of Austin, and went on to spend years restoring it to be like an authentic Texas farmstead of the last century. Their home contains the amenities of gracious Southern living: an outhouse, eight fireplaces but no furnace, wood-burning stove, butter churn, and an antique piano.
It was a fascination with clay minerals that attracted Ed Jonas to the University of Illinois where he received his M.S. (1952) and Ph.D. (1954) in association with Ralph E. Grim, his major professor. During part of this time he worked for the Illinois State Geological Survey. Ed was an eager but very green, beginning graduate student when he traveled to his first scientific meeting. There he met Professors Ellison, DeFord, Flawn, and Bell who were to become his close associates. Professor DeFord characteristically launched into a discussion of entropy and Fourier synthesis, subjects that a clay mineralogist should know something about. But an experienced clay mineralogist and a young graduate student are not the same thing. Professor DeFord had Ed absolutely terrified!
Shortly after completing his Ph.D., Ed was to have another scary experience. Upon his arrival as an assistant professor at the University of Texas in 1954, he began to teach the introductory course in physical geology. When one who has had no teaching experience is suddenly thrust into an auditorium facing 250 students, that is an exercise in terror. Ed introduced courses in crystal chemistry, x-ray diffraction and fluorescence analysis, mineralogy of shales, and gemstones. In a department with many students but no surplus of professors, he eventually taught nearly every required course in the B.S. curriculum.
Ed Jonas was an expert in the crystal chemistry of clay minerals. His publications addressed such subjects as the post-depositional alteration of clay minerals, which led to interpretations of how and why the clay minerals in recent and ancient sedimentary rocks are different. His research focused on both the theoretical and applied aspects of the subject. He has studied the bentonites of Texas and South Texas uranium ore deposits. He was the Department's first recipient of an NSF research grant. He was a charter member of the Clay Minerals Society, in which he has been twice elected to council membership, and for six years was treasurer. Industry has also recognized and rewarded Ed's expertise. He has been a long-standing consultant to companies that mine the raw materials kaolinite and other clay products.
Ed Jonas, like all geologists, is basically an adventure seeker. And what better way to have adventure than to travel to remote parts of the earth? Ed and Martha look back with nostalgia on his Fulbright-sponsored 18 months in New Zealand. Other adventures don't hold such fond memories. While Ed was attending a Geological Congress in Prague, the Soviets invaded the city. His trip to Iraq was cancelled when war erupted in the Middle East. One can soon gain a reputation as a harbinger of bad fortune this way, and Ed has kept a petition from 1968, signed by 48 members of the Department, asking him please to stay home next time!
One of Ed's chief pleasures has been his many years or contributing to the general welfare of the Department. After Steve Clabaugh retired, Ed continued to upgrade the Barron Collection by negotiations that added to it many valuable gems and gem quality minerals. He was the graduate advisor for an amazing 11 years, at a critical time of growth and development of the Department's graduate program. Ed was especially fond of working with the undergraduates. He sponsored the Undergraduate Student Geological Society (our local version of USGS) for 12 years, during which period he led many mineral-collecting field trips to Mexico and elsewhere. Students loved the enthusiasm he showed as he introduced them to the mysteries of geology and of gemstones.
Professor Jonas, you served us long and well. We are grateful, and we thank you!