Celebrating 125 Years of Texas Geoscience
June 14, 2013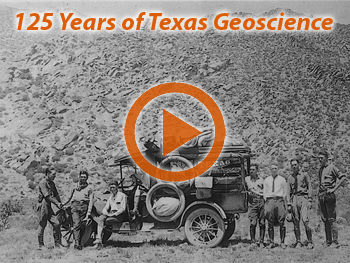 Okay, it's quiz time. How old is the oldest academic geoscience program in Texas?
Need a hint? It's older than the Ford Model T and the Wright Brothers airplane. It was already well established before the Texas fight song, the longhorn mascot, and the orange and white school colors. It's even older than the University of Texas football team.
If you guessed "older than dirt" you're almost right. The School of Geology was formed in 1888, at a time when the university itself was just five years old and was housed mostly in one building. For its first 13 years, the university had only one geology teacher. Early research focused primarily on field mapping and fossil collecting, and generally within Texas.
We, and the university, have come a long way since then. We now have 58 faculty members and 90 research scientists. Our graduate program is ranked third in the country in geology and ninth in the earth sciences. Our research, which spans the breadth and depth of the geosciences, has gone global.
Much of that success has grown from seeds planted by generations of alumni and friends. As we celebrate our 125th anniversary, we'd like to thank you for your support.
Learn More About the Jackson School of Geosciences
Historical Milestones
Faculty Through Time
Hall of Distinction