Paleoclimate Sleuth: Tim Shanahan Uses Organic Geochemistry to Uncover the Past
December 9, 2009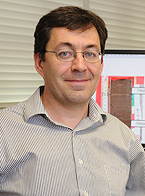 Tim Shanahan is a paleoclimate detective. He collects sediment samples from lakes and seas to reconstruct what ancient environments and climates were like. The techniques he uses, collectively known as organic geochemistry, trace back to the oil industry where they were used to characterize different types of oils and to better understand the environments in which their source materials formed. Since then, the field has exploded and the techniques have been applied to a broad range of questions in the earth sciences.
Organic geochemistry uses compounds called biomarkers produced by living things and left behind in the environment that provide clues about what those places were like at specific times in the past. Shanahan and others use mass spectrometers to measure the abundances, ratios and flavors of various biomarkers in ancient sediments.
Until very recently, the techniques were limited by the complexities of organic material in a bulk sample which might include compounds from algae, bacteria, fungi, land plants, and aquatic plants, all mixed in a chaotic soup. Since each compound had its own isotopic composition, it was extremely difficult to extract information about a specific type of organism or environmental factor. More targeted techniques have been developed that separate out compounds made by just one type of organism and evaluate ratios of different isotopes within those compounds.
"We can separate out a tree compound and we can look at the carbon isotopes in that," he said. "This can give a wealth of information about the types of organisms that grew in these systems, what kinds of metabolism they used, and what conditions they lived under."
As a doctoral student at the University of Arizona in Tucson, Shanahan traveled to Ghana in West Africa to study sediments at the bottom of a deep water-filled meteorite impact crater called Lake Bosumtwi. He and his colleagues reconstructed the year-by-year history of droughts and monsoons in the region going back 3,000 years. They found numerous droughts that lasted 30 to 60 years, some comparable to the devastating Sahel drought of the 1970s and 80s, which killed more than 100,000 people and displaced many more. Surprisingly however, these decades-long droughts were dwarfed by far more severe megadroughts lasting three to four times as long.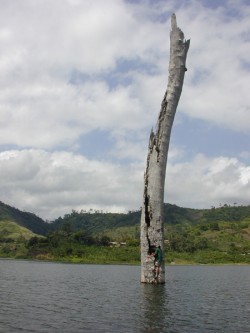 He and his colleagues suggested that human induced climate change might speed the arrival of the next megadrought in West Africa. They warned such a shift in climate would be extremely hard for people to adjust to. Many top national and international media outlets covered the story, giving him his first taste of intense media attention.
Shanahan received his Ph.D. from the University of Arizona in Tucson in 2007 and took a position as a post doctoral researcher at Woods Hole Oceanographic Institution (WHOI) in Massachusetts where he continued the analysis of his Lake Bosumtwi samples and learned additional organic geochemistry techniques.
Scientists have discovered that certain microbes change the structures of the organic molecules that make up their cell membranes to adjust to changes in environmental conditions such as temperature. Shanahan used a technique based on changes in the cell membranes of a widespread microbe called Crenarchaeota to estimate past temperatures of ancient lakes in Africa and South America.
Shanahan came to the Jackson School as an assistant professor in January 2009. He is now setting up an isotope mass spectrometry lab where he plans to analyze biochemical markers from lake sediments at new research sites, continuing to answer questions about how environments have changed in the past. He said he came to the Jackson School because of its strong reputation in geoscience research and education and the diversity of researchers across the school's three units. His wife, a UT Austin alum working in the oil industry, was also a big influence in his decision.
Shanahan is starting work on a new project to determine at what times in the past the Arctic ocean had sea ice or not. The technique was developed by researchers in the U.K. who observed that diatoms living in sea ice exhibit a unique structural change in their membrane lipids, fatty molecules that provide structure to their cell walls. These changes come about because of temperature stress and a change in nutrients. Shanahan and a colleague at Woods Hole Oceanographic Institution have applied for funds from the National Science Foundation to look at a series of sediment cores from the Bering Sea and the Chukchi Sea and use the abundances of these compounds to reconstruct past changes in sea ice cover in the region over the past 6,000 years.
"Recent changes in sea ice over this region have been dramatic and this work would help us to better understand how anomalous the rate and amount of sea ice change over the past few decades actually is, in comparison with the last few thousands of years," he said.
Media Monsoon
In the 1970s and 80s, a devastating drought hit the Sahel region of Africa, a semi-arid band along the southern edge of the Saharan desert. According to a 2002 report by the United Nations Environment Program, the drought killed more than 100,000 people and displaced many more. The population, mostly farmers and ranchers, is particularly vulnerable to drought because they rely on three months of summer rainfall to survive.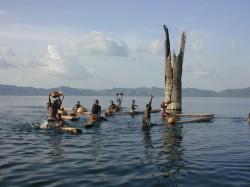 As a doctoral student at the University of Arizona in Tucson, Tim Shanahan collected evidence from a West African lake to reconstruct the past 3,000 years of that region's climate. He and his colleagues determined that far worse droughts are within normal climate variation for the region. In that period, droughts lasting 30 to 60 years were common. Surprisingly, however, these decades-long droughts were dwarfed by far more severe megadroughts lasting three to four times as long.
"What's disconcerting about this record is that it suggests that the most recent drought was relatively minor in the context of the West African drought history," said Shanahan, now an assistant professor in the Jackson School of Geosciences.
As global warming progresses, the increases in temperature may exacerbate the normal climate pattern, producing even more severe and prolonged droughts than those of the past.
Shanahan and his colleagues reported their results in the April 17, 2009 issue of the journal Science. The story garnered extraordinary media attention. Perhaps it was because the record of past climate recasts this recent catastrophe as a small taste of what might be in store in the future, not just in Africa but in other already water stressed parts of the world such as the Southwestern U.S.
The discovery and its implications for the people of sub-Saharan Africa were reported by a wide range of media outlets including the New York Times, New Scientist, Associated Press, BBC News, BBC World Service (radio), Discover, Voice of America, Los Angeles Times, and Reuters. A public affairs representative at the National Science Foundation (NSF), which funded the research, was so enthusiastic about the study's results that he organized a rare teleconference for reporters to call in and ask questions of the paper's authors.
The New York Times' top climate reporter, Andy Revkin started an email discussion between the authors and several climate and policy experts, including prominent climate skeptics, at one point discussing whether or not a paleoclimate study such as this has value in making policy decisions. Revkin posted the whole discussion online in a blog format. Shanahan said a couple of his university colleagues used the discussion in their classes to illustrate healthy scientific debate.
As a young scientist who hadn't made much of a name for himself yet, it was Shanahan's first time dealing with such intense media attention. He worked closely with the public affairs staffs at the Jackson School and University of Arizona to prepare a press release and participate in the NSF teleconference. He spent a lot of time thinking about how he would frame his research and answer reporter's questions, especially the hard ones. He even canceled a planned research trip so that he could be in town during the week of the announcement to talk with reporters.
"I learned how proactive you are or are not can make a big difference in whether you get good coverage or whether you get any coverage at all," he said.
He acknowledged that scientists tend to shy away from self promotion, but he said it's worth all the hard work to collaborate with the media. And not just because it can help bring in more research dollars, although it can help.
"It's important for the people who are paying for this work with their tax dollars, who are not going to read Science, to actually see what we're doing with the money," he said. "Also, I think it's important that our alumni see that we're doing interesting and impactful research that makes a difference."
He learned to be flexible when the BBC World Service interviewed him remotely for a radio broadcast. President Obama had just made a major announcement about a new policy regarding prisoners at Guantanamo Bay and so they had a hard time finding a reporter who was available to interview him.
"They were very nice about it and they were apologetic and they did find someone and did do the interview," he laughed. "But obviously things come up. They can't skip the news release on Guantanamo Bay prisoners for my African climate story."
by Marc Airhart
For more information about the Jackson School contact J.B. Bird at jbird@jsg.utexas.edu, 512-232-9623.