From Austin to the Poles: Ginny Catania Continues UT Tradition of Leading Polar Research
December 24, 2009
Ginny Catania studies ice sheet dynamics in Greenland and Antarctica.
Austin, Texas, generally evokes images of live music, barbecue, and sweltering summers, not cutting-edge arctic research. And yet it's home to Ginny Catania of the University of Texas at Austin's Institute for Geophysics (UTIG), a promising young polar scientist at the forefront of glaciological research.
"Not only is the polar landscape unusual, the environment is a little more on the edge and I like that," she says. "Because of the remoteness of my field areas, when I am there I feel like I'm living my life every day in the moment much more so than any other time in my life."
For the last several years (minus a break this past year) she has spent between two and four months out of the year living in a tent on an ice sheet. In 2007, she and Tom Neumann (University of Vermont) completed the second of two field seasons in western Greenland. They used ice-penetrating radar to understand how the Greenland Ice Sheet is responding to climate warming, particularly along the periphery where notable changes over the last decade in the amount of seasonal surface melting and ice-sheet velocity increases are causing scientists like Catania and Neumann concern.
"When surface melt reaches the bottom of the ice sheet, the ice sheet's movement seems to speed up," she says. "We want to refine our observations of seasonal speedup so that we can better predict ice sheet behavior."
She's now writing up the results of that work and hopes to publish them soon. Just as nature abhors a vacuum, she has had no trouble filling her time with new research.
One project that's just beginning involves drilling boreholes in Greenland to place instruments at the bed below the ice sheet and measure water pressure, temperature and strain on the ice. She and her colleagues will correlate this data with GPS measurements at the surface to better understand how the surface of the ice sheet moves in response to subglacial hydrology.
For another project, she was inspired by other scientists in the Jackson School who use physical models to simulate salt tectonics and sediment transport in rivers. She's developing a physical model of ice sheets in which a clear silicon material represents the ice sheet and a more fluid material dyed blue represents liquid water beneath. She doesn't know of any other scientists doing this kind of modeling. In fact, she hasn't been able to attract funding for it yet.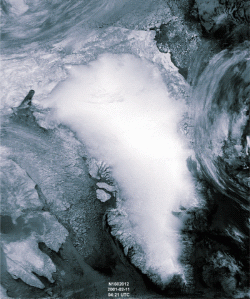 "My funding agencies said, 'What? you want us to fund what?'," she says. "So I'm trying to do it as a seed project to show them that it's worth their dollars."
The model will help her decide where to drill in the Greenland borehole project. She also hopes to gain insights that can improve ice sheet models.
New Frontier
Catania decided she wanted to pursue glaciology after taking part in an international field project in Switzerland during her senior year at the University of Western Ontario. The mountains and glaciers provided a tempting frontier and she was setting foot, perhaps, where no one had before.
"Initially I loved the adventure and the remoteness of the places," she says. "I also really liked the people I was working with so I kept looking for similar experiences. Now I am genuinely motivated by the science questions rather than just a fondness for the place. I also like that there are no bugs in my field areas."
Catania came to the Jackson School's Institute for Geophysics in September 2005, following the completion of her Ph.D. at the University of Washington and a postdoctoral position at the University of Santa Cruz. She quickly developed a research program centered on the study of ice sheet dynamics. This has meant finding the funding for state-of- the-art radar equipment and amalgamating like-minded scientists and graduate students to her team.
Professor Catania
In addition to all her research efforts, Catania has just begun a new joint appointment as a faculty member in the Department of Geological Sciences.
"I love what I do," she says. "They give you a tremendous amount of freedom to design your own courses and make your own schedule. Not a lot of people have that in their jobs."
She's preparing to teach a graduate course in glaciology in the spring and a signature course in the fall on the science (or non-science as the case may be) of disaster movies. Between supervising two post docs, managing several research projects of her own, and teaching, she is grappling with not enough hours in the day or days in the week. One of the things that keeps her going is the hope that her work will encourage the public to take more responsibility for their actions.
"I want people to understand that what they do as an individual affects what happens at the poles and, ultimately, has an effect on everyone," she says. "Even though they may not see the changes tomorrow in Austin, Texas, I want people to understand that, because they are part of a global system, they will eventually be affected. Things are happening beyond the expectations of our existing models so we really need to increase our understanding of the Arctic."
By Marcy Davis, additions by Marc Airhart
For more information about the Jackson School contact J.B. Bird at jbird@jsg.utexas.edu, 512-232-9623.