Ancient History: Julia Clarke Examines the Mysterious Origins of Birds
December 20, 2009
Julia Clarke studies the origin and evolution of birds and related dinosaurs.
From the earliest days of the discovery of dinosaurs up to the present, birds have been at the center of scientific controversies in paleontology and evolutionary biology. Julia Clarke, an associate professor of paleontology at the Jackson School since the fall of 2008, explains part of the reason. Because birds are so apparently distinctive, explaining their emergence as a clade (a group consisting of a single common ancestor and all its descendants) was considered problematic.
"Birds possess feathers, complex song and, flight, the last of which is known only in a handful of vertebrate clades," says Clarke. "They are also species-rich—there are many more species of birds than of mammals." Explaining their origins involves approaching complex questions, such as when and how did feathers evolve? (If you think the answer is closely linked to flight, keep reading.) "Even today they present challenging questions for scientists," says Clarke.
Birds were major points of contention in the earliest days of Darwinian theory. Religious critics thought only a divine creator could explain the unique features seen in Aves. The announcement of the first complete specimen of Archaeopteryxin 1861 was a major boost to Darwin's theory, suggesting a bridge between extant (living) birds and other dinosaurs, perceived as fundamentally "reptilian." Yet even today, critics of evolution seek out new arguments and recirculate old ones trying to question the affinities of birds.
Since at least the late 1970s, most paleontologists have accepted that birds are theropod dinosaurs. As Clarke wrote in "Bird Evolution" (Current Biology 16:350-354, 2006), "During the past 30 years novel methods and abundant new data have ever more firmly established the evolutionary relationship between birds and other dinosaurs. In this time, paleontology has largely moved beyond debate on the broad scale location of birds in the tree of life to more nuanced questions," such as where birds fit in the dinosaur family and what morphological details mark the transition from non-flighted dinosaurs to extant birds.
Morphological details were in the spotlight recently, notes Clarke, with the discovery this year of yet another Chinese feathered dinosaur fossil, this one slightly older than Archaeopteryx. With elongate feathers on its limbs, including its feet, the specimen yet again strongly affirmed the affinities of birds supported by earlier data from boney features. Not only do the feathered dinosaurs that have emerged over the past 10 years reverse the once accepted notion that feathers evolved as flight evolved, they force us to consider new questions such as the origin and function of hind-limb "wings" also present in dinosaurs closely related to birds. Feathers pre-date birds, meaning they also pre-dated flight's origin.
"New fossils still have the capacity to come along and challenge accepted ideas," says Clarke.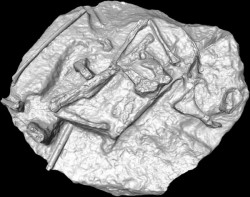 Clarke's research on fossil penguins is a case in point. For several years she has studied early penguin evolution in equatorial regions. Her descriptions of two new species from the Eocene of Peru overturn the idea penguins only arrived in equatorial climes at or after global cooling around the Eocene-Oligocene boundary. Instead, she's found evidence that multiple radiations of penguins—including large, five-foot tall species—occurred earlier in the Paleogene, during one of the warmest periods of Earth history. She has also had the opportunity to approach major shifts in the diversity and distribution of bird groups alive today in one of her major research projects. Funded by the National Science Foundation, the project involves documenting the best data for the North American avifauna some 50 million years ago. Clarke and her colleagues are finding a sub-tropical forest that was filled with relatives of bird species today found only in sub-Saharan Africa and Asia.
Another of Clarke's research projects was recently in the news when collaborators at Yale University announced in Biology Letters the discovery that evidence of melanosomes, color-producing organelles filled with melanin, survived for 47 million years in the fossil of a feather. Based on the shape and packing of these melanosome remains, they inferred that a fossil specimen from Germany displayed the kind of dark, iridescent sheen Austinites often see on the common grackle. The team's method may allow researchers to reconstruct the color of both fossil birds and other feathered non-flying dinosaur relatives. As Clarke, who is a co-PI on the project, told the New York Times, "I really do think we are moving from dinosaurs in black and white to dinosaurs in Technicolor."
Understanding Origins
Clarke became interested in avian evolution at the same time she got hooked on paleontology, during a class she took as an undergraduate at Brown University on the Cretaceous/Tertiary (K/T) boundary. The K/T mass extinction event is still central to studies of the origin of avian biodiversity. For years paleontologists have debated whether living bird lineages emerged after the extinction of the non-avian dinosaurs, or whether living birds pre-date the K/T in significant numbers. As Clarke puts it, "Do we have penguins alongside triceratops?"
As fate would have it, Clarke's research on a rare Cretaceous Antarctic fossil first brought her to the Jackson School, to scan the specimen at the High Resolution X-Ray CT Lab. The fossil, a waterfowl relative, was the first Cretaceous specimen definitively placed within the extant bird radiation. From the research, Clarke authored a paper in Nature (the Jackson School's Rich Ketcham was a co-author) confirming that "at least duck, chicken and ratite bird relatives were coextant with non-avian dinosaurs."
While Clarke is passionate about her specific areas of paleontology, she sees many good reasons for general geoscience students to study the discipline. For one, she says, "I do believe evolution is pretty fundamental." Paleontology offers a hands-on view of the wealth of evolutionary data scientists have accumulated. The field is also essential to efforts to understanding the impact of long-term changes in Earth's system. Combining evidence for shifts in the earth's biota from the fossil record with paleo-environmental indicators, she points out, offers the only evidence we have to inform how life has responded to major global change including major long-term warming or cooling events or other shifts in climate.
Reflecting on Archaeopteryx in 1866, Darwin wrote that "hardly any recent discovery shows more forcibly than this how little we as yet know of the former inhabitants of the world." Uncovering yet more of these former inhabitants will almost certainly prove essential to our own future.
by J.B. Bird
For more information about the Jackson School contact J.B. Bird at jbird@jsg.utexas.edu, 512-232-9623.