Talking Texas Fossils
December 4, 2018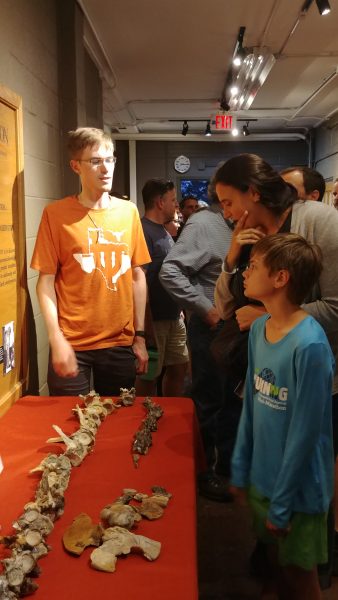 Matthew Brown, the director of operations for the Vertebrate Paleontology Collections at the Jackson School's Museum of Earth History, launched a science outreach series called "Talking Texas Fossils" in spring 2018.
The series invites members of the community
to learn from Jackson School experts about ancient life and fossils, especially those held at the school's vertebrate paleontology collections.
So far, there have been three public presentations. The topics covered include: the history of fossil collecting in Texas, the mosasaur research of Jackson School doctoral student Josh Lively, and how the dinosaurs depicted in the latest Jurassic Park movie compare to the real things.
The talks usually take place at the museum. For the Jurassic Park talk, the series teamed up with the Alamo Drafthouse movie theater to host a question and answer session after a showing of "Jurassic World: Fallen Kingdom."
Graduate Program Coordinator Philip Guerrero, who attended the event, said it was a great way to spread the word about the important collections held at the museum.
"I think that's important for its continued success," he said.
To stay up to date on future talks, follow the University of Texas Vertebrate Paleontology collections
on Facebook at Facebook.com/TexasVertPaleo.