Promoting Water Research
October 12, 2016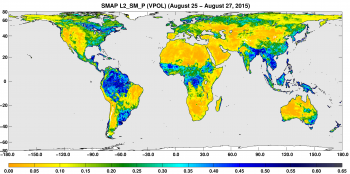 Top water experts from around the state and the nation converged on the Jackson School of Geosciences in April and August 2016 for three separate workshops on cutting-edge water research.
The first took place on April 4–5 and focused on research that used data from NASA's SMAP satellite, a soil-moisture sensing satellite that was launched in January 2015. The workshop was co-hosted with NASA and the Texas Water Development Board and served as a place for scientists to discuss how they used SMAP data to study drought and flooding in Texas.
It included presentations from the Jackson School's Todd Caldwell, a research associate at the Bureau of Economic Geology, and Rong Fu, a professor in the Department of Geological Sciences. In addition, Dean Sharon Mosher participated in a discussion panel on SMAP progress and how the satellite could aid future water research.
The second workshop on April 21 brought together over two dozen water researchers to share their work on global water cycles and world water resources. The event was hosted by Zong-Liang Yang, director of the Jackson School's Center for Integrated Earth System Science. Presenters from the Jackson School included Jay Banner, director of the Environmental Science Institute; Todd Caldwell, bureau reseacher; Michael Young, associate director at the bureau; David Arctur, research scientist at the Center for Integrated Earth Systems Science; and Bayani Cardenas, Robert Dickinson, Rong Fu, Omar Ghattas, and David Mohrig, all professors in the Department of Geological Sciences.
The third meeting occurred on Aug. 18-19 as part of the Texas Water Research Network, a project led by the Jackson School-affiliated Environmental Science Institute. The effort, supported by the Cynthia andGeorge Mitchell Foundation and the National Science Foundation, focused on addressing water issues in Texas by facilitating collaborative scientific research and communication.
The meeting was highlighted by three guest speakers with experience organizing water research networks and conducting research on water in arid environments: Jay Famiglietti with the NASA Jet Propulsion Laboratory; Kelli Larson from Arizona State University; and Todd Halihan from Oklahoma State University.