Aerosols Strengthen Storms
October 11, 2016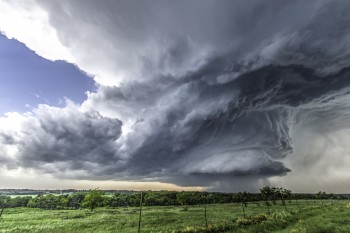 An abundance of aerosol particles in the atmosphere can increase the lifespans of large storm clouds by delaying rainfall, making the clouds grow larger and live longer, and producing more extreme storms when the rain finally does come, according to research from the Jackson
School of Geosciences.
The study, published in the journal of the Proceedings of the National Academy of Sciences on June 13, 2016, is the first to address the impact that aerosol particles have on the lifespans of large thunderstorm systems called mesoscale convective systems.
The research looked at satellite data from 2,430 convective cloud systems and found that aerosols can help increase the lifespans of convective cloud systems by as much as three to 24 hours, depending on regional meteorological conditions.
"A cloud particle is basically water and aerosols. It's like a cell," said lead author Sudip Chakraborty, who recently received his Ph.D. from the Jackson School."The more aerosols you have, the more cells you get. And if you have more water, you should get more rain."
Researchers from the University of Colorado Boulder and NASA's Jet
Propulsion Laboratory also worked on the study. This study is the first to try to look at aerosols' relative importance in the lives of storm clouds compared with meteorological conditions such as relative humidity, available convective energy and wind shear, said Rong Fu, a professor in the Jackson School Department of Geological Sciences and co-author of the study.