Hydrogeology Students Work to Save Farm
August 14, 2009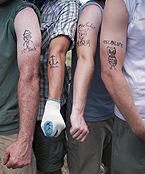 When David and Katie Pitre bought farm land east of Austin, Texas in 1993 with the idea of starting an organic farm, they were drawn in large part by the abundant water. That, and the rich soil and ready market in nearby Austin. A hand-dug well on the site dating to before World War II had flowed continuously, even through the state's record-setting 1950s drought. For 16 years, the Pitres have sold their produce at local farmer's markets and more recently to subscribers who pay in advance for weekly baskets of food.
"We've always had lots and lots of water," said Katie Pitre. "We couldn't suck our well dry if we tried."
But in 2005, that began to change. The Manville Water Supply Company, a municipal water supplier, installed two pumps across the road from the Pitres' Tecolote Farm to provide water to new developments. Worried that their well would be affected, the Pitres installed a second, deeper well. Water levels in both wells began dropping. Then in 2007, Travis County installed two more wells nearby to water recreational fields and a catch-and-release fishing pond. The Tecolote well levels fell even faster. By 2008, both had run dry. Despite a drought in the region, Pitre is convinced that the new wells are to blame. Hydrogeological consultants hired by the farmers and the county disagreed on whether or not the new wells were having an impact on the farm's water supply.
If their wells don't return soon, they'll be forced out of business. To stay afloat, they're currently buying chlorinated water from Manville at the residential rate, which is hugely expensive at farm volumes. Pitre said it's a matter of priorities: Which is more important, having lush fields of grass for recreation or locally grown food? It's a variation on a debate that's playing out in communities across the country as growing populations grapple with how to make do with a limited supply of fresh water. For their part, county officials don't believe they're to blame. Still, they've expressed interest in helping. They've offered to drill test wells to help the Pitres find a new source of water.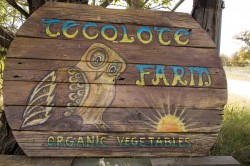 At the end of the day, it might not matter legally whether the county's wells are impacting the farm's wells or not given Texas' antiquated water laws, known as the rule of capture. In the absence of special conservation rules in a particular region, the person with the biggest straw gets the most water. As long as your well is located on your property, it's perfectly legal to extract water out from under your neighbor.
Still, there have been some hopeful developments. In June 2009, a group of 13 hydrogeology students and two teaching assistants from the Jackson School of Geosciences set out to use science to help save the farm.
Into the Fray
As fate would have it, one of the Pitres' neighbors is Marcus Gary, a hydrogeologist completing his doctorate at UT Austin. Gary told his advisor Jack Sharp about the situation and wondered if there was any way he could help. Sharp teaches a hydrogeology field methods course each spring that gets students out of the classroom and into the field. He had an idea: he could get his students to conduct a geophysical survey of the site to find an alternative source of water for the farm. The students would learn field methods that they would use in their careers and at the same time provide useful information to help real people with a real problem.
"It makes it more meaningful for the students not just to get a grade, although they did get a grade, but that it helps real people," said Sharp.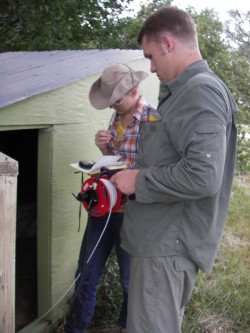 The farm's soil is mostly clay, but based on the known geology of the area, the students suspected there might be ancient buried stream channels of sand and gravel that carry water. To find channels, they measured the soil's electrical resistivity and conductivity along several transects laid out in a grid pattern. Different materials have different geophysical signatures—clays have high conductivity and low resistivity; sand and gravel have low conductivity and high resistivity. The measurements were compiled into two dimensional slices of the subsurface about 25 to 30 meters deep.
The students spent five long days in June in what was unusually hot weather even for Texas. Sometimes the Pitres let them stand in the chill air of their vegetable cooler to revive themselves.
The first day, the students found two anomalies that might indicate ancient stream channels. On the fourth day, they found a third. But interpreting ER and EC data is notoriously tricky. Clay rich soils tend to mask sand and gravel. Anomalies aren't conclusive without ground truthing, actually digging down to see what's really there. They were getting close to the end of their course and still hadn't found spots that they could confidently tell a driller, you should drill here.
"So we definitely felt that sense of urgency, we're running out of time," said Clint Waller, one of the students on the project who graduated this summer with a bachelor's in geosystems engineering.
On the last day, the students ran a new transect between the first two anomalies and found another part of what was looking more and more like a large gravel bed. Bob Reedy, a scientist at the Bureau of Economic Geology, brought to the farm a geoprobe, a device that bores into the ground and collects core samples. With just a few hours left before the end of their last field day, everyone gathered around as two core samples were brought up.
"You could tell everyone was excited but kind of nervous at the same time," said Waller. "The farmers left their work and they were coming out and watching the machine and there was a little curiosity and 'What's that thing doing?' and 'If you find anything, does it look good?'"
" And then we started bringing up sand and gravel and water was pouring out of it," he said. "That's as good a sign as you can find with this machine. And there was a sense of relief."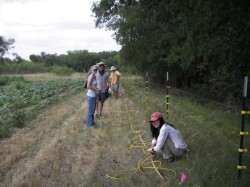 In their final report prepared for the county, the students identified a handful of promising sites for drilling wells that seemed to be unconnected to the shallow aquifer of their current wells. News reports have placed the value of such an assessment from a professional consulting firm at $50,000. Waller said that is a very conservative estimate given the time and manpower that was devoted to the project. He put the value at closer to $150,000.
"They were very grateful for us being out there," said Travis Swanson, a graduate student and teaching assistant for the course. "Even though we're students and it's a class exercise, they believed in us. And we got some good data for them."
As this article goes to press, the county plans to drill 6 test wells at their expense later this summer. The outcome could be a major turning point for Tecolote Farm.
Win-Win
The students also benefited from the project. They learned how to characterize a site using modern geophysical equipment and how to analyze the data to determine where the best places are to get water.
"This is a great introduction into hydrogeological consulting," said Swanson. "And they get a few blisters and sunburn as well."
"We designed the entire project," said Waller. "Jack wasn't out there telling us you should do this here and you should do that there. The students had to decide where we were going to do the work, what we were trying to find and how we were going to go about running the project. We wrote up our results in a report. Now if any of us want to go into consulting , we can say, I have experience in consulting."
The reality of the farmers' predicament pushed students to work hard. For example, they spent hours hand augering, twisting a long metal rod with a drill tip into the ground to do ground truthing.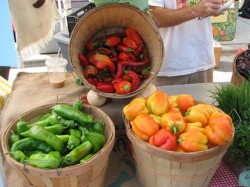 "The big thing was seeing the kids out there playing and you realize if these people lose their water and the farm goes under, it's not just some big farm that's going down, it's a local farm here in Austin, it's these people's family, it's all these farm workers' only income," said Waller. "It really hit us, we're not just going out there to do some project and run some machines. We're going out there to try to help find these people water so they can save a resource in Austin."
Still, hurdles remain. Pitre said some of the new sources of water are on the back part of their property and would require installing new pipes and electricity, which would be expensive. There are also no guarantees that a new well would continue producing consistently for many years. Pitre said an unfortunate side effect of the school's assistance might be that the county could feel absolved of responsibility and be less inclined to help.
"I was very impressed with the students," said Pitre. "From what I can tell, hydrogeology is the wave of the future in Texas because we're running out of water."
by Marc Airhart
For more information about the Jackson School contact J.B. Bird at jbird@jsg.utexas.edu, 512-232-9623.