Jackson School Walter Awards Recognize Top Talent
May 8, 2023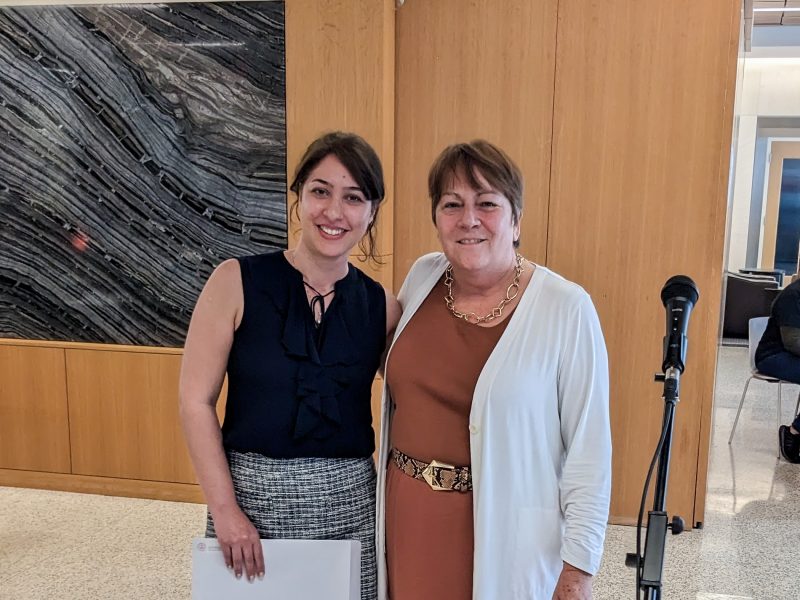 The Jackson School of Geosciences Walter Awards recognize top talent among the school's faculty, researchers and staff. Last week, the 2023 awardees were recognized at a reception in the Holland Family student center — the first in person Walter Awards ceremony since 2019.
Two award winners were selected for each category. This is due to the 2022 awards being postponed because of the ongoing pandemic.
Award winners received a certificate, trophy and a cash prize. The annual awards are the school's most prestigious internal awards and were provided for in an endowment created by Joseph C. Walter Jr. in 1977.
Congratulations to all our winners!
Jackson School Outstanding Educator Award
The award recognizes accomplishments in any area that promotes the future success of students, staff, or other faculty and scientists through teaching, mentoring, or supervision of undergraduate or graduate research.
Richard Chuchla
Nomination excerpt:
"Richard touched virtually every aspect of the [EER] program, has been extremely active in administration, teaching, student recruitment, thesis supervision, student and young professional mentoring, and establishing an EER advisory board.  From his student's perspectives, Richard was an outstanding mentor who set high standards for professionalism, work ethics and achievement and provided exceptional career guidance. He was, above all, committed to their success in the program and in life.  For his dedicated and holistic stewardship of the EER program since 2016, Richard is very deserving of the JSG Outstanding Educator Award."
Sahar Bakhshian
Nomination excerpt:
"Sahar is a Research Associate at BEG, a position for which teaching is not high in the list of requirements. Thus, Sahar is a nontraditional candidate for this award. That simply makes her recent achievements as an educator more notable… . Her mentees reach across the gamut, for example: a Texas high school student whose project won top recognition at the Texas State Science Fair and selection to advance to the international science fair later this month; an undergraduate researcher who research won the top poster award at UT Energy Week and later was published in Geophysical Research Letters, and; Sahar inspired her lab tech to enroll in the EER MS program, where he is performing at the top level, recently receiving a Mickey Leland Energy Fellowship for him to do fluid flow research at Los Alamos National Lab this summer. "
Jackson School Outstanding Service Award
The award recognizes any member of the school for outstanding service to a unit, the Jackson School, The University of Texas at Austin, or the geosciences profession.
Chris Stella
Nomination excerpt:
"The glue that keeps our workplace standing and operational is Chris. Since he rose to the position of Facilities Manager, we have all turned to him with our needs: projects large and small, simple, complicated, and sometimes impossible. We are always met by Chris' positive and can-do demeanor and we can only marvel at his intricate understanding of how to get stuff done within the bewildering university enterprise. Chris is appreciated for moving the long-stalled Hamman Gem and Mineral Gallery to completion. The joy in Henry Hamman's face at seeing the lovely, museum-quality gallery reflects on Chris, who gelled an operational team from a very eclectic group of architects, carpenters, electricians, the Houston Museum of Natural Sciences and the Italian case-maker, none of whom operated by the same rules, or timeline, or billing process. More recently, Chris has spent many hours with the Student Affairs staff reorganizing, repairing and updating the Holland Student Center, which is now a much used and much loved student work and play space. Those efforts will continue through the summer and I expect the results to be fantastic! Chris, thank you for all you do!
Monica Reed
Nomination excerpt:
"She is a voice of reason when trying to achieve balance amidst complex priorities, and a font of knowledge on everything from complex hires to sensitive personnel issues to strategic budgeting. She provides excellent guidance to the Dean and the Department Chair, as well as guidance to business staff across JSG. No matter what the question, Monica is the needed resource. This award celebrates everything Monica does to gracefully and professionally provide outstanding service to the Jackson School."
Jackson School Outstanding Research Award
The award recognizes research accomplishments of an individual or team of geoscientists in the Jackson School.
Peter Flemings
Nomination excerpt:
"Everything about the methane hydrates project is a big, hard to do, from the drilling, the core recovery and examination, to the permitting, and requires a complex technical and administrative structure that reaches far beyond the oversight capabilities of most researchers. The methane hydrates program is a testament to Peter's broad expansive understanding of all parts of this operation…He also co-leads the UT GeoFluids IA consortium that integrates field, experimental, and modeling data to study pore pressure and fluid flow in sedimentary basins Oh – and somewhere in all that he also wrote a book, taught classes, and led much of the recent curriculum revision efforts. Simply put, Peter Flemings is one of our hardest working and most productive colleagues and he is richly deserving of this award."
Alex Sun
Nomination excerpt:
"Simply put, Alex  is one of the core researchers whose work hugely contributes to the success of the Bureau and the Jackson School as a whole. His advances in data analytics and applications to fundamental issues, including carbon sequestration and global water resources, will become even more critical in the future as we tackle more and more complex problems, including coastal flooding and increasing climate extremes."
Jackson School Staff Excellence Award
The award recognizes classified staff (administrative, technical, and support) who have performed in an exemplary fashion; encouraging others to aspire to superior performance.
Jeff Hallock
Nomination excerpt:
"Jeff has developed a deep understanding of the EVS program which he is able to tailor and communicate back to his students. He is frequently brought into high-level conversations regarding enrollment management within EVS curriculum, catalog updates and planning, degree audit troubleshooting, website management and planning. Moreover, Jeff "walks the walk" for environmental science, living and breathing sustainability in his professional and personal life…He is an essential part of the beating heart that is our Student Services Office."
Marcy Davis
Nomination excerpt:
"Like many of our technical staff, Marcy works in numerous capacities, including field technician, field logistics, data scientist, and program manager. In these technical roles, her work is superb. She is skilled in both the highly technical requirements of her job, and in soft skills like managing stress and interpersonal conflict. She often acts proactively to understand new technologies, initiate collaborations between scientists with similar interests, including the first JSG partnership with the City of Austin, for which she led a survey of Lady Bird Lake."
Jackson School Community Award
The award recognizes a scientist, faculty or staff member who has displayed exceptional commitment to fostering a professional, inclusive, respectful, safe and welcoming environment within the Jackson School community.
Tim Goudge
Nomination excerpt:
"As an Assistant Professor, one would not question if Tim just put his head down and focused on his research and teaching. And while he does both very successfully – and probably should garner nominations for those awards as well – Tim is also a model citizen who deeply cares about the community, inclusivity, and the wellbeing of others… As lead for the DGS DEI committee, Tim has been extremely proactive and especially focused on creating an inclusive, trusting environment for our undergraduate students. He is not afraid to speak up, but does so in a thoughtful and open way that builds trust and does not make others defensive or uncomfortable. He is a gem for our community."
Krista Soderlund
Nomination excerpt:
"Krista co-leads a UTIG staff initiative to develop a conflict resolution strategy grounded in restorative justice. She has worked with administrators across the UT campus to determine the optimal ways to interface between culture change at UTIG and the broader legal and administrative structures of the University. This is an enormously complex and challenging task, and there have been many hurdles to overcome along the way, but Krista has persevered in addressing this critical gap in existing conflict resolution structures… Krista's expertise in DEI and her prominent role in shaping the future of planetary science gives us great hope that the next generation of planetary scientists, at the Jackson School and beyond, will enter a field where belonging, community, equity, and respect are core values and enhance the potential for transformative science."
Joseph C. Walter Jr. Excellence Award
The award is presented annually to a Jackson School faculty, researcher, or staff member in recognition of outstanding service and special contributions to teaching and research programs. No specific guidelines are set for nominations other than demonstrated excellence and impact to Jackson School in one or any combination of the areas of research, teaching, service, professional activity, and administration.
Stephen Laubach
Nomination excerpt:
Steve exemplifies a true scientist and has been a role model for many research staff and graduate students. He leads FRAC (Fracture Research and Application Consortium), one of BEG's most famous and successful industrial-associates programs. Starting a fracture research program, Steve attacked one of the most challenging subjects in all geosciences. He realized that research progress in understanding fractures was possible only through multidisciplinary collaboration…. In addition to his research contributions, Steve regularly contributes to all other functions of the Jackson School and the geoscience profession. He has taught classes, supervised numerous graduate students, and served on key committees and review panels, internally and externally…He is very deserving of this top JSG honor."
David Mohrig
Nomination excerpt:
"…David Mohrig is without a doubt one of our top 2-3 researchers in terms of the reach and impact of his science. David is the recipient of the 2021 Gilbert Award from AGU surface process group, an AGU Fellow, and the recipient of the SEPM Pettijohn Medal, two of the highest honors in his area of research. Beyond medals and awards, David is our research leader, shining a bright light on many collaborative research opportunities. As a collaborator, David quickly finds common ground and respect as a result of his strong grasp of complex research issues. Researchers across the globe know and respect David, not because he speaks louder than anyone in the gathering, but because his perspective, understanding, and insight are clear, unique, and intuitive. Let's face it, David Mohrig is a rare beast and he is deserving of this award."