Jackson School Students Win SEG Challenge Bowl World Final
November 10, 2022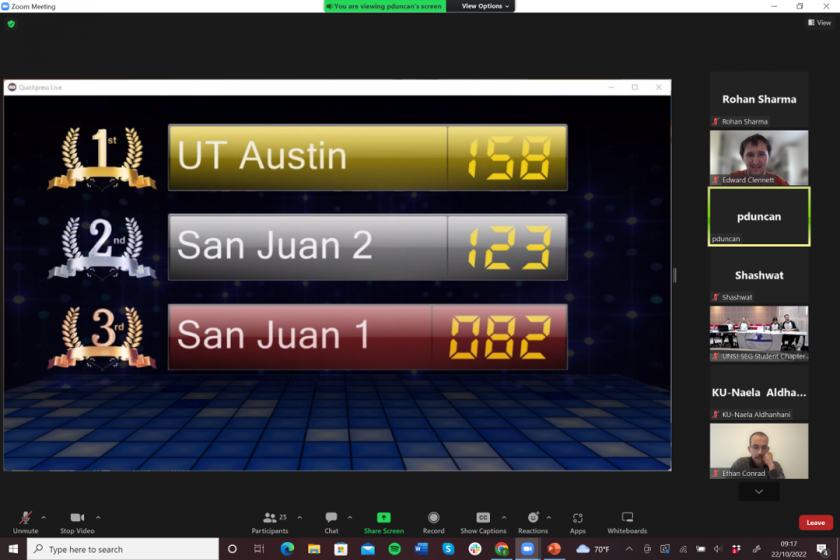 The University of Texas at Austin is the 2022 Society of Exploration Geophysicists (SEG) Challenge Bowl World Champion thanks to graduate students, Edward Clennett and Ethan Conrad, both from the Jackson School of Geosciences.
The international competition tests the general geosciences knowledge of university teams from across the world. The world finals were held online, Saturday, October 22.
Clennett and Conrad brushed aside the competition, comfortably taking first place and the $1,000 cash prize with 158 points, 35 points clear of their nearest opponent, the National University of San Juan in Argentina. This year is the first time UT Austin has been crowned SEG Challenge Bowl World Champion.
The UT Austin team faced a grueling nine rounds of multiple-choice general geophysics and geology knowledge questions, facing up against 15 other international teams. Each team had previously ranked first in their region to qualify for October's world championship.
The UT Austin team took an early lead while still up against all 15 teams, with Clennett grabbing the highest individual score in the first round. That gave him, he said, a timely confidence boost for the final leg.
"By the time we'd made it through to the final five teams, Ethan and I had built a healthy lead which meant we could hold off the National University of San Juan (from Argentina) in the final round to win overall," Clennett said.
According to Conrad, Clennett's strong performance stole the show, but their combined background was the key factor to their team's success.
"I think it helped that Ed and I come from a background which really blends geophysics and geology, so for most of the questions — which broadly covered both fields — we at least had a good guess," said Conrad, who is the president of the Texas Geophysical Society, the UT Austin student chapter of SEG.
As part of their Jackson School doctoral programs, Conrad and Clennett conduct research on plate tectonics, earthquakes and the evolution of Earth's surface at the University of Texas Institute for Geophysics. Conrad's research encompasses rock friction experiments and tectonic geomorphology, while Clennett is working on methods to improve deep-time global plate reconstruction models.
For more information, contact: Anton Caputo, Jackson School of Geosciences, 512-232-9623; Monica Kortsha, Jackson School of Geosciences, 512-471-2241; Constantino Panagopulos, University of Texas Institute for Geophysics, 512-574-7376.