SUPPORTING THE FUTURE OF GEOSCIENCES
October 5, 2021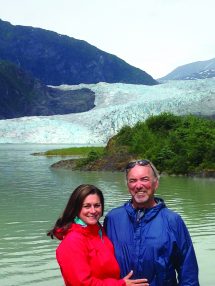 Ed and Karen Duncan Leave a Lasting Legacy for the Jackson School of Geosciences
Geologist and entrepreneur Ed Duncan, B.S. '79, M.A. '87, has enjoyed years of success — until recently.
"I failed miserably at retirement," he said with a chuckle. "I love what I'm doing too much."
Today Ed and his wife Karen, who is also involved in the family business, focus their attention far north. Their company is exploring opportunities for oil and gas on the Alaska North Slope. The couple credits their life of geological adventure to Ed's education from The University of Texas at Austin Jackson School of Geosciences. And to help ensure a strong future, Ed and Karen established a gift to the Jackson School of Geosciences in their estate plans.
"The professors I had — Frank Brown, Sharon Mosher, Bill Galloway, Al Scott, Sam Ellison — they were fantastic pioneers," Ed said. "They were investing in me to help me become the best geologist and the best person I could be."
Ed and Karen want the Jackson School to continue to attract world-class professors and top students who will better understand earth science and how to take care of the planet.
"The earth is being challenged, and earth scientists have a responsibility to help," Ed said. "We want those smart kids who will make a difference to become students at the Jackson School."
Ed and Karen are doing their part to promote STEM education and increase the number of diverse students pursuing STEM careers. They solicited the help of
Doug Radcliff, former assistant dean of the Jackson School, and launched the University of Alaska Fairbanks' GeoFORCE Alaska program, based on the Jackson School's acclaimed GeoFORCE Texas program.
"UT helped us get the program started, and it's been transformative for many kids on the North Slope," Karen said. "How can you not love watching these kids love learning about geology?"