Building Excitement, Strengthening Support: Andrew West's Big Plans for JSG Development
June 1, 2021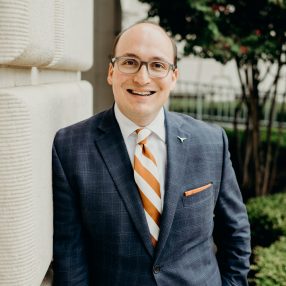 Andrew West hasn't let the pandemic put a damper on fundraising at the Jackson School of Geosciences. Since joining the Jackson School as its new chief development officer in March, he has travelled across the state to meet with over a dozen donors, chatted with even more over the phone or Zoom, and oversaw the school's most successful 40 Hours for the Forty Acres annual giving campaign yet, which was orchestrated by Courtney Vletas, the associate director of alumni relations and annual giving, and raised $66,400 to help send Jackson School students to field camp.
West has big plans to keep the momentum going. And he wants the entire Jackson School community to be a part of it.
"I really want to involve the community as much as possible," West said. "When we have big wins, it's a win for the Jackson School, it's a win for everyone."
West officially began his new role at the Jackson School on March 1, filling a role formerly held by Belle German, who is now the Jackson School's executive director of foundation relations.
West got his start in development two decades ago when he was an undergraduate at The University of Texas at Austin's Butler School of Music. After helping bring his music fraternity into the black through a tshirt sale, he became the organization's treasurer and started raising funds with the intent of giving back to the school.
He said he remembers the pride he felt giving a $1,000 check to the director of the school, a gift from the fraternity back to the school.
West has been working in development ever since, with the past six years being at UT. The gifts have certainly grown in size and scope since that very first check. As the senior director of development for principal gifts with Texas Development, West's most recent role before joining the Jackson School, he helped secure more than $40 million for the College of Fine Arts and UT as a whole.
West said that this success was achieved by pursuing new opportunities for growth. At the Jackson School, West sees plenty of opportunities to do the same by broadening the school's base of support beyond the oil and gas industry – which has for years been the bedrock of Jackson School giving – to reflect the diversity of research happening across the school.
"That means reaching out to folks in technology, and the wind energy side, and the water side," West said. "We need to be building out our overall cadre of prospects to really make sure we're managing not just a really strong pipeline, but a broad-based pipeline of support that represents all of what the Jackson School does."
As an overall goal, West said that he wants additional streams of support to help lighten the load currently carried by the Jackson endowment, the gift bequeathed by Jack Jackson in 2001 that enabled the school's formation.
West knows from experience just how powerful a good messenger can be when it comes to building awareness and support of the geosciences. As an undergraduate at UT, he was a student in Professor Emeritus Leon Long's Introduction to Geology course, GEO 303. While he can't recall the grade he earned, the excitement he felt listening to Long's lectures, and the knowledge that "geology is so much more than rocks" stuck with him.
As he currently plans for a fall of in-person events, West said that he is looking forward to connecting donors with members of the Jackson School community who can inspire that same sort of excitement. He sees his job as channeling that excitement into material support for the world-class research and education happening at the Jackson School.
"I want to take that passion and make it an opportunity," West said.
For more information, contact: Anton Caputo, Jackson School of Geosciences, 512-232-9623; Monica Kortsha, Jackson School of Geosciences, 512-471-2241.