Adam Mena Joins Jackson School as Chief Business Officer
May 6, 2021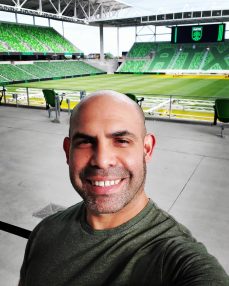 On April 19, the Jackson School of Geosciences welcomed Adam Mena as its new chief business officer.
Since then, Mena said that he has been familiarizing himself with the inner workings of all aspects of the school's finances. His goal is to not only understand how money flows throughout the school but to search for ways to improve it.
"No matter how well a system was running before, there's always places to improve upon it," he said. "A fresh set of eyes is an opportunity to get better."
Mena comes to the Jackson School after 7 ½ years at The University of Texas at Austin's College of Natural Sciences (CNS), where he worked his way up from financial analyst to director of finance, accumulating a wealth of institutional knowledge about UT and CNS along the way.
"I got to know the inner workings of the college and could rattle off account numbers and names," Mena said. "I'm now starting from scratch with that knowledge, but I'm here to get to that level."
Mena is a self-described science guy, earning his bachelor's degree in biology from UT in 2003 and joining CNS in part because of the research and learning environment. Being able to advance his career while continuing to be part of a research community is what piqued Mena's interest in joining the Jackson School. (He also heard good things from Julie Bowers, the Jackson School's former chief business officer. She is now the assistant vice-president of finance and chief business officer in UT's Office of the Vice-President for Research.)
Like most Jackson School staff, Mena is currently working from home due to the COVID-19 pandemic. Once back on campus, he will be working in the Jackson Geological Sciences Building in the sixth floor dean's suite, just adjacent to Dean Mora's office. He encourages anyone at the Jackson School with financial questions to simply stop by or reach out.
"Faculty, administrators, whoever needs information on finances and human resources, I'm here to give answers and support they need to do what they need to do," Mena said.
Outside of the office, Mena is a big sports and fitness fan. He hasn't missed a UT home football game in 23 years and has been an avid swimmer since he was six years old.
For more information, contact: Anton Caputo, Jackson School of Geosciences, 512-232-9623; Monica Kortsha, Jackson School of Geosciences, 512-471-2241.